Junior's restaurant and bakery: A home-grown business with billion-dollar ambitions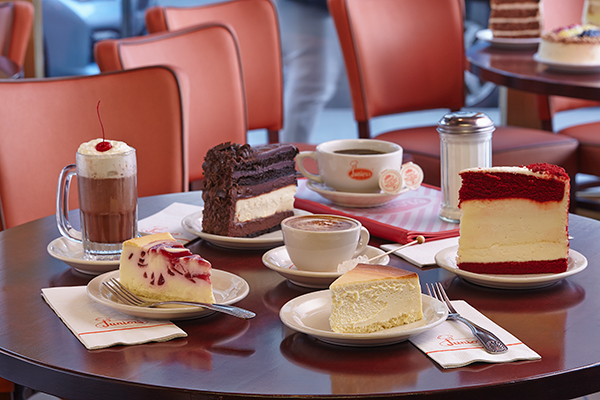 In an engaging fireside chat before alumni, faculty, and deans of the Cornell SC Johnson College of Business on Jan. 25, Hotel School alumnus Alan Rosen '91 shared his journey at the helm of one of the most delicious operations in the country—Junior's, a restaurant company famed, increasingly widely, for its cheesecake. Conversing with professors David Just and Alex Susskind at Convene in midtown Manhattan, the second-generation CEO discussed how his family business has thrived and is poised for even greater expansion in an era of rapid change. The event was jointly organized by the New York chapters of the Johnson Club and the Cornell Hotel Society.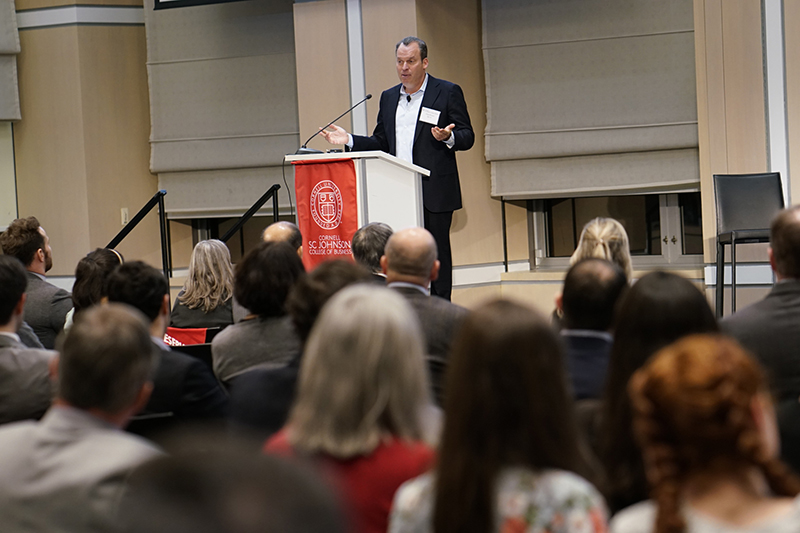 As a student at Cornell's School of Hotel Administration, Rosen recounted, he thought he was destined to run a large restaurant chain as soon as he had his diploma in hand. After graduation, however, he managed a Chili's restaurant, ran a nightclub in New York City, and "did other things that Hotelies do" before asking his uncle for a job at Junior's. His uncle turned him down, saying that he did not have enough experience. Determined, the nephew asked his uncle the same question "practically every week" until he was finally allowed to work for the family business. Though his first title was director of marketing, Rosen was essentially a floor manager. Still, he took his position seriously, earned the respect of his uncle and father with his business prowess, and worked his way up the ranks, eventually assuming the top job.
As CEO, Rosen has grown the business significantly, opening new locations in New York, Connecticut, and Florida and developing a direct-shipping model that is delivering 350,000 cheesecakes a year to customers nationwide. He has also brought his big personality to the television shopping network QVC, a move that has garnered further sales of up to 250,000 cheesecakes per year—only the beginning, he said. The company has just purchased a state-of-the-art bakery facility in New Jersey to ramp up production, meet demand, and grow distribution. "That facility has a $100 million capacity," he said.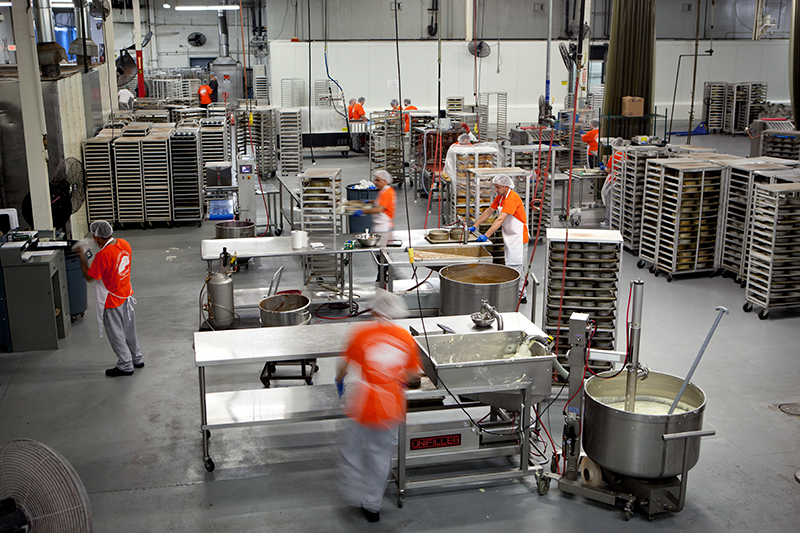 Evolving with Technology
Though Junior's has enjoyed tremendous success, it has not been immune from many of the challenges and growing pains that businesses typically face, especially in an age of fast, technology-driven change. But as Rosen explained, technology has driven Junior's to evolve.
Competing in today's multi-unit restaurant space would not be possible without the networking technology that enables those units to stay connected, he noted, and robots are now automating many tasks on the manufacturing side. "We used to have guys swirling cakes by hand and getting carpal tunnel. Now we're buying robots for our factory."
Consumer-facing technology is also transforming how restaurants do business. "We're getting to a point where soon, if consumers are within 100 yards of a Junior's restaurant, they'll get a push notification saying Junior's is nearby and the soup of the day is butternut squash," Rosen said.
Other trends are shaping Junior's business as well, namely the growing spending power and influence of millennials and their propensity to seek out healthier food options. "Yes, people are eating healthier. But if they're going to have a slice of cake, it's going to be the best slice of cake that they can have. No millennial is going to eat a generally manufactured cheesecake, but they'll eat a Junior's cheesecake," Rosen said, adding that millennials are also a promising cohort for Junior's because they're more likely to eat out than most previous generations.
Even the onset of the on-demand economy has touched Junior's. In addition to single-handedly creating the premium fresh category for cheesecake and having a significant presence in traditional grocery stores such as BJ's, Whole Foods, and Wegman's, Junior's also does business via Amazon Fresh and Jet, enabling quick, on-demand delivery of its products.
Rosen credited an SC Johnson College faculty member, Miguel Gomez, with giving him valuable insights about scaling up his business. While on campus for a meeting of the Hotel School Dean's Advisory Board, Rosen asked about getting some advice from a faculty member about operating the 103,000-square-foot facility he had just built in New Jersey. He was introduced to Gomez, an expert in supply chain competitiveness and retailing and channel relationships and an associate professor on the faculty of the Dyson School.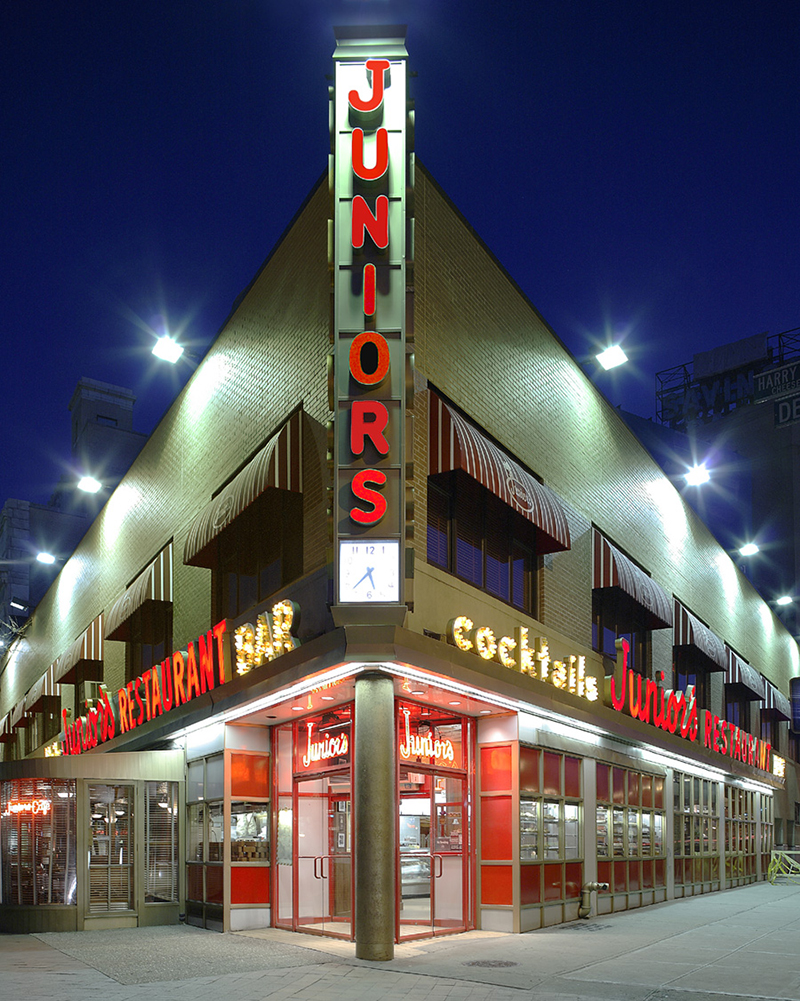 "I'd never been to Dyson in my life; I'd never been to Warren Hall," Rosen admitted to his audience. "I met Miguel and we started talking about business things: supply chain management, facilities management, automation and robotics, artificial intelligence, food marketing, pricing structure, elasticity of demand. Combine that with my Hotel School education in real estate, food and beverage management, human resources, public speaking, and of course wine tasting, and now you're onto something. I thought, 'Wow, this would have been a great education.' Not that mine wasn't great, but this could have been even greater. My conclusion was that having a college of business makes sense. I'm looking forward over the next several years to seeing what our college becomes—hopefully the finest of its kind and the finest in the world."
Junior's Secret?
While Rosen continues to learn about business, he clearly already knows a thing or two about what it takes to grow and run a successful company. With 900 employees, five locations across three states, a wholesale business in early stages of growth, solid direct-to-consumer sales, a licensing deal with potential to cover the globe, and a QVC business, Junior's has the potential to have 20 to 40 restaurants and to become a billion-dollar brand, he said, noting that it's widely recognized but that its present popularity is almost entirely organic, with relatively little investment in marketing. "We're a national brand with no national branding," he said.
As for a secret recipe for success, Rosen said there is none. Rather, it comes down to maintaining a classic restaurant and bakery concept with broad customer appeal, serving comfort food in a warm and inviting environment, and delivering exceptional service at landmark city locations. And, of course, at the heart of it all are the company's five core values: family, tradition, quality, trust, and inclusion.
Challenges such as keeping up with demand, increasing distribution, and identifying the best areas for new restaurant locations lie ahead for Junior's, but Rosen is confident that the company will continue to meet them. His message for entrepreneurs? It's perfectly okay for companies to hold fast to an old-school, small-business mentality as long as they have the values, tools, and team to adapt to the changing forces that now shape the industry.