An international healthcare experience: Scrubs, suits, and social impact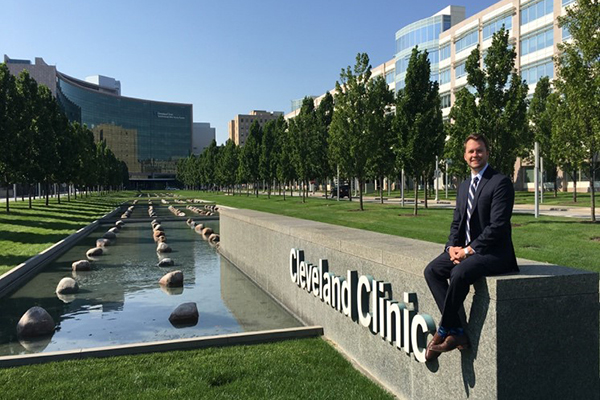 By André Hook, MBA/MHA '18
The reason I chose Johnson was because it not only welcomes original and unconventional perspectives, but it also offers opportunities for students to pursue positions that have significant social impact on the environment and community. My visit as a prospective student left a lasting impression, as I was both surprised and invigorated to know that current students cared as much about their social impact as they did future income.
Given my prior experience as a critical care nurse at UF Health Shands Hospitals, a non-profit academic medical center, Cornell University's dual MBA/MHA degree seemed like the perfect match. The degree offered by Johnson and the Sloan Program in Health Administration (Sloan) at the College of Human Ecology allowed me to combine my clinical experience with an advanced understanding of business and health administration. It didn't take long to fall in love with the atmosphere, education, and culture at Cornell.
Joining International Operations with the Social Impact Internship Fund
As part of my internship goal to gain experience in healthcare, I also wanted exposure to enterprise-level strategy, finance, and operations. Having had unique insight into clinical operations and understanding of the frontline perspective, I wanted to delve deeper into unfamiliar territory and test my capability in creating a meaningful contribution at an administrative level. In addition to this, I was interested in working for an organization that was passionate about creating improvements within its local community and demonstrated potential to impact patient care on a global scale.
Ultimately, the Social Impact Internship Fund provided me with the once-in-a-lifetime opportunity to join Cleveland Clinic's International Operations department–an organization that checked all these boxes—and contribute to their global mission. With offices around the world, Cleveland Clinic is uniquely positioned to create significant impact on patient care.
Exciting opportunities beginning on day 1
My internship started incredibly. On my first day, I was given a pass to attend Cleveland Clinic's eighth annual Patient Experience Summit. Embodying their "Patients First" culture, the summit allows industry leaders to provide valuable insight into creative methods that improve patient experience. With more than 150 speakers, nearly 2,000 attendees, and representatives from healthcare systems and businesses from more than 37 countries, the experience was one that was humbling, empowering, and inspiring. Topics included creating empathy in design, new heights in hospitality, digital health, as well as how health systems can improve their population health efforts to reduce major social issues. I felt extremely excited to have the opportunity to delve into such areas of interest.
Impact on the world comes from the top
These unique educational opportunities would continue to play instrumental parts to the structure of my internship. There were several series of weekly meetings with various department leaders, which frequented open dialogues on a wide range of topics, including clinical transformation, project management, design thinking, developing an employed physician model, and population health strategies. Toby Cosgrove, Cleveland Clinic's CEO, attended several lunches to discuss questions that were posed by administrative interns. He has a deep sense of understanding of the industry that acted as testimony to the type of servant leadership the clinic develops and provided tremendous insight. Witnessing the mission-driven culture and seeing the progress that International Operations had already made was unbelievable.
Through multiple affiliations, operational agreements, management agreements, and wholly-owned facilities, it was clear that Cleveland Clinic was finding innovative ways to improve patient care across many borders. For example, its distance health agreements allow leading physicians to assess and optimize treatment for patients in otherwise underprivileged areas. Additionally, Cleveland Clinic offers consulting opportunities that aim to assist organizations all over the world with identifying ways to improve their healthcare delivery. Whether ensuring the proper planning and development of a new hospital, analyzing ways to improve quality of care, ensuring a world-class patient experience, or providing second opinions for rare, complex diagnoses, Cleveland Clinic has an immense impact on the world. To say the least, it was fascinating to be a part of some of these initiatives as an intern.
Experiencing Cleveland and London
During my time with the International Operations department, I split my time between the Business Development and Cleveland Clinic London teams. As an administrative intern, Cleveland Clinic's first wholly-owned international hub, Cleveland Clinic London, would comprise a large portion of my time. It was clear to me that I would be able to contribute toward projects that would have tremendous international impact on patients and their communities.
Set to open in 2020, Cleveland Clinic London is a 205-bed facility located in historic, Central London with views of Buckingham Palace. Representing a substantial step toward achieving one integrated, global healthcare system, this hospital will provide world-class care to its local community and to those who may not have the capabilities to travel to the United States.
Through the incredibly supportive teams around me, I was able to lead and support projects that bolstered strategic, operational, and financial planning and will influence patients and their communities on a global scale. Thank you to Johnson and Sloan for offering an exceptional, dual curriculum that has provided me with the necessary foundational knowledge and experiences to be able to meaningfully contribute to this industry. Thank you to Cleveland Clinic for providing the opportunity for me to learn, be challenged, and contribute to projects that have such valuable, global impacts. Finally, thank you to Johnson's Social Impact Internship Fund for supporting me so that I could pursue this unforgettable opportunity.

---
About André Hook, MBA/MHA '18

André is currently an acting graduate student consultant at Sage Senior Living and president of the Johnson Healthcare Club. He has prior experience interning at Cleveland Clinic, within the International Operations administrative department, and previously worked as a staff registered nurse within the Cardiothoracic Intensive Care Unit at UF Health Shands Hospital. Andre has a Bachelor's degree in the science of nursing from the University of Florida.