What is fintech? Lessons from seven weeks in NYC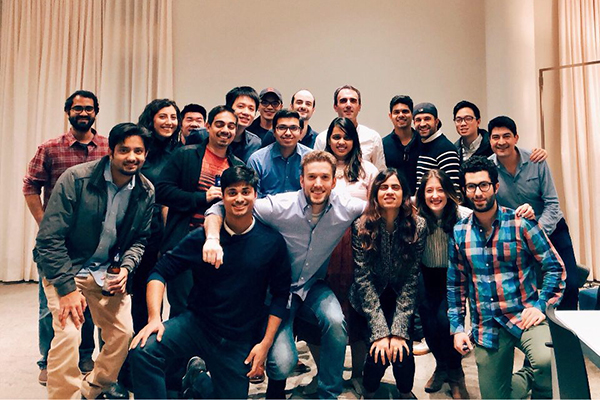 By Zoelle Mallenbaum, Two-Year MBA '18
Fintech! [Bitcoin, crypto blockchain]!
I've heard those terms thrown around a lot and found myself curious about what they meant. Not as in the textbook definition—which is surprisingly also hard to pinpoint, as even Google has more than seven pages worth of articles and 50+ videos called "What is Fintech?" But instead, about what those terms tangibly mean for people, markets, companies, business models, and the broader way we interact with money.
To probe the answer to my question, I spent the last seven weeks in Johnson's new fintech intensive program, based in NYC at the Cornell Tech campus on Roosevelt Island.
Johnson's fintech intensive curriculum stands out among other MBA programs. While MIT Sloan led the way and launched the first fintech course in the country back in 2015, Wharton and Yale currently have fintech clubs, and Columbia and NYU Stern offer a broad selection of courses and a fintech specialization. Johnson MBA students, as part of the fintech intensive, complete two consulting projects for fintech VCs and startups and hear from expert guest lecturers, making the experience hands-on and closely connected to the industry.
Threading together takeaways from various speakers, including Citi Ventures, EY, Point72, Betterment, SoFi, and Capital One, I gained an understanding of "what is fintech?"
Fintech is a moving target
I learned that fintech constantly evolves. It's a moving target and means different things to different people, which is why there's no universal definition. Firms come up with their own definitions to fit their models or theses. According to Ernst & Young, fintech is: "organizations combining innovative business models and technology to enable and enhance disruptive financial services." It's interesting—this definition requires novelty and disruption, so once new technologies reach broad adoption, the term fintech disappears! Here, "fintech" is a term with a shelf-life, expiring when current innovations become the norm.
Insights into the future
Our speaker from SoFi agreed, fintechs will become the norm, explained by simple economic principles. Banks fail to meet demand for certain consumer groups, and fintechs fill the gap. Different customers present divergent stories, expectations, risk preferences, and willingness to pay – and banks do not serve every permutation of customer profiles. For example, a straight-A student with a post-grad job offer may not receive a competitive interest rate on a loan because a bank views his profile as "unemployed with no credit history"—a high risk. This customer may receive a more competitive interest rate from a fintech like SoFi, which uses academic aptitude in its interest rate calculation. This is just one example of fintechs creating products for customers underserved by banks.
Natural evolution of financial services
Others suggest the opposite—that fintechs are not trying to disrupt. According to our speaker from Point72, fintechs rely so heavily on incumbent financial institutions, like Blackrock and Vanguard, that they can never truly upheave the financial services landscape. Instead, they build on top of it. Our speaker from Citi Ventures illustrated how fintech is a logical next step for traditional, large financial institutions. Citi Ventures offers to financially back employees with promising fintech ideas as a mechanism to keep talent in-house. Similarly, Capital One works with a design thinking team to understand its user and build applications— their own fintech products—to help customers retain privacy and get smart about spending habits.
Open to interpretation
So back to the original question—what is fintech? It depends on whom you ask. The financial services incumbent institution might say it's how their own products are naturally evolving. The design thinkers might say it's an emerging product category that serves unmet customer needs. The Series A fintech startup might say it's a disruptive paradigm shift that's happening right now!
But when you subtract away the question of what this word means, I learned that it's:
always changing,
exciting, and
impacting the way that people interact with money and each other.

---
About Zoelle Mallenbaum, Two-Year MBA '18
Prior to Cornell, Zoelle was an investment banking associate at a media and tech focused M&A firm in NYC, DeSilva+Phillips. Before that, she worked in media as a producer at Fox News and as an analyst for the WSJ. Zoelle's favorite extracurricular as an MBA is participating in tech case competitions; her teams have won two national first-place titles from Deloitte and Amazon.  Zoelle holds a BA in economics from Wellesley College and a minor in management from MIT. She will join Bridgewater Associates as a senior management associate full time after graduation.