Johnson MBA Project Initiative helps students on the path to career success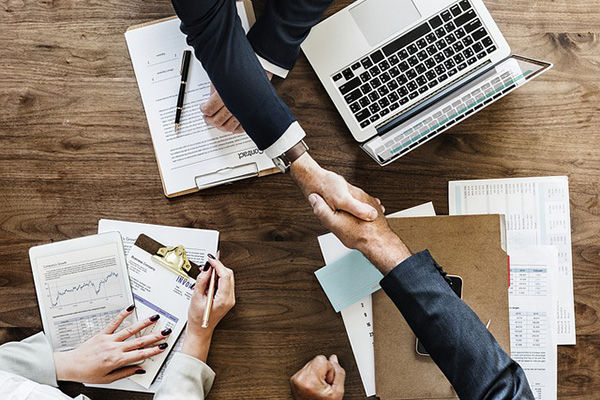 By Cynthia Saunders-Cheatham, Executive Director of the Career Management Center
Working in the Career Management Center, we often hear from employers who are thrilled with the quality of the talent found at Cornell. This is something we take great pride in—providing opportunities for students to thrive both personally and professionally during their time at Cornell and well after graduation.
Our students have always been successful, but in recent times, we've started to notice another trend. In spite of the great talent found at Johnson, it has become increasingly challenging for international students to find employment in the United States as companies have pulled back on sponsoring international students to work in the U.S. This is not just a problem for Johnson students. It's a problem affecting international students across America, especially those seeking full-time employment.
To address this growing challenge, the Career Management Center and external relations team have partnered to provide employers a way to hire students as consultants through the Johnson MBA Project Initiative. This is an excellent program that not only demonstrates our commitment to helping all of our students, including those from overseas, find lasting career success, but also benefits businesses facing challenges of their own.
How does the Johnson MBA Project Initiative work?
This program is designed for companies that may be facing a specific business challenge and do not have the time and resources to dedicate to it. This initiative enables a Johnson MBA to help by working as a consultant for a minimum of 10 weeks. Any MBA student is eligible to participate, whether they are a first year looking for work over the summer or a second-year student seeking short term work during an ongoing job search.
Through the Johnson MBA Project Initiative, employers are able to submit a project online for consideration. After the project has been accepted, students can submit their resumes and employers choose the students they'd like to consider for the role. Selected students will then submit a proposal detailing their strategic approach, hourly rate, and overall budget for the project. From there, it's up to the individual company to select who they'd like to work with as a strategic partner moving forward.
What are the benefits of this program?
For businesses, this program offers an excellent opportunity to hire premier talent at a comparatively low cost. Our students bring a wide range of experiences and expertise to the table that companies may not otherwise have access to. This initiative provides companies with an outside perspective that may be helpful in solving unique business challenges. For alumni, this is a great opportunity to give back to Cornell and prospect for future full-time hires.
For MBA students, this initiative is a chance to apply what they've learned in a real-world setting and build their resume in the process. International students, in particular, can benefit from this opportunity to get outside of their comfort zone, discover their passions, and explore potential career paths.
"Through the MBA Project Initiative, I was introduced to a private equity firm investing in emerging market sustainability project," says Johnson alumni Lawrence Linker, MBA '12. "This relationship developed into a summer internship for a biomass company in Singapore and business opportunities that incite my passion and inspire me every day. The MBA Project Initiative paved the way for me to conduct business on a level that I would not have previously thought possible," says Linker, who ultimately landed a full-time offer at the firm he first completed the project for.
Like Linker, dozens of other students have already benefited from the Johnson MBA Project initiative. Going forward, we hope to continue fostering career success for Johnson international students through this program and with the help of our alumni and business partners.
Hire a Johnson MBA overseas
Students today are increasingly considering career opportunities outside of the U.S. In response, we've put together resume books of our MBA students seeking international opportunities. The books are organized by target geographic region, and the students have indicated their target functions and industries. More detailed searches can be done by downloading the books and doing a keyword search.
Through both of these initiatives, our goal is to create opportunities for Johnson students to thrive in the U.S. and abroad. If you're interested in participating, feel free to contact me at ccs86@cornell.edu with any questions.
---
About Cynthia Saunders-Cheatham, Executive Director of the Career Management Center

Cynthia Saunders-Cheatham joined the CMC 10 years ago and was promoted to executive director in 2014. Before Johnson, she worked in corporate marketing for 15 years at a range of companies including Hanes Underwear, Valvoline, and United Technology.