Women in business: Paving the path, shaping the future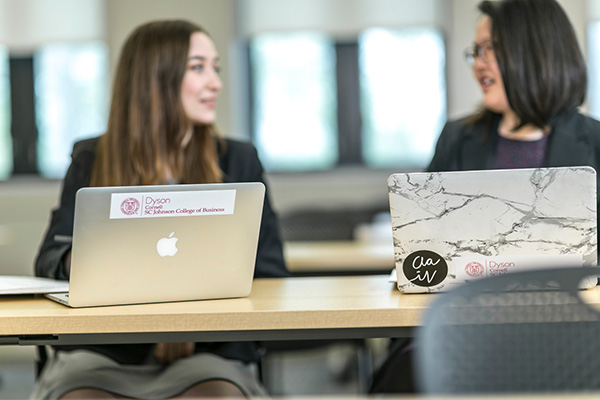 By Lynn Wooten, the David J. Nolan Dean and
Professor of Management and Organizations at Dyson
Life is made up of moments. We often do not recognize their significance until we have a chance to slow down and take time to reflect.
As dean of the Dyson School, my schedule stays busy. Outside of the office, I am a wife, mother, and daughter. Family is very important to me, and I stay closely connected to my extended family. With so much going on, sometimes taking time for reflection can be challenging. I have been intentional in ensuring that I continue to reflect on and create moments in my professional and personal life. This month, I have been particularly inspired as we celebrate the incredible accomplishments of women during Women's History Month.
As a woman in business—and in a leadership role—I can attest to how far we have come as a society. There is a lot of work to be done, but every day women are shattering that proverbial glass ceiling and continuing to pave the way for future generations.
Here are some things to keep in mind during your time as a student and as you prepare to enter the workforce.
Embrace progression and be a catalyst for change.
You do not have to look far for inspiration. I was excited earlier this month to join a group of female colleagues, each of us members of the Dyson School's faculty and staff, for a creative photo shoot ahead of International Women's Day, observed annually on March 8 as a global celebration of women for their cultural, social, economic, and political contributions and achievements. We gathered on the steps outside of Warren Hall to re-create a photo taken in that very same spot in the 1960s, but there was a significant difference between the past and present scenarios in the photos. The historical photo featured an all-male group of administrators and faculty.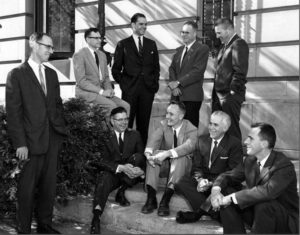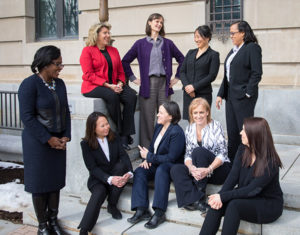 Standing together for a photo shoot with just a few of the many women leading and working for Dyson students was a reminder of the incredible community we have in Warren Hall, and I hope you are reaching out to them for mentoring opportunities and to build a network of support.
Empower others and celebrate their success.
Within 24 hours of our photo shoot at Warren Hall, I was in Boston meeting with an incredible group of alumnae. These women of diverse backgrounds spoke candidly about empowering women in the workplace. This particular group is committed to the advancement of women in finance, and it is a reminder of the vast alumni network full of others dedicated to the success of all of our students at Dyson. You can empower others by creating an inclusive culture for diverse genders to thrive.
Be bold.
In early March we celebrated the one-year anniversary of the installation of the Fearless Girl statue at Bowling Green in the Financial District of Manhattan. If you are unfamiliar with the Fearless Girl, make an effort to head to Wall Street next time you are in New York City. The statue is a powerful reminder for women to be bold and to move forward without fear. Facing challenges is a part of life and is certainly central to our experiences as women in business, but your approach to overcoming these challenges can make all the difference. Let the Fearless Girl statue be a reminder that you are resilient.
No matter what you want to do, or where you go in life, you will likely be running a business in one way or another—whether it is healthcare, art, investment banking, opening your own company, founding a non-profit, or serving on a board. Investing in the skills you need to manage and lead a business early in life can help prepare young women for success.
One of the things that made me smile recently was learning that my 16-year-old daughter joined the entrepreneurship club at her school. Learning to think outside the box is essential for women of all ages. So, what is my advice to young women at Dyson and beyond? Set the bar high, be intentional, enact positive change, think big, be bold and fearless, and empower those around you.
Women are the future—I cannot wait to see how far we will go.