Curriculum to strengthen and empower tomorrow's healthcare leaders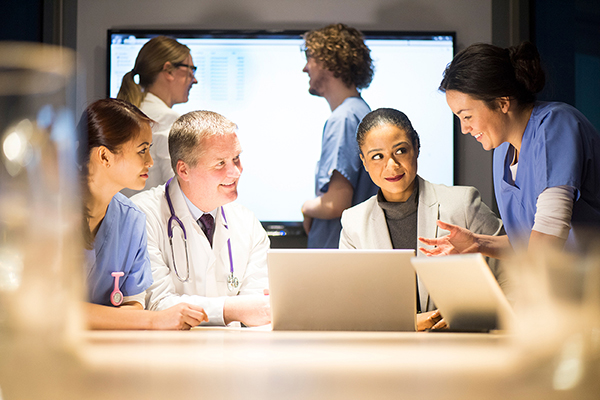 By Geraldine McGinty, Academic Director of the
Executive MBA/MS in Healthcare Leadership Program
As healthcare leaders who seek to drive meaningful change in medicine and advance our own careers, a broad range of business and management skills are demanded of us. We need to understand how to influence various stakeholders in the industry and bring about change effectively. At the heart of our Executive MBA/MS in Healthcare Leadership program is a specialized curriculum that helps healthcare leaders develop and strengthen their business skills and management capabilities. We're empowering healthcare professionals to make improvements—from inside their organizations to the industry at large—by equipping them with knowledge and experiences as they earn a dual degree.
Combining business acumen with healthcare expertise
Earlier in my career I realized I needed a toolkit that enabled me to understand the key drivers in healthcare so I could maximize my influence as a leader. From my experience as a clinician, educator, and administrator, I know the Executive MBA/MS in Healthcare Leadership program provides students with exactly the tools required to tackle healthcare's biggest challenges head on.
The program curriculum teaches skills that are essential to lead complex healthcare organizations and engage productively with all stakeholders including physicians, payers, technologists, and more through a common language. Courses such as Financial Accounting, Managerial Finance, and Business Strategy focus on building a strong business acumen while courses like Biostatistics, Healthcare Policy and Economics, and Health Data hone in on healthcare expertise. Imagine being in that next budget meeting, equipped with a data-driven degree and a comprehensive understanding of finance and accounting—you'll be not only a meeting participant, but also a driver of institutional strategy.
Given my focus on healthcare payment policy as the chief strategy and contracting officer of Weill Cornell's Physician Organization, I've become well versed in the art of both negotiation and organizational management. While my radiology training is an essential part of my ability to excel as a clinician, it is imperative for me to collaborate with professionals from all disciplines and functions within healthcare in order to make a substantial, long-term impact in the industry.
Preparing leaders through diverse perspectives
Whether you are a practitioner or a non-practitioner in the healthcare industry, the Executive MBA/MS in Healthcare Leadership program is designed for those seeking to advance their careers. Our current cohort includes clinicians as well as professionals from pharmaceutical, medical device, insurance, technology, and government sectors. By bringing together a diverse student body, we're able to capture the essence of the overall healthcare ecosystem. Candidates are generally years removed from the academic environment with considerable time spent in the trenches of real-world experience. True innovation comes from dynamic classroom interactions between these industry experts—whether it be an idea that could transform healthcare policy or a new technology would help hospitals save time, money, and lives.
As we consider the profile of our future healthcare leaders, technical training will simply not be enough. To understand the complexity of the U.S. healthcare environment, change-makers will be expected to navigate intricacies of the system and collaborate at a high level across functional areas. For example, knowing how to source data and critically evaluate it will be essential. We will need to not only be highly informed, but also have the skills to assess strategies through varying perspectives to determine their effectiveness. To meet these industry expectations, the Executive MBA/MS in Healthcare Leadership program imparts both physicians and non-physicians with the ability to transform healthcare through the combined power of the Johnson Graduate School and Weill Cornell Medicine.