Daniel A. D'Aniello speaks on the value of mentorship in driving success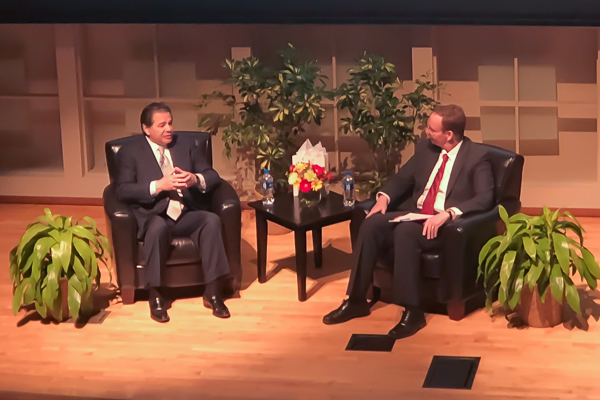 Daniel A. D'Aniello knew he was on the right track when he left his position as vice president of finance and development at Marriott Corporation to co-found The Carlyle Group. Years later, he is now chairman emeritus of the Washington, D.C.–based investment firm. When asked about his decision to take the leap to start a business in 1987, Mr. D'Aniello responded with one piece of advice that seemed to underscore his talk about entrepreneurship, mentorship, and stewardship at this year's Lewis H. Durland Memorial Lecture: "You want the person you're leaving to bless what you're doing."
On March 27, Mr. D'Aniello, a magna cum laude graduate of Syracuse University and former U.S. Navy officer, shared his background and experiences that led to the rise of The Carlyle Group—one of the world's largest investment firms—and his path to stewardship.
Mr. D'Aniello began his talk with the inception of The Carlyle Group, discussing the inevitable roadblocks and resolutions that arose in the creation of a new business. With his co-founders, William E. Conway, Jr. and David M. Rubenstein, the initial decision-making processes centered around how to grow their firm. At first focused on acquiring stakes in defense-related companies, Carlyle then broadened its business by investing in industries impacted by government policy and regulation. After solidifying their decision to branch out, Carlyle's founders transitioned to a global market. The company now boasts more than 1,600 professionals operating in 31 offices on six continents.
The Carlyle Group found support from its advisory board amid its early transitions. Mr. D'Aniello stressed the importance of seeking mentorship in the investment world. "It is vital to have people who can vouch for your integrity and ability," he says. As Carlyle's success grew, the firm bought out its original investors. With new fund strategies and business segments, the firm grew internally and externally while meeting the demands for more investment choices and customization in Europe and Asia.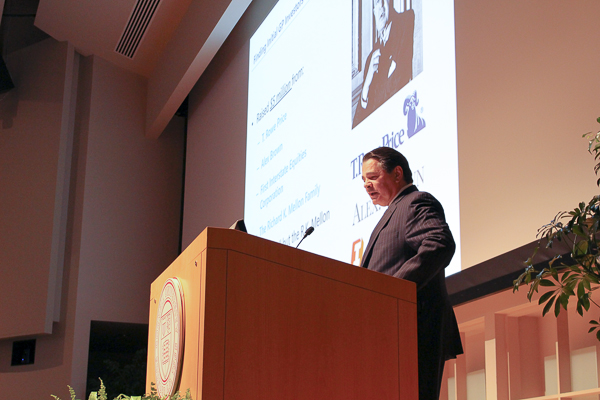 While Mr. D'Aniello expressed the great success that characterized the development of the firm, he also acknowledged the importance of trial and error. Mr. D'Aniello emphasized the importance of humility in recognizing one's errors and understanding how to spend one's time: "Allocate your valuable time to things that are going to scale, grow, and become profitable. Time is your highest opportunity cost."
Now, as one of the world's largest and most diversified, multi-product global alternative asset management firms, The Carlyle Group still values mentorship at its core. "We pride ourselves in having a culture that brings together a selflessness of sharing one's intellect and resources across the firm to help our colleagues," says Mr. D'Aniello. When discussing the culture of Carlyle, he explains that while there are advantages to high performance and access to capital, the true value is in how these resources are utilized within the company.
Aside from his role as a member of the Executive Committee and Board of Directors of Carlyle, Mr. D'Aniello unplugs from the business world through his five pillars of stewardship: entrepreneurship and free enterprise, veterans' causes, mental health, the performing arts, and faith. These pillars dictate how he allots his monetary resources and time. They are also a roadmap for giving back in return for the guidance he received throughout his career.
When asked about the lessons he has gathered throughout his career, Mr. D'Aniello ends by repeating the importance of practicing communication and interpersonal behavior, "doing great deals relies on working well with people."
—Written by Ashley Win, a student intern for the Cornell SC Johnson College of Business