Josefina Hamren '15, MBA '18: Innovating in fashion, tech, and business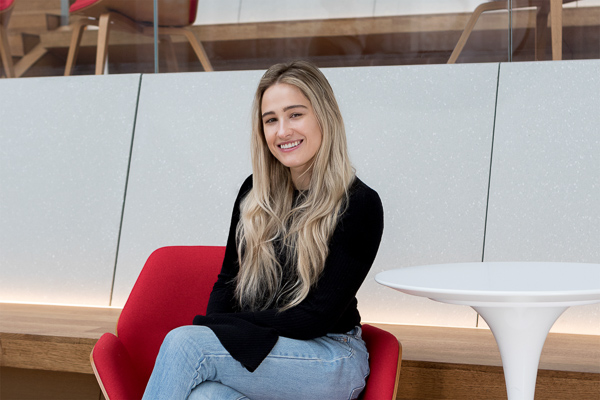 Photo credit: Zach Silverstein
"I felt like tech was in my bones at an early stage," says Josefina Hamren '15, MBA '18. As a San Francisco native, Hamren was surrounded by a technology and business-infused community throughout her childhood. Both her parents had careers in the tech world, which fueled her desire for discovering new passions within the industry. Hamren always knew she wanted to find a way to combine her interests and grow as an innovator, and Cornell's cross-functional offerings were the answer at two different times in her life. Now, Hamren is preparing to graduate from the Johnson Cornell Tech MBA program in May—officially becoming a "double Red."
Hamren began her journey in high school when she took on a new venture—fashion designing. As a student, Hamren created a fashion line that was completely eco-friendly and sustainable. Her small pastime hobby turned into something more when she decided she wanted to learn about the intricacies of textile science and the industry. This led her to attend Cornell, where she studied Fiber Science & Apparel Design (FSAD) in the College of Human Ecology.
Though the transition from sunny California to snowy Ithaca was hard for her as an undergraduate, Hamren knew that Cornell was where her curiosities could be fully satisfied. The FSAD major pushed Hamren to explore fields that intertwined with design, business, and science something she had always been interested in.
"There was no other place in the world where I could study design, science, and business all together," says Hamren. Among the FSAD curriculum, Hamren found that the business and science aspects of the major were what resonated with her the most. She decided to take a year off during her undergraduate career to work in the city for various companies and startups such as Lean In, Bravo, and American Eagle. When Hamren came back and finished her degree and internship experiences, she looked toward tackling the next big step in her career—how to build up a company.
Hamren wanted to work for companies that were in their transitioning and growth phases, which led her to the location intelligence company Foursquare in SoHo, Manhattan. As Hamren worked her way up from the marketing team to the strategic partnerships department, she realized she still had the lingering thought of returning to school to earn an MBA just like her parents had.
While Hamren began the search for an MBA program, the thought of pursuing a traditional program was unappealing. As someone who is eager for hands-on learning rather than networking, Hamren searched for a unique program that combined her current knowledge and skills with something she had always loved—technology. Her desire to delve into another new segment of her interests led her to the Johnson Cornell Tech MBA program.
Hamren's experience at Cornell Tech has been anything but ordinary. The interdisciplinary nature of the one-year MBA has provided Hamren with more knowledge of how technology functions in the business world. Hamren's passion is further propelled by the fast-paced, dedicated community, "I am surrounded by people who really want to innovate and build the future; by people who want to have an impact and not just go to school to say 'I have an MBA.'"
Hamren is looking toward creating her own business one day. When asked about her future hopes and worries, Hamren says: "There are always worries about how things are going to go and, with every job you take, there is uncertainty." However, what calms her nerves is the support and knowledge Cornell Tech has provided for her. "I think Cornell Tech has really set me up to accomplish what I want in the future," she says.
For Hamren, she wants her future to combine interdisciplinary knowledge of fiber science, tech, business, and the consumer industry to build her own company and stake a claim on Forbes' list of Most Powerful Women.
—Written by Ashley Win, a student intern for the Cornell SC Johnson College of Business