Uma Lele, "a leader in the world of economic development," receives Dyson's Wharton Award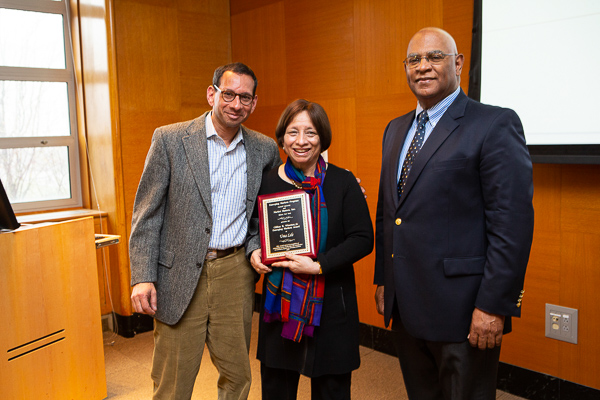 Uma Lele, MS '63, PhD '65, never considered herself a trailblazer—not when she became the first woman to earn a PhD in agricultural economics from Cornell and not when she became one of the first employees of the World Bank and the rare woman traveling on international missions in the 1970s. But her distinguished career of more than four decades as a leading independent scholar and development economist leaves no doubt that she has been just that.
Lele has authored or co-authored 18 books or book-length reports and more than 130 book chapters, papers, and articles on topics ranging from the environment to gender to global health. Her long career in research, operations, policy analysis, and evaluation included many years at the World Bank, interspersed with periods of service to universities—including Cornell—and international organizations.
To the many significant honors and awards she has accrued in her career, Lele recently added one from the Dyson School, the Clifton R. Wharton Jr. Emerging Markets Award. Recognizing outstanding service, leadership, and contribution to economic progress in emerging markets, it was presented during the Emerging Markets Program's International Symposium and Student Multidisciplinary Applied Research Team (SMART) presentations on April 17.
Among those attending the ceremony in Warren Hall were Lele's son, Abhijeet Lele, MBA '89, who is the managing director at Temasek, a healthcare investment firm in Singapore, and emeriti Randy Barker and Bill Tomek, two professors from her student days.
Lele and Clifton Wharton—a noted pioneer in philanthropy, higher education, public policy, and business—crossed paths when she was a graduate student and he was supervising programs in Thailand, Vietnam, Laos, and Cambodia for the Agricultural Development Council. "In those days (the early sixties), it was rare for a black person to achieve as much as he did. And so, I always admired him," she said. "It was heartwarming, and a big surprise, to receive this award."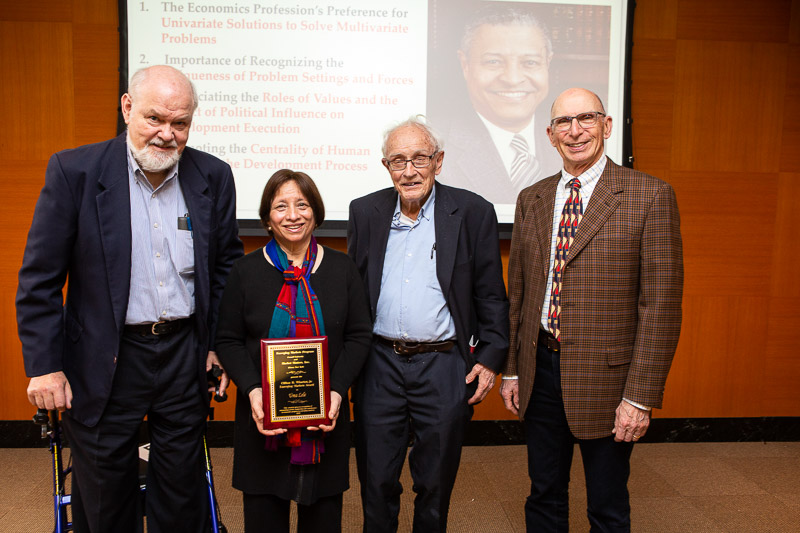 Ralph Christy, professor of applied economics and management and former director of the Cornell International Institute for Food, Agriculture, and Development, who chaired the award committee, called Lele "a leader in the world of economic development and a brilliant researcher whose work on the food markets in India has been widely cited.
"She supports her theories with rigorous empirical analysis, which is so relevant for policymaking, particularly for decision-makers in developing countries," he observed. "The strength of her work lies in her rich data sets. Some have been counterintuitive, such as identifying the need for more resources, not less, as agriculture becomes a smaller part of the overall economy. Others have advanced or challenged existing theories."
From Cornell to the World Bank, and back again
Lele, who grew up in the Indian state of Maharashtra, credits her life's trajectory to her father, a lawyer and judge who "had big ambitions for his daughter, and a long vision." By the time she was 18, she had fallen in love with her brother's friend Jayant Lele, PhD '65 (CALS). The young man, who had a Ford Foundation fellowship to study at Cornell, asked Uma's father for her hand in marriage. "My father was a quick-thinking man," she said with a laugh. "He said to Jayant, 'You are going abroad, and she hasn't finished her education yet. Why don't you get your PhD and, when you return, if she's not married and you're not married, then maybe the two of you can wed.'"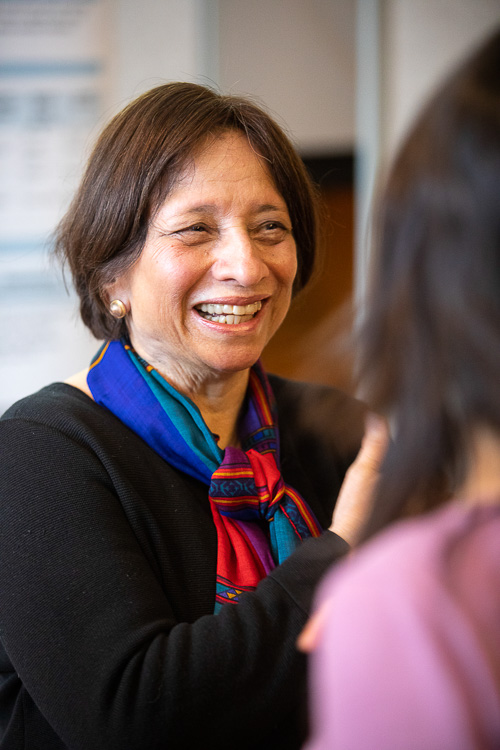 Jayant persisted, and Lele's father ultimately relented, setting what he considered to be a high bar: if his daughter also earned a fellowship for graduate study in the United States, then the two could marry. "My father felt the gulf between us would be too great if I weren't similarly educated," she said. Although she had not yet completed her bachelor's degree, she "applied to schools like crazy" and received a fellowship from the economics department at the University of Chicago.
The couple married, and Lele went off to study under Theodore Schultz, the chairman of the Chicago School of Economics and a future Nobel laureate. Her husband, meanwhile, worked on his doctorate in rural sociology at Cornell. "In the sixties, that was unheard of," she said, referring to their long-distance marriage. "Not many women even did graduate work in those days, certainly not in economics." Within a year, she had transferred to Cornell, where the College of Agriculture (since 1971 the College of Agriculture and Life Sciences, or CALS) and the College of Arts and Sciences awarded her a joint scholarship. "They took a chance on me, figuring I couldn't be that bad if I'd been admitted to Chicago's graduate program," she said. She finished her master's degree, did field work in India, and went on to earn a PhD at age 24, unaware that she was the first woman in her field to do so at Cornell. "I knew all my fellow students were men," she said, "but I didn't even think about it. I was so busy."
Looking back, she said, she is grateful to both Cornell and the University of Chicago "for giving me tremendous opportunities."
The couple's son, Abhijeet, was born while they were still in Ithaca. Ten days later, they left for Canada, and Lele settled in as a housewife and mother, though she soon became bored by the long winters and lack of professional stimulation. Field research on Indian grain markets took her back to India for long visits, during which parents and family members "were more than happy to look after their grandson."
In 1971, in recognition of that research, Lele was hired by the World Bank, "ostensibly to work on markets in South Asia." Soon, however, she was ordered to head up a research study on Africa. "I was given all sorts of different kinds of assignments. Most of the time, I was thrown into the deep end, into the middle of the ocean, into fields I knew nothing about," she said.
Lele left the World Bank for a time to return to Cornell as a visiting professor and finish a book derived from her work. The Design of Rural Development: Lessons From Africa (the Johns Hopkins University Press, 1975) burnished her credentials as an Africa expert. "I was one of the early ones to say that complex integrated projects don't work in the African context because of their countries' weak institutions," she said. Her study concluded that "project design needed to be bottom-up and build capacity before institutions could absorb large inflows of capital."
She returned to the World Bank in 1974, after belatedly receiving approval for a leave of absence. By that time, she was married to John Mellor '50, MSc '51, PhD '54, professor of agricultural economics, economics, and Asian studies and director of the Comparative Economics Program, who had been appointed director of the International Food Policy Research Institute in Washington, D.C. Over the next 17 years, she published on Africa, aid, and capital flows.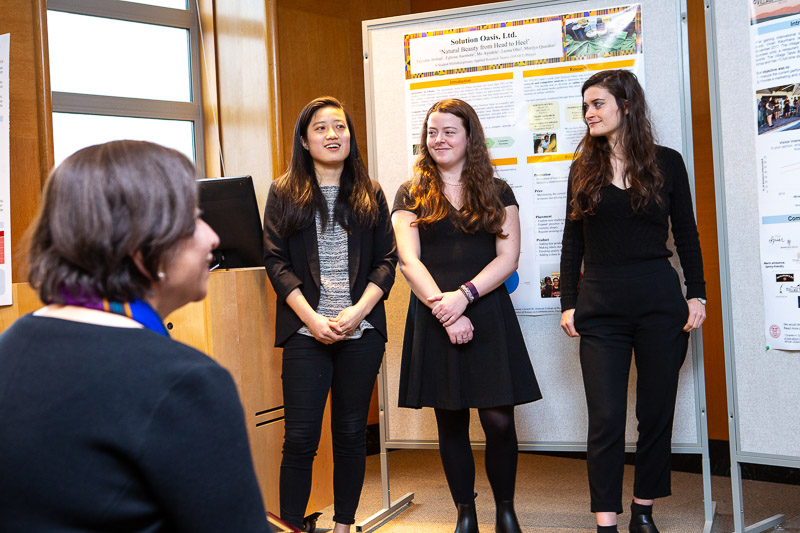 In 1991 Lele, by then divorced, left the World Bank for the University of Florida, where she spent four years as a graduate research professor and director of international studies. While there, she directed the Carter Center's Global Development Initiative. Lele also co-chaired the Task Force on Research Innovations for Productivity and Sustainability with Ronnie Coffman PhD '71, then the associate dean for research in CALS, where he is now the Andrew H. and James S. Tisch Distinguished University Professor and director of international programs. The task force explored how American universities could partner with the Consultative Group on International Agricultural Research (CGIAR) and developing countries to fund collaborative research.
Upon returning to the World Bank in 1995, Lele was asked to evaluate the bank's forest strategy. Her lack of knowledge in that area, she said, was seen as an asset, because it would lead her to ask difficult questions. Her recommendation, a controversial one, was to abandon the bank's existing policy and formulate a new one that balanced conservation with poverty alleviation. "I was developing a reputation for speaking my mind, regardless of the repercussions," she said.
As co-chairwoman of the International Forests and Grasslands Task Force for the China Council on Environment and Development, she suggested that China survey farming households in forestry areas to learn the impact of the government's logging ban. "We had 10,000 observations, and they showed that the ban had a drastic adverse impact on poor people's lives," she said. "We suggested that they replace the logging ban with a program that would incentivize farmers not to deforest and to plant trees. They began offering payments for environmental services, which has been very successful."
In Brazil, working with Embrapa, she introduced the idea of competitive grant programs and helped create Labex, a "laboratory abroad" program that would allow Brazilian agricultural scientists to work on joint research projects with their counterparts at the U.S. Department of Agriculture. Today, Embrapa also has laboratory exchange programs with countries in Europe and Asia.
As a senior advisor in the World Bank's Operations Evaluation Department (now called the Independent Evaluation Group), Lele also led meta-evaluations of CGIAR, a global partnership of funders and centers of agricultural research, and the World Bank's approach to global programs. "I kept expanding my mind and having a tremendous opportunity at the bank to take on responsibilities for which I was totally unprepared," she said. "I had many supportive bosses, whom I credit for being willing to take that risk."
Lele has been an informal mentor to the women who followed her and has enjoyed watching the progression of their careers. "Lots of the young people who worked for me have risen to high levels," she said. "If one lives a long life, you experience all sorts of good things professionally."
Receiving, and bestowing, honors
Since retiring from the World Bank in 2005, Lele has been writing papers and giving lectures on the reasons why some countries are more successful than others. "That's a question that has always interested me," she said. "There's humility in recognizing that knowledge of what can be done is not the same as translating knowledge into policy—and, most of all, translating policy into implementation. The difference between China, which has been hugely successful, and India, which has progressed more slowly, is that the Chinese are great implementers while Indians have increasingly reduced their capacity to implement."
Last year, she received two career achievement awards from Indian organizations: the B. P. Pal Memorial Award from the National Academy of Agricultural Sciences, of which she is a fellow, for "singular outstanding overall contribution to agriculture" (making her the first social scientist to be so honored), and the M. S. Swaminathan Award from the Trust for Advancement of Agricultural Sciences, for "lifetime achievement in leadership in agriculture." She also received a Lifetime Achievement Award from the Indian Society of Agricultural Economics and a CALS Outstanding Alumna Award, among other honors.
To support the growth of human capital in developing countries, Lele has funded two awards of her own.
Through the Agricultural and Applied Economics Association (AAEA), of which she is a fellow, she established the Uma Lele Special Purpose Fund, which awards fellowships of up to $5,000 a year to students who select AAEA members as mentors and work with them on proposals. Lele, who learned from Ted Schultz the importance of human capital, created the award, she said, "because I feel strongly that unless nationals of developing countries—who understand their countries' soils, plants, and policies—become outstanding in various fields, their agriculture will never become prosperous." Last year, she partnered with the Indian Agricultural Research Council to replicate the program in India.
Through the International Association of Agricultural Economists, of which she is an honorary life member, she established the Uma Lele Prize for Best Contributed Paper on Gender, an award for research on gender issues in agriculture, in 2011. "This is my small way to try to promote certain ideas," she said. "I try to put my money where my mouth is."
Lele currently is a visiting researcher at the Institute of Economic Growth in New Delhi. Her latest book, Food for All: International Organizations and the Transformation of Agriculture, is forthcoming from the Oxford University Press.
—Written by Sandi Mulconry, a freelance writer for the Cornell SC Johnson College of Business; Photos by John Reis