Panel explores careers combining life sciences and business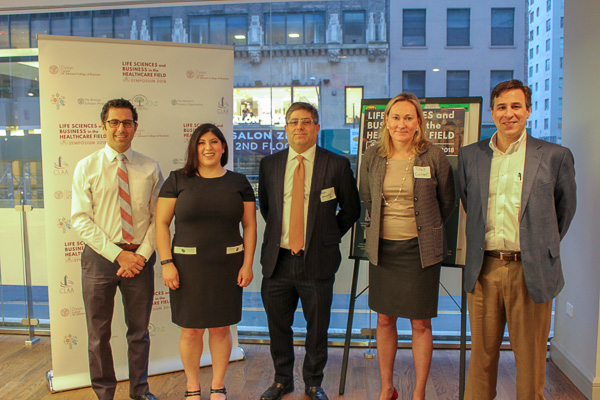 From launching a biotechnology investment firm to founding a pharmaceutical startup, four entrepreneurs discussed how they forged careers that combine their passion for the life sciences and business at a spring symposium in New York City.
The event, which drew 50 Cornell students and alumni, offered a glimpse of the diverse range of careers that leverage biotech development, pharmaceutical research, and investment in the life sciences to create new opportunities in the healthcare field.
"This was a wonderful opportunity for our students and recent alumni to meet some of the innovators in the emerging field of business and life sciences—people who are working at the cutting edge of developing new biopharma and medical devices," said Robert Karpman, director of the Dyson Business Minor for Life Sciences Majors, one of the sponsors of the event.
The panelists at the symposium stressed that incorporating business and healthcare is now considered essential to most career options in the field, from primary care medicine to biotech development.
"In today's world, you need to understand how to account for the cash flows, how to manage people, and how to innovate, even if you're in a healthcare practice," said Andrew Weisenfeld '89, managing partner with MTS Health Partners, an investment bank that provides strategic and financial advice to the healthcare industry.
Combining a degree in the life sciences with an MBA is one way to acquire the business skills needed to succeed. Joseph Habboushe, MD '07, earned an MBA in healthcare finance from Columbia University while completing his medical degree at Weill Cornell Medicine. In addition to working as an emergency department physician at New York University Langone Medical Center, Habboushe co-founded MDCalc, an online medical reference tool used by more than 50 percent of U.S. doctors monthly, and launched Vitalis Pharmaceuticals, which is developing drugs to treat multiple sclerosis, pain, and cholesterol.
"I was thinking about going into medicine because I like science and I like to help people, but I also like the idea of fixing bigger-picture problems," Habboushe said. "I had this entrepreneurial kick, and the medical path seemed so long—I couldn't even see the end of it."
Although becoming a physician is a difficult process, the path toward developing medical startups is also arduous. Studies show that it takes 17 years from the time a product has been proven to work until it becomes part of standard care, Habboushe said.
One strategy that can help entrepreneurs interested in healthcare startups is to collaborate with others who have diverse skills, said Newton de Faria, director of the Master of Engineering program at Cornell's Meinig School of Biomedical Engineering. "Join forces with people who are like-minded but skill-adverse—people who understand the healthcare industry on the clinical side, people who understand the regulatory side, and people who understand the strategic approach toward it," de Faria said. "You can't do it alone, but you can catalyze it and move forward, and that's an important aspect of the process when you look at healthcare."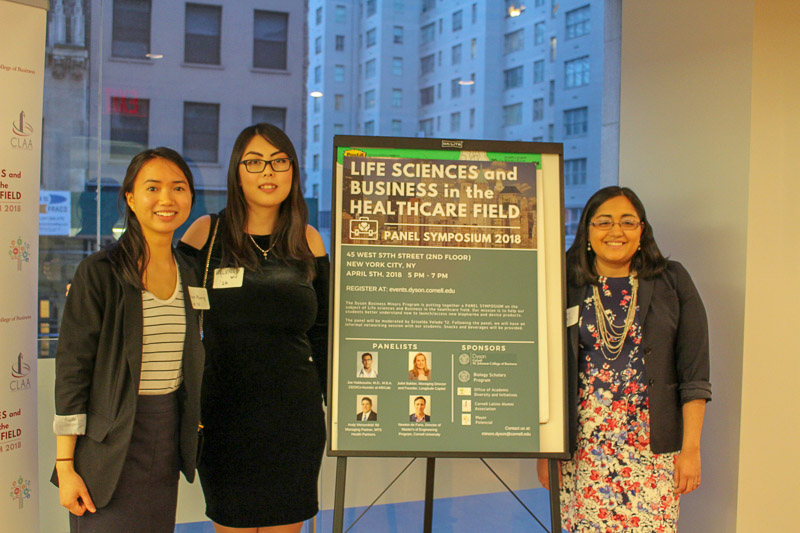 What is also critical is finding a niche in the healthcare field that you're passionate about, said Juliet Bakker '83, managing director and founder of Longitude Capital, a firm that invests in life sciences companies. "The most important piece of advice that I can give you is: Find something that totally turns you on. When you're intellectually curious about something, that's where you will make a difference in the job," said Bakker, who is also a member of the College of Agriculture and Life Sciences Advisory Council.
Joyce Chen '17, an alumna living in New York City who attended the event, said it was helpful to learn how other alumni have incorporated healthcare and business in their careers. "I just love how they were able to take all of their interests and combine them in ways that are interesting and do it with medicine and healthcare," said Chen, a medical associate at Medical Dynamics, a communications firm in New York.
The symposium, which was moderated by Griselda Velado '12, a full-time firefighter and paramedic in Ithaca, was also sponsored by the Cornell Biology Scholars Program, the Office of Academic Diversity Initiatives, the Cornell Latino Alumni Association, and Mayor Potencial, a nonprofit organization that is improving the quality of life in rural communities in Honduras.
"It is imperative to bring innovative solutions to address global challenges especially in developing countries like Honduras, where access to healthcare is a huge problem," said Helena Wu '16, a project manager and business analyst at Nomura in New York and alumni engagement coordinator for Mayor Potencial. "The Dyson Business Minor program and Mayor Potential provide the opportunity for students to bridge this gap and take on this challenge."
Another alumna, Marjorie McFarlane Lucas '17, said she liked the advice that the panelists offered—to take advantage of opportunities while following your passion. "I love that their career trajectory wasn't linear," said Lucas, senior vice president of client services at Strategic Legal Solutions in New York. "All of them were successful because they took the opportunities that were presented to them."