Park Fellows alumni spotlight: Andrea Findley, MBA '09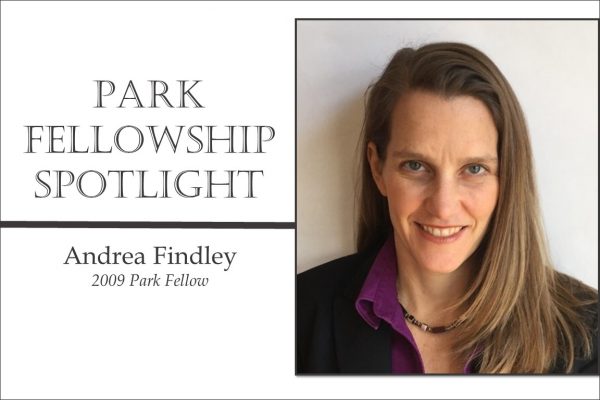 For nearly a decade, Andrea Findley had led initiatives with microfinance organizations focused on fighting poverty. Motivated to learn more about how to engage the private sector in international development, she embarked on a dual Cornell MBA/MPA.
"I was a driver, or a warrior, in Clint Sidle's vocabulary, but I wasn't aware that my desire to have forward movement could silence people's valuable perspectives," says Findley. "It wasn't very effective in building collaboration and (potentially) better outcomes."
The Park Fellowship not only helped Findley afford the MBA, but also deepened her leadership skills. The program gave her opportunity to practice new awareness in leadership settings, including co-developing BR Microcapital to support Ithaca entrepreneurs. The project was also a great opportunity to connect with the local community outside of Sage Hall, Findley adds.
Her Park mentor, Jeff Fuchs '08, provided crucial guidance and real-time feedback. In the end, this mentor connection ended up becoming a lifelong relationship. "I ended up marrying Jeff," laughs Findley. "And Clint just had to marry us!"
After graduating, Findley worked as a strategy consultant for Accenture. "I continued with my desire to make an impact on poverty, but invested myself in gaining new tools and broader experience outside of the non-profit sector." she says. She also led recruiting efforts at Johnson. "I wanted to give back to Johnson [while simultaneously getting] good people for Accenture," she adds.
Now a senior director with Ascension Global Mission, Findley is helping the world's largest Catholic healthcare company meaningfully impact poor and vulnerable populations, outside of their traditional healthcare business. She leads an innovative model in Guatemala to enable community-led development. "It's about engaging local communities in ways that are respectful and utilize their talents and assets, rather than telling them what they need and bringing it to them," says Findley.
She says her Park training is helping immensely in this role, which requires her to lead through influence, focusing more on advising and guiding, than being the visible, out-in-front leader.
"I still have this driver tendency where I get impatient because I want to see forward movement," she adds. "But now my leadership style has evolved to be so much more about creating opportunities for other people to step in and be leaders."