Treks to NYC and DC give real-world perspective on sustainability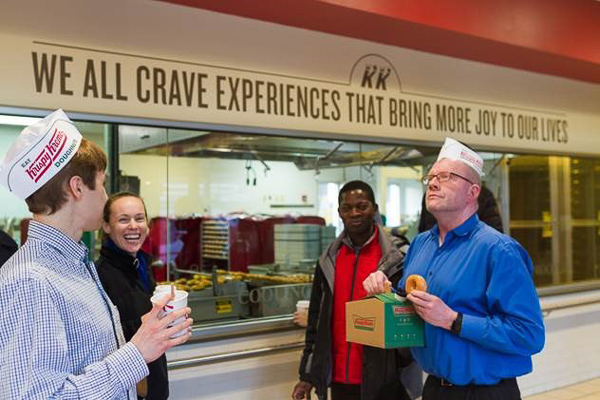 Each year Mark Milstein, director of the Center for Sustainable Global Enterprise and clinical professor of management and organizations, organizes and conducts two treks for students in the sustainable global enterprise (SGE) immersion—one to New York City and the other to Washington, D.C. During these treks, students meet with representatives from companies relevant to the topics of environmental or social sustainability.
Four MBA students share their reflections and highlights from the 2018 treks while connecting their experience to the SGE immersion.
Invaluable real-world perspective
Katherine Schultz, Two-Year MBA '19
"The sustainable global enterprise immersion is multifaceted and affords students the opportunity to leverage their previous work experience and interests in order to apply them to future careers. An invaluable aspect of the program is its real-world perspective. SGE goes beyond the conceptual to the hands-on via "career treks" to companies, allowing students to see sustainability incorporated into various industries such as food/agriculture, consumer packaged goods, government, and real estate
A highlight of the treks for me was seeing how sustainability is an integral facet of the real estate industry. In New York City, we visited Thorobird, a real estate development company focusing on low income housing, and in Washington D.C. we met with Clark Construction, a general contractor helping their clients achieve LEED, WELL, and Fitwel certifications. It was fascinating to understand and contrast the sustainability efforts at these and other companies.
The ability to be granted an inside look at these impressive companies and cultivate relationships was extremely valuable for me, as well as my peers. It was truly a game changer for me and helped to reinforce my career goals."
Engaging with sustainability throughout my career
Fuyuto Onuki, Two-Year MBA '19
"The New York City and Washington D.C. treks were great opportunities for me to be exposed to sustainability in real business settings. I found it interesting that each company (or each department within the same company) had different thoughts and motivations regarding sustainability. Some companies engage in sustainability initiatives as part of their core mission, some address sustainable issues to promote the branding of their business, and others focus on capturing a financial benefit from a sustainability trend. This made me reflect on how I want to engage in sustainability through my career, beyond simply the industry or company I want to be a part of.
In addition, in NYC we had the benefit of doing a workshop at frog design, whereby we applied design thinking to our respective SGE immersion projects and developed new concepts and innovative solutions through several agile activities. It was helpful to frame the business issue from a different perspective and develop new ideas that could be integrated into the work we had done on our consulting project to date."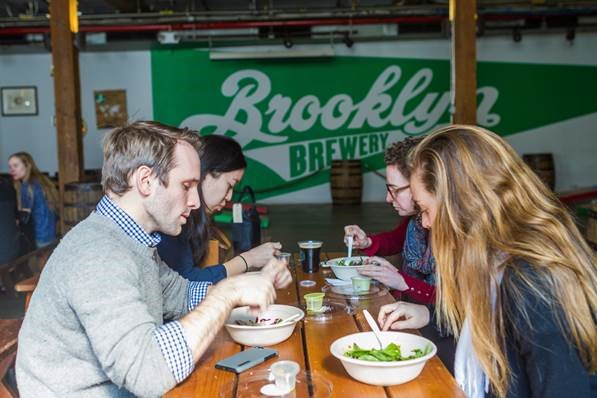 Creating my own impact
Henry Yang, Two-Year MBA '19
"The New York City trek was a great way to see how sustainability is tackled in the real world. We visited both Citi and Goldman Sachs, which highlighted the clear distinction in the approach each firm takes regarding sustainability. In those three days, I could really compare firms' initiatives and figure out how I wanted to create impact in my own way."
A new lens for organizational mission and impact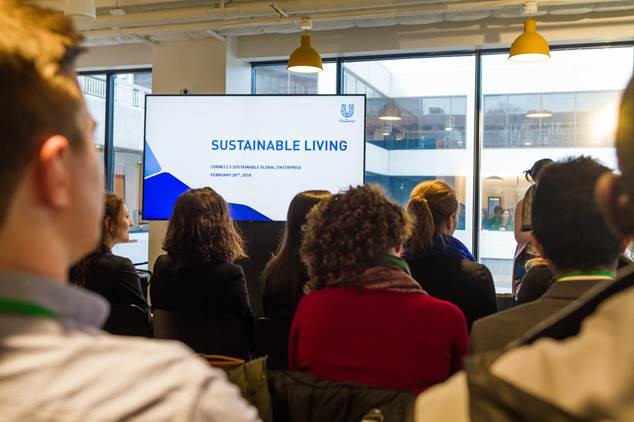 Madeleine McDougall, Two-Year MBA '19

"The SGE trek to Washington D.C. included visits with a whole range of public and private organizations. As someone who lived in Washington D.C. for seven years prior to business school, I found it interesting to return to the city with nine months of business school training and the majority of the SGE immersion under my belt. I looked at each organization's mission and impact with a fresh perspective and surprised myself with which organizations I felt a strong connection to.
One visit I particularly enjoyed was to Cadmus Group. Cadmus is a strategic and technical consultancy firm with a mission to "help solve the world's most challenging problems." The group has grown exponentially in recent years, and our SGE cohort was lucky enough to learn about some of the major milestones and challenges of that journey from the CEO himself.
I also thoroughly enjoyed our visit to Covington & Burling, LLP, a full-service law firm where we spoke to Senior Counsel Gary Guzy. Gary has had a prominent career in environmental law with at least two presidential appointments. He provided our group with high-level perspective on the inconsistent progress within the environmental protection movement and the different roles that the public and privates sector play across different contexts. Gary also provided some encouraging insights into the recent, more robust role corporates are playing, especially within the renewable energy sector.
Overall, the SGE trek to Washington D.C. was a great complement to the NYC trek, and an awesome opportunity to spend more time together as a cohort, meet interesting alumni, and explore new perspectives on sustainability."
All photos provided by Henry Yang, MBA '19