Aaron Adalja joins the A team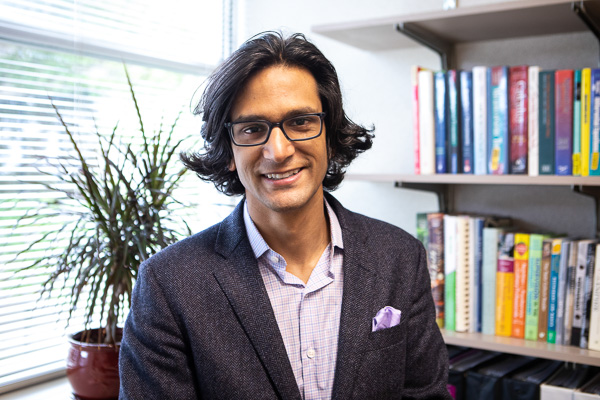 It was late in the evening on January 31, 2017, with the temperature outside in the mid-20s, when Aaron Adalja got his first taste of Cornell hospitality. "I had taught that day at the University of Maryland," he recalled, "and I didn't get into Ithaca until around 10:20." By the time he arrived at his hotel, it was 11:00 p.m. Despite the late hour, he was greeted in the lobby by the chairman of his search committee, associate professor of food and beverage Alex Susskind. "That meant a lot to me," he said. "Nobody outside of a hospitality school would even think of doing that."
From physics and finance to food service
When Adalja, 37, joined the faculty of the Cornell SC Johnson College of Business last year as an assistant professor of food and beverage management in the School of Hotel Administration, it marked the culmination of a wide-ranging professional journey, one that took him from a corporate insurance office to the kitchen of a posh New York restaurant to the study of food and agricultural economics.
Growing up in Butler, PA, a small agricultural town about 30 miles north of Pittsburgh, Adalja had little exposure to fancy cuisine—quite the opposite, in fact. When his parents, both physicians, migrated to the United States from India in the early 1970s, "they shed all their Indian culture and assimilated almost entirely with the American culture of the time," he said. "As a result, I had very little exposure to Indian cuisine. They always make the boast that my favorite food is a hot dog or hamburger."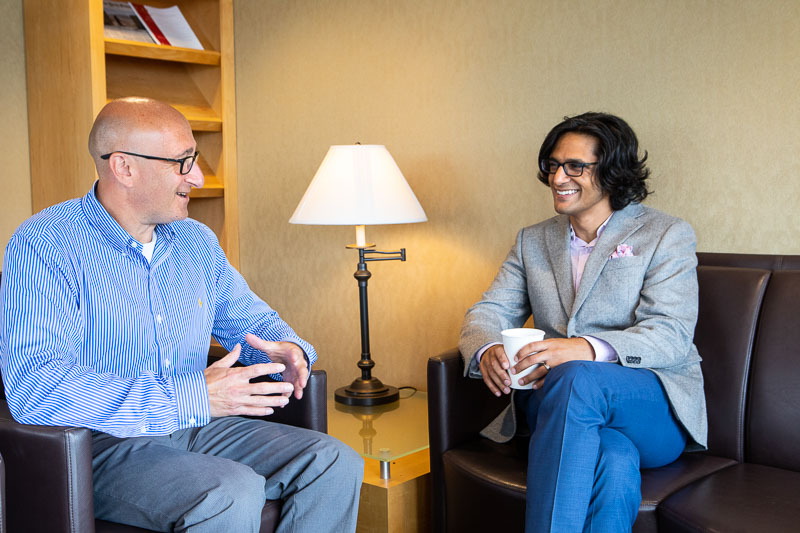 It was only when he went to Case Western Reserve University in Cleveland that he developed an interest in food. "One of my friends in college spent his summers working at a lakeside grill and patio near Sandusky, Ohio, and my interest in the restaurant industry started from a handful of late-night conversations with him about the philosophy of the restaurant. He loved it because it was such an immersive experience—to perfect something in a short period of time and do it again and again."
After graduating magna cum laude with degrees in physics and finance, Adalja worked for four years as an analyst for Progressive Insurance Company. Along the way, he began moonlighting a couple of nights a week as a line cook at a local bistro in Cleveland to get some exposure to the restaurant business and "to see if this was something I wanted to pursue," he recalled. "It was a great opportunity to get my kitchen legs a little bit."
From hot dogs to haute cuisine
Facing a career crossroads—where the more obvious path was to go to business school for an MBA—Adalja followed his heart and "took the plunge" and applied to culinary school. When he was accepted to the Culinary Institute of America at Greystone in California, he seized that as his opportunity to explore the restaurant culture.
Between semesters at the CIA, Adalja doggedly pursued a culinary externship with Per Se, the legendary Thomas Keller restaurant in New York's Time Warner Center. (Per Se is jointly owned by Keller and Ken Himmel '70, a partner in the development of the Time Warner Center and the president and CEO of Related Urban, the nation's leading developer of large-scale mixed-use properties.) He showed up for his audition with a peeler and a knife and was assigned to simple tasks like peeling garlic or skinning beets for a salad just so. "They were really trying to evaluate my work ethic: How does he work? How does he organize himself? Does he work fast?" Adalja said. "You have to take pleasure in smaller repetitive tasks—it's the nature of the job, repeating something over and over and perfecting it."
After a four-month externship, his bosses created a position for Adalja as a commis, or prep chef, and later promoted him to chef de partie, or station chef. "It was a little bit of a shock and it definitely took some adjustment," he said. "To this day, that was probably the most intense period of my life in terms of my work."
Working at Per Se for nearly two years "really prepared me for anything," he added. "If people are paying $300 for their dinner, the expectation is that everything should be as close to perfect as possible. It's not like a local bistro, where they might have the B team cooking. There is no B team—it's perfect every day. It has to be consistently excellent all the time."
From butter to food economics
Adalja's experience at Per Se catalyzed his interest in hospitality and food economics, he said. "We used to source butter from a very specific farm in Vermont and got lamb from a producer in Pennsylvania. We had really amazing relationships with our producers and suppliers. It got me to thinking about the larger food system." In what little spare time he had, he began reading about food policy and thinking about his long-term career goals.
"My undergraduate degrees were in physics and finance, and I still had that analytical part of me that rears its head now and then," he said. "Eventually I made the decision that I should explore this option and see where it takes me. Understanding agriculture and food economics became very interesting to me." Consequently, he enrolled at the University of Maryland, College Park and earned master's and doctoral degrees in agricultural and resource economics.
Adalja left Per Se "with a really positive impression of the industry. Had I not gotten into grad school, I would have stayed at Per Se and worked up the ranks. I am still very proud of that part of my career. After having worked at Per Se, grad school felt like a vacation." 
Food in the marketplace
As a graduate research assistant, Adalja collaborated with two of his professors and a fellow graduate student to study consumer willingness to pay a premium for locally sourced products, research that was published in the Agricultural and Resource Economics Review.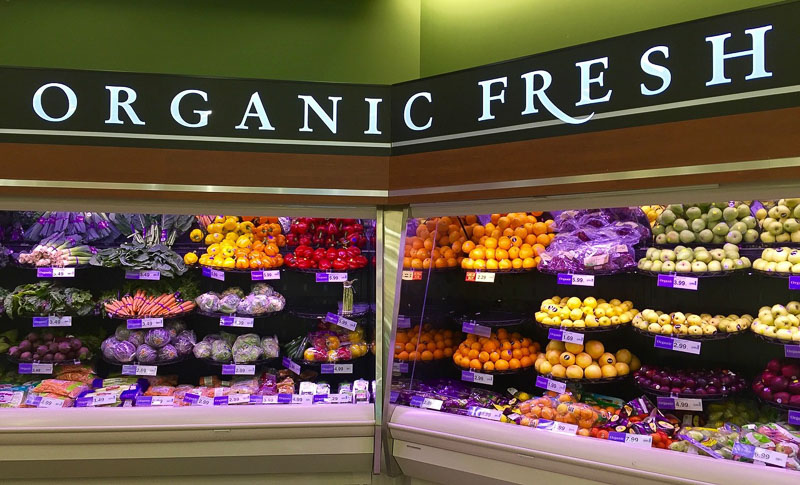 His ongoing work studies the economic impact of U.S. food safety regulations on produce growers and the retail consequences of the Non-GMO Project, which began conferring labeling on non-GMO retail food products in 2012. "The FDA's official stance is that there is not much scientific evidence that GMO is unsafe for consumers," he said. "I stay fairly agnostic as to whether GMOs are good or bad."
In moving from the restaurant business to the field of agricultural economics, Adalja was looking for a position that would tap into his collective experience. He saw in Cornell "the opportunity that would allow me to very explicitly leverage my restaurant industry experience in my future work and speak with some credibility when I'm teaching. It all came together in a really beautiful way."
In his new role, he explained, "I have an official dotted-line relationship with Dyson and Johnson faculty" as a member of the college's Applied Economics and Policy faculty area. "A lot of my research is further up the supply chain from food service. Having a lasting connection with the folks in Dyson means that I can collaborate with them or bounce ideas off them as I move more into the hospitality and food safety realm. Historically, business schools—and the Hotel School in particular—have had incredibly strong ties to industry," he added. "We've been able to do a lot of great things to help them improve their businesses."
 Teaching from experience
This past spring, Adalja taught two sections of Introduction to Foodservice Management to classes of 65 and 70 students. Next spring, he will add an elective course to his teaching load. Professors are allowed to stack their course load for the year, fulfilling all of their classroom responsibilities in one semester. It's an approach that appeals to Adalja: "My own personal work ethic is one in which I like to immerse myself in teaching and never come up for air."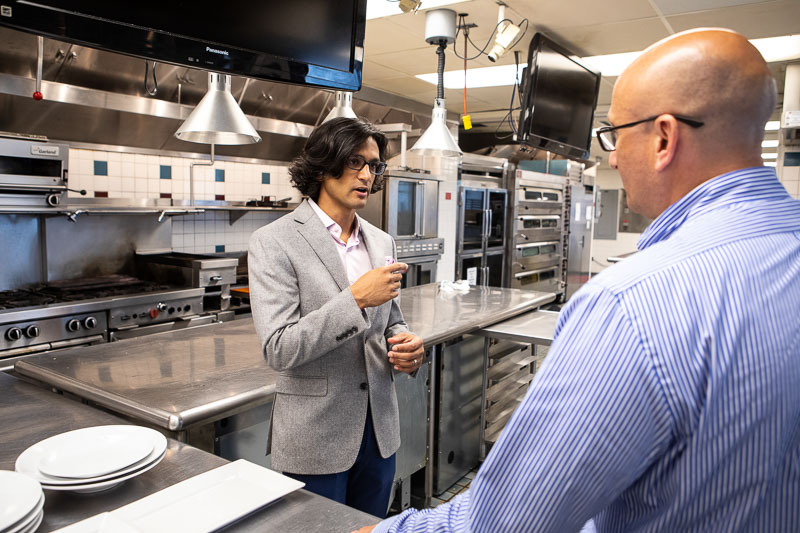 For his elective course, Adalja is planning to teach Case Studies in Restaurant Management and Sustainability, a graduate-level course that examines in depth how selected restaurants are shaping the industry in various ways, such as through sustainability efforts.
"One of the core values of the Hotel School is excellence in teaching," he noted. As the career interests of SHA students have evolved to include areas including technology and analytics and commercial real estate, he said that the question has become how to make foodservice management interesting to all students, not just to the dedicated foodies.
"Once I started designing the course pack, it was a beautiful way to tailor the course that was going to allow me to teach it more effectively by leveraging what I know or what I'm interested in," he said. "I can't just speak about these abstract management concepts. There needs to be this connection to the industry."
At home in Ithaca
Away from the classroom, Adalja and his wife, Aparna Kumar, are enjoying getting to know their new home. "Ithaca has a strong sense of community," he said. His wife grew up in Ann Arbor, Michigan, he noted, and "Ithaca is like a smaller version of Ann Arbor—same vibe, a nicely done college town. It really does feel like a place where we can connect with the community and make it our home."
"I've spent my life cultivating various interests and hobbies and whittled that to a few core things that I can be passionate about," he said. Having sailed on Lake Erie when he lived in Cleveland, he's reconnected with sailing since moving to Ithaca through Cornell's Merrill Family Sailing Center, spending as much free time as he can on Cayuga Lake.
And when they are home, who does the cooking? "We share responsibilities in the kitchen," he explained. "I don't cook Indian food. My wife is actually Indian—she moved here when she was 11. When we're cooking Indian food, I'll become the sous chef and assist her where needed. But if we're cooking something more in my wheelhouse, I'll be the lead chef, and she'll be the assistant." In other words, there is no B team.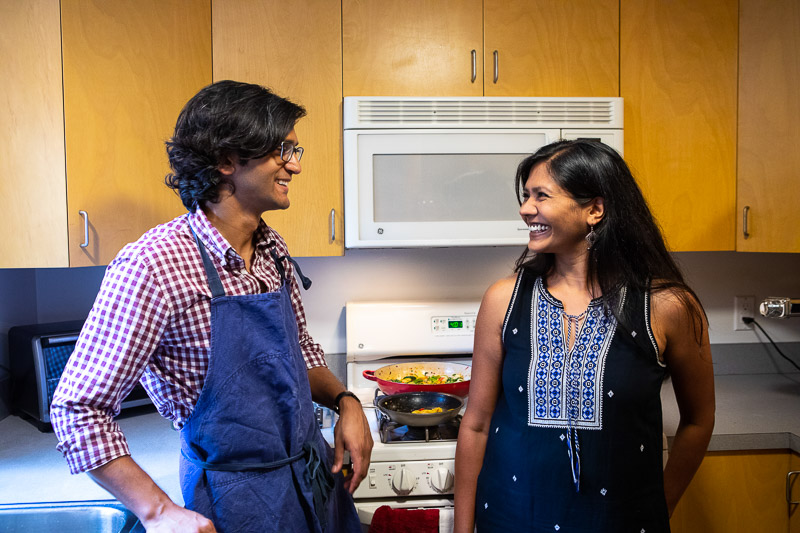 —Written by Dick Anderson, a freelance writer for the Cornell SC Johnson College of Business; Photos by Jon Reis