Park Fellows alumni spotlight: Natoshia Spruill, MBA '14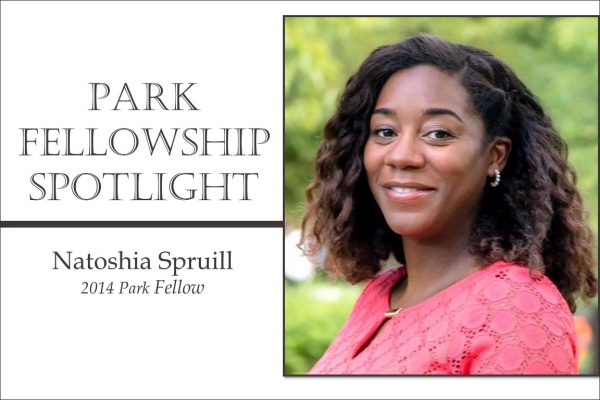 When she embarked on her Johnson MBA in 2012, Natoshia Spruill found herself at a crossroads. A U.S. Army officer with several years' experience serving as an HR professional in Germany, Afghanistan, and South Korea, Spruill wasn't sure where her career path would lead next. "Business school was going to allow me the opportunity to decide if I was going to stay in the military or get out of the military," says Spruill.
While at Johnson, Spruill found plenty of opportunities to lead—in her Park project with Admissions, helping students better network with alumni; and in various leadership positions, including president of the Black Graduate Business Association, co-chair of the Admissions Ambassadors, co-chair of the Ethics Action Committee, and as a Johnson Leadership Fellow. Her experience at Johnson, and in the Park program, was to forever change the way she thought about leadership.
Spruill quickly found that a military-style command-and-control approach wouldn't work with her Johnson classmates. "I had to find a way to leverage my talent and skills in communicating to get my peers to buy into what I was trying to do," she says. Whereas previously she might have assumed that a nonperforming individual was simply lazy or didn't care, "I now approach things through a different lens," she says. "The individual has to choose to buy into what the leader wants, and it's the leader's responsibility to figure out how to make that happen."
After graduating from Johnson in 2014, Spruill served as West Point's Program Manager for Diversity Admissions for two years; her team brought in one of the Academy's most diverse classes in more than two centuries. Since then, Spruill has worked as a senior human resources manager for the U.S. Army Reserves in South Korea, and in November of 2017, she accepted an offer as associate director of Leadership Programs at Johnson.
In her new role, Spruill plans to leverage the leadership and reflection tools that her Park experience provided her to guide future generations of Johnson students toward identifying and strengthening their own leadership styles. Spruill fondly remembers a conversation she had with then-director Clint Sidle. "He said, 'you're outside the box now; they're not going to be able to squeeze you back in.'" Spruill is grateful for this and several other pivotal conversations she had while a Fellow, and is thrilled to have the opportunity to directly contribute to shaping the future of Johnson's leaders.