Park Fellows alumni spotlight: Erin McMahon, MBA '03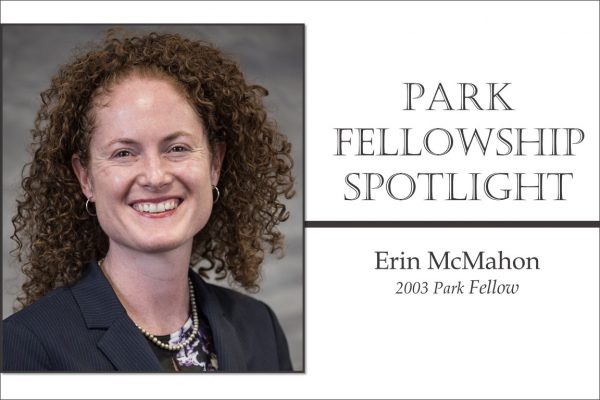 Erin McMahon learned much about educational leadership while at Johnson: partly from serving as president of the Class of '03, and partly from observing Johnson Dean Robert Swieringa. "He reported to Cornell as well as to his own faculty and students," says McMahon. "He helped me think through what it meant to run an organization with multiple stakeholders."
Johnson's culture of collaboration was essential, too. "Johnson gave me the skills to set up a problem of practice, think through it, work as a team to resolve it," says McMahon. "I think that a collaborative culture is so critical as organizations become flatter and more service oriented."
McMahon was inspired by other Park Fellows and women like Heather Henyon, now a major microinvestment figure in the Middle East, and her teammates on the Frozen Assets, Johnson's women's ice hockey club. "They were willing to push the boundaries and redefine what it means to be a female leader," says McMahon.
After graduating, from 2004 through 2008, McMahon worked as a resident school principal in Manhattan, assistant principal in the Bronx, and finally a principal through New Leaders for New Schools. "When I took over and successfully turned around a 6th through 12th grade school on the Lower East Side," she says. "I joke that I went to work in June 2008 and came home in July 2012. It was an incredibly grueling but incredibly rewarding experience."
Recruited to Denver Public Schools by a former colleague, McMahon began in talent management, but returned to school supervision, serving as instructional superintendent for three years, then as associate chief of academics and innovation.
Under her leadership and through partnership with the elementary education team, the district has experienced its biggest jump in early literacy in 10 years. "We made a couple of mid-year shifts based on feedback we were getting from schools, and took our approval rating among our teachers from 57 percent to 95 percent," she says proudly.
The Park family and the Fellowship, says McMahon, made her career in education possible. "The difference between having student loans and not having student loans was a game changer for me," she says. "The Park program prepared me with the leadership skills and mindset to chart my own path."