Parth Vedawala, MBA '19: Learning through observation, leading by example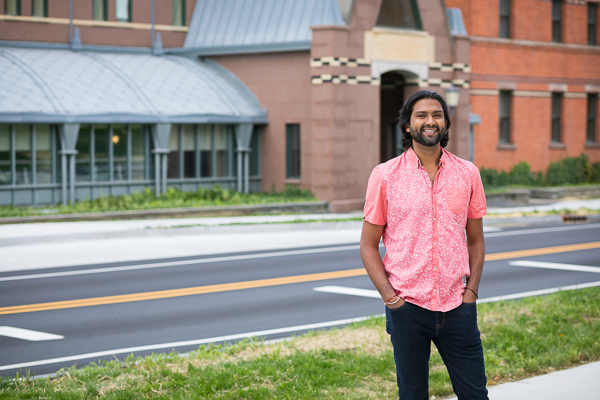 When he began his coursework in Johnson's Two-Year MBA program, Parth Vedawala expected to learn from his peers. What he didn't expect, though, was the wide-reaching spectrum of everything his peers brought to the table.
"I'm constantly amazed by the diversity of the program. When you think business school, you think everyone is going to be from a business background, but there's such a wide array of different types of students here," he enthuses. "You learn just by observing. Everyone is ambitious, everyone holds themselves to high standards, and being surrounded by so many people with the same motivations but different perspectives is such an amazing environment."
Being able to exchange unique lessons with his peers isn't the only reason Vedawala loves Johnson's close-knit community. "There's a very tangible sense of community here—you know everyone by name and you'll always find people down to collaborate and do something great."
In fact, Vedawala's fellow MBA students are more than just his classmates; they've become a team he knows will always be there to urge each other on. "I feel like a lot of places are very competitive when it comes to recruiting—here it's very collaborative. We have a great sense of teamwork here. We're never really competing with each other. We're always challenging one another and pushing each other forward. Everyone talks about the 'network' in b-school, but it's not about getting a job. It's about developing as a person," Vedawala says.
In addition to his role as president of the SC Johnson Volleyball Club, Vedawala also serves the Johnson community as an Admissions Ambassador to prospective students. "This might be cliché," Vedawala laughs, "but I just want to make the world a happier place. That's why I love being a campus visit ambassador. I remember how tense I was initially coming here for my interview and how welcome and comfortable everyone here made me feel—I want to give back and show people that you don't have to have your guard up all the time. You can take it easy and show us who you really are."
During the summer, Vedawala is interned with Citigroup, an opportunity that allowed him to explore "all the different pieces of the company." He was able to apply the knowledge he's gained at Johnson to the "stimulating, fast-paced side of business management" that he fell in love with as a part of his family's business. Vedawala is excited to share that he'll be returning to Citigroup fulltime in 2019. His long-term goal, Vedawala affirms, is to rejoin his family's business and bring with him a widened range of Johnson expertise, industry knowledge, and corporate experience.
—Written by Julianna Teoh, a student writer intern for the Cornell SC Johnson College of Business