Johnson announces 2018 distinguished alumni diversity award recipients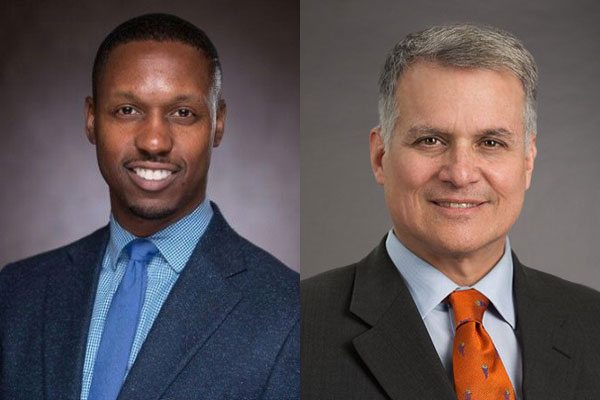 The Samuel Curtis Johnson Graduate School of Management is proud to announce alumni Marques E. Zak, MBA '10, and William J. Restrepo '80, MBA '85, as recipients of the 2018 Wilbur Parker Distinguished Alumni Award and Carlos R. Quintanilla Distinguished Latino Alumni Award, respectively. Selected for their leadership excellence and community contributions, both award recipients will be recognized at Johnson's 2018 Diversity Symposium and annual Distinguished Alumni Awards Dinner held at Cornell University's main campus in Ithaca on October 27. The event will be hosted by L. Joseph Thomas, Anne and Elmer Lindseth Dean Emeritus and interim dean of the Cornell SC Johnson College of Business, who will be joined by alumni, faculty, staff, and students to honor Zak and Restrepo.
The Wilbur Parker Distinguished Alumni Award recognizes African-American alumni who demonstrate outstanding professional achievement and commitment to their community and who embody Johnson's shared values of mutual respect, collaboration, integrity and trust, pride and accountability, professionalism, and investment in self. This year's recipient, Marques Zak, is the finance director for Frito-Lay North America, serves as board chair for Tomorrow's Leaders NYC, serves on the steering committee of the Alvin Ailey Young Patrons Circle, and is on the Johnson Young Alumni Board. He was formerly a strategy and operations consultant with Deloitte Consulting focused on M&A strategy. Zak received his BA in business administration from Morehouse College and an MBA in finance from Johnson.
The Carlos R. Quintanilla Distinguished Latino Alumni Award recognizes alumni for exceptional achievements and significant contributions to their professions, community, and society as a whole, for their demonstrated commitment to Johnson, and for promoting the advancement of Latinos in the business world. This year's recipient, William Restrepo '80, MBA '85, is currently the chief financial officer of Nabors Industries, the world's leading provider of onshore drilling services, and sits on the boards of Saudi Aramco Nabors Drilling Company (SANAD) and Reelwell AS. Formerly, he served as CFO for Pacific Drilling, Smith International and Seitel, Inc., and held various senior operational and financial positions at Schlumberger Limited. Restrepo received his BA in economics from Cornell and an MBA from Johnson.
The Wilbur Parker Award was established by Johnson's Black Graduate Business Association in 2003 and was presented to namesake Wilbur Parker '50, Cornell's first African-American MBA graduate who went on to spend his career working to make a difference combating racial injustice and helping others. The Carlos R. Quintanilla Award is named for Carlos R. Quintanilla, MBA '80, who is a champion of the school's efforts in Latin America and generously supports Johnson, dedicating much of his philanthropy toward the development of student scholarships.
The Johnson Diversity Symposium is an annual event that provides an opportunity for current students, alumni, faculty, and staff to join together to discuss current issues at the intersection of diversity and business and to celebrate diversity and inclusion initiatives at Johnson. Prospective MBA students attending the Johnson Means Business admissions event, which occurs preceding the Diversity Symposium, are welcome to attend.