Park Perspectives: 3 tips for maintaining long-distance relationships during business school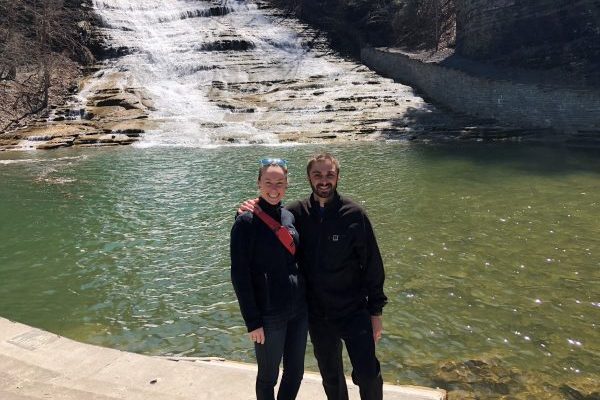 By Taylor Fox, Two-Year MBA '19
Park Perspectives are authored by Johnson's Park Leadership Fellows.
I've had a fairly non-traditional first year of marriage so far – my husband and I got married in July of 2017, then I packed up 10 days later and moved several hundred miles away to begin my MBA studies at Johnson. While I wouldn't have described this as ideal if you asked me about it in advance (I'm sure my husband would say something similar) it has worked out great for us so far, and I thought it might be helpful to share some of my personal insights on how we've made our long-distance relationship work.
My husband's work is not conducive to a "work when and where you want" type of arrangement, so I knew when applying to MBA programs that if I attended one outside of Boston we would have a long-distance relationship for those two years. Initially I was hesitant about applying to Cornell because of the five and a half hour drive back home, and because I was worried I might be the only one with a partner elsewhere and thus feel like I was missing out on some social aspects of the experience. I couldn't have been more wrong!
My husband-to-be and I visited during Destination Johnson weekend and realized there are lots of students at Johnson with partners who live elsewhere. Additionally, the greater Johnson community, and the Joint Ventures community in particular, is welcoming not only to the partners who move to Ithaca, but also the ones who support their students from afar.
That being said, my husband and I have found our long-distance relationship to require more effort than when we lived together. The schedule of an MBA student (at any program) resembles a giant game of Tetris, where there are multi-colored Outlook calendar blocks and the goal is to fit them together with as little space in between as possible. Okay, maybe that's not the goal, but that's how it tends to work out in practice.
Because of this, we found the following three things essential to feel connected to and supported by one another this past year:
1. Communication with your partner
This might seem simple, but communicating effectively at distance takes a lot of effort. Think about how often you and your partner need to talk (do you prefer to catch up in the morning, at night, once every few days) and stick to it. We like to catch up twice a day, but everybody is different. Also, I recommend communicating primarily via phone calls or FaceTime as opposed to texting; it provides more depth and requires a higher level of mental commitment.
We also found it important to share (and keep up with) the important aspects of each other's lives. This also sounds simple, but I sometimes found myself so wrapped up with schoolwork that I was likely to forget to check in about something important my husband mentioned previously unless I put a reminder in my Outlook calendar. A little lame on my part perhaps, but incredibly helpful!
2. Visits and planning ahead
We find catching up in person to be way better than on the phone, so we tried to arrange visits to Boston and Ithaca as often as feasibly possible. We found it very helpful to look at our calendars together and try to identify (and block!) weekends on our calendars a few months in advance.
During visits we tried to find a balance between "us" time and visiting with friends. This will look different for each couple based on personal preferences, but the last thing you want after driving for five and a half hours is to feel like you didn't get enough quality time with your partner, so it's important to consider your schedule in advance.
We also tried to get out and do fun excursions together during visits. Some of our favorite activities in Ithaca include: hiking to any (and all) of the waterfalls around town, sitting in the Adirondack chairs at the Ithaca Brewing Company, dining at Cent-Le-Dix, the Rook, and North Star pub, and occasionally dancing at Level B with classmates.
3. Internship and recruiting placement
Finally, and perhaps most importantly, since internship and job placement is an integral part of the MBA experience, you MUST communicate openly with your partner about what you both want. Be prepared to have multiple in-depth discussions to ensure you are on the same page. Consider questions like:
Do you want to be in the same location during the summer?
Does location depend on the opportunity?
What about location after graduation?
What do you individually and as a couple want out of recruiting?
Truthfully, this was probably the most difficult thing for us as this would be easier to communicate about in person rather than over the phone, however, we found these conversations to be among the most productive we had this year as we consider and plan our future together.
If you, like me, are considering completing your MBA at Johnson while your partner is elsewhere, don't fret! You'll be in good company, and with a little extra effort to communicate effectively you can not only maintain your relationship, but deepen it as well.

---
About Taylor Fox, Two-Year MBA '19
Previous Academic Institution(s): Wellesley College
Previous Employer: Audley Travel
Internship: Liberty Mutual
Interests: General Management, Sustainability, Yoga, Hiking, Traveling