A trek across The Street: The IBI at Johnson takes on NYC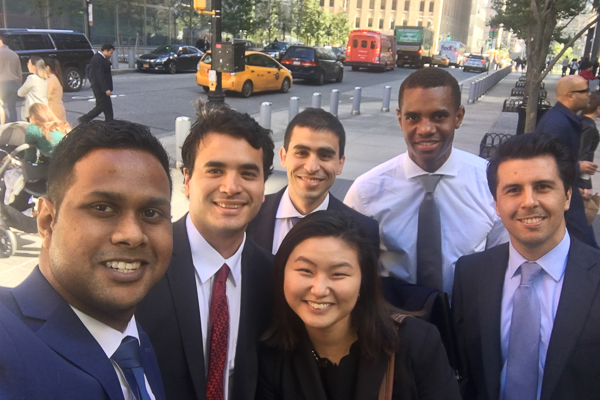 By Hannah Cho '19 (ILR), MBA '20
Hannah recaps her experience on the Investment Banking Immersion's trek to New York City with Johnson's Career Management Center.
Day 1: Time to get started
The hustle of the city was already in full swing on day one.
Coming from the tranquil of Ithaca, with its endless plains of long-bladed grasses and the number of gorges that dubs the pun "Ithaca is Gorges," the pace of the concrete jungle was a drastic change. By 8 a.m., outside of Times Square in a nearby Starbucks, a herd of suits ordered a morning coffee to begin a long day of visiting multiple banks.
We went through the checklist: Does everyone have their padfolio? Pen? Your tie is crooked, let me adjust it for you. Your blouse collar is folded in, let me fix it for you. After all the last checks were made, we filed into 3 Times Square, the U.S. headquarters of BMO Capital Markets. We passed through security smoothly before entering a large conference room. Along the sides of the room was a layout of an assortment of breakfast items—bagels, pastries, fruits, and coffee. My stomach instinctively grumbled, and I grabbed a plate of fruit and a cup of coffee before settling down in a seat at the table.
The screen in the front of the room showcased BMO's array of previous deals that bankers worked on, and the bankers in the room introduced themselves. When BMO visited campus, we had the opportunity to meet bankers that had graduated from Johnson. However, today, we were able to meet bankers from other business schools as well as bankers who worked in different industries. After a brief presentation, we broke out into the classic crop circles where we were able to ask more questions and network with the bankers present. But, as the saying goes, time flies—the clock struck 10 a.m. and our David Capaldi, director of the Career Management Center, who was accompanying us on the trek, herded us out the door to make our next stop: Barclays.
Because Barclays did not have a briefing on campus, I was looking forward to meeting both the Johnson alumni as well as see their office. We got through security quickly and were led to an interestingly laid out conference room—the chairs were set up auditorium style, and the bankers were sitting a level higher behind a podium. Sitting in the back behind all of my taller classmates, I struggled to see the faces of the bankers speaking, but the presentation was relatively brief as we quickly broke out into our circle formation. I had the opportunity to talk to a few bankers that just started full time at the desk. It was interesting to hear about their experiences before banking as well as how they have been able to adjust. We had a hard stop at 11:30 a.m., and the herd of 78 suits broke out into smaller groups to fuel up with some lunch.
Following the recommendation of my friend and fellow banker, Jonnathan, a group of us went to Naples 45 to eat. Others went to take some tourist-y pictures:
After enjoying a brief respite from our trek, we headed over to Houlihan-Lokey, where we were able to hear from Bob Hotz, MBA '68, the vice chairman and global head of corporate finance. It was a one-of-a-kind experience as we were able to hear about his own experiences as a banker as well as experience a cold-calling session, which we were thoroughly prepared for by our first half of core courses.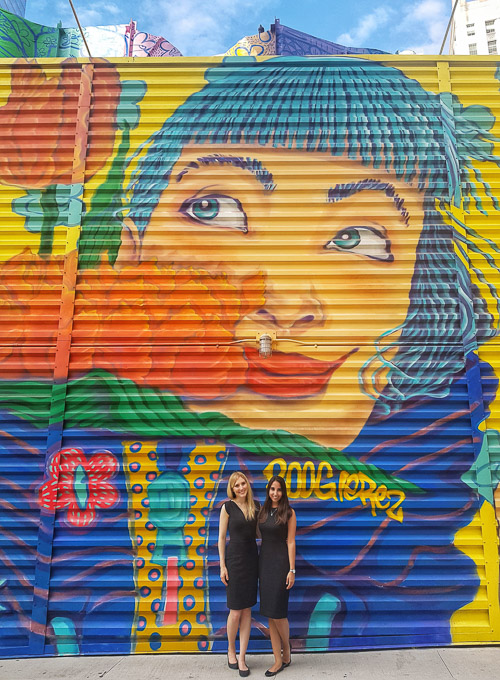 For our last stop of day one, we went downtown to the World Trade Center to visit another bank with Canadian roots—RBC Capital Markets. The view from RBC's office was amazing—we could see Jersey City right across the river; it was hard to tear away from the windows as we were filed onto different floors. While walking to the conference room, we walked through the trading floor, which was incredible; to think that some of us could be in those seats in less than a year seemed surreal. During our session with RBC, my group had the privilege of meeting Josh Rosenbaum, the author of the investment banking bible we all pour over during our spare hours. Josh discussed not only his experiences at RBC, but he also gave interesting insights on the pace of growth of the firm as well as its influence in the market. Our time at RBC came to a close with a panel and networking session. With that, we survived one of our three-day trek in the city that never sleeps.
Day 2: Uptown, downtown, all around
Day two began at the Avenue of Americas with UBS. The building was undergoing construction, so we had to weave through some yellow tape to reach the elevator for our destination. We were led into a conference room that boasted an abundant layout of breakfast delicacies—my stomach growled in response. After we all got the chance to grab a plate of food and the essential cup of caffeine, we sat down at different round tables ready to begin. Following a speed dating style of networking, the UBS bankers rotated around the room, sitting at different tables to chat and answer any questions we had. I thought this was a great way for us to have more personalized and informal conversations with the bankers. Before we knew it, the clock struck 10:30 a.m. signaling the end of our time at UBS, and we were off to Tribeca.
For some, it was the first time on the MTA. For others, the high temperature of the stations, the crowded platforms, and the abrupt stops had been part of the daily regimen. Needless to say, we had some fun snapping some selfies while traveling together.
We arrived in Tribeca with a good amount of time to spare. I ended up killing some time at a local coffee shop with a group of friends where I forced them to take pictures with me.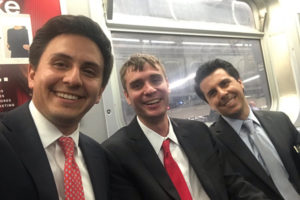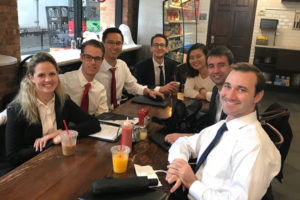 Finally, when we filed into the Citi building on Greenwich Street. From the floor of our conference room, the view was absolutely stunning. Even though it was foggy and pouring rain, I could only imagine how awe-inspiring the view would be on a clear summer day. We were treated with a networking lunch, in which we were able to enjoy delicious food and talk to a banker with experience in our industries of interest. At my table, I was sitting with Nick Regas, a managing director in the Industrials group. He talked to us about his experiences working with different clients internationally which led into an interesting discussion about the impact of different cultural values on making deals.
After visiting Citi, we had to make our way back uptown to visit Moelis & Co. and Guggenheim. At Moelis, we were able to have an interactive Q&A session, which allowed us to ask questions we did not have time to ask about at the briefing. It was a great experience being able to reconnect with the bankers we met on campus as well as meet other bankers in the firm.
Finally, our last stop for day two was Piper Jaffray. At Piper, we were treated with a catered sushi dinner—one of my favorite foods, if I may say. We not only got to reconnect with Johnson alumni who visited campus earlier last month, but we were also given the opportunity to meet the full-time analysts that we would be working with. I thought this was a very useful and cool experience because up until now, we had only heard about the extensive teamwork we would be exercising with analysts over the summer. At Piper, we were able to hear about the analyst perspective and interact with them as well.
With that, we wrapped up day two and went back to our respective abodes to prepare for day three.
Day 3: Another up and down
Day three started early for the ladies as we were kindly invited by Deutsche Bank to have an informal breakfast networking session with some of the associates at the firm. We had the privilege to hear the experiences from both Johnson and non-Johnson alumni and were able to have conversations particularly about women in banking. We filed over to a different conference room at Deutsche to regroup with our colleagues and have more Q&A-style circling. After about an hour and a half, it was time for us to make our way uptown to Jefferies.
I had a rather high pressure-driven trip up to Jefferies; the Uber ride suffered from the classic traffic jams of the city, and we casually sped up our walking pace and slipped in right on time. At Jefferies, we had a panel and an extended Q&A session. It was great to meet with the bankers that came on campus as well as engage with new faces we had yet to interact with. When the clock struck 1 p.m., we had to make a quick departure back downtown to Goldman Sachs.
At Goldman Sachs, we were split up into different groups and current associates and vice presidents as well as HR representatives rotated from table to table for us to gain different perspectives. My table had a great conversation with Steven Green '12, currently an associate at Goldman Sachs and also a Cornell ILR graduate (my undergraduate alma mater!). It was interesting to hear about how he was able to translate the liberal arts-focused ILR curriculum to a career in banking.
We took the subway one last time uptown for our last bank, J.P. Morgan, in their headquarters at 270 Park Ave. At JPM, we were introduced to the new lead for the Cornell Recruiting team, and we also had the opportunity to explore the top floor which had a killer view of the skyline and a great bar for us to enjoy some drinks as we networked with current bankers at the firm.
With that, our three-day adventure in the city came to an end. While running up and down Manhattan was quite the exhausting trek, it was rewarding to meet the banks at their home base as well as interact with non-Johnson bankers. Needless to say, we gained a new perspective of the firms we visited as well as marked the beginning of the long journey of recruiting—but I think I can speak for all my classmates when I say that we were able to get closer as a group and truly understand the essence of teamwork in this process.
---
About Hannah Cho '19 (ILR), MBA '20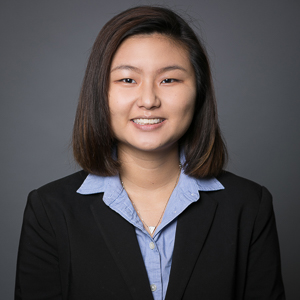 Hannah is a first-year MBA student in the Investment Banking Immersion at Johnson. She is part of the Cornell Bridge Program as a five-year Bachelor's/MBA student at the ILR School majoring in industrial and labor relations and minoring in business and law & society. Hannah is originally from Newark, Delaware, and enjoys dabbling in calligraphy and playing with her mini schnauzer, Milky.