Johnson's Parker Center for Investment Research celebrates 20 years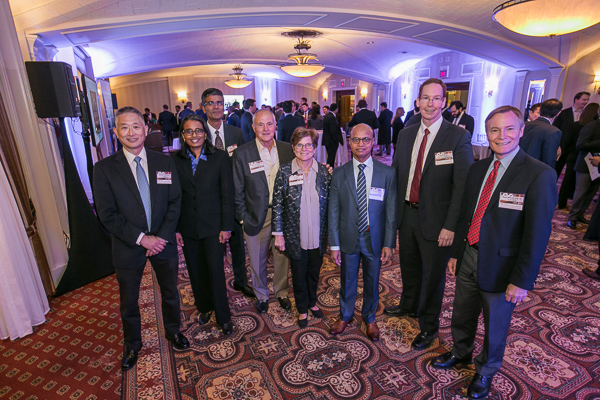 More than 120 Johnson and Cayuga Fund alumni, current students, and friends of the Parker Center for Investment Research joined the center's faculty, founders, and benefactors to celebrate its 20th anniversary on Oct. 25 at the New York Athletic Club in Manhattan.
The milestone celebration was remarkable in bringing together key players who envisioned the center and brought it to fruition, including Parker Center founders and former faculty directors Charles M.C. Lee, MBA '89, PhD '90, now an accounting professor at Stanford Graduate School of Business, and Bhaskaran Swaminathan, now a partner and director of research at LSV Asset Management, and Parker Center benefactor Jeffrey Parker '65, MEng '66, MBA '70, for whom the center is named. It was a particularly significant reunion for current Parker Center co-directors Sanjeev Bhojraj, Alumni Professor in Asset Management, and Scott Stewart, MBA '83, PhD '85, clinical professor of finance, and Breazzano Family Executive Director Lakshmi Bhojraj '95, MBA '01, who have significantly expanded the original vision of the center and elevated it to the stature it enjoys today.
"I was delighted to reconnect with many of my former students, who came together to show their appreciation for the deep impact the Parker Center has had on their careers and lives," said Sanjeev Bhojraj, the center's longest running faculty director.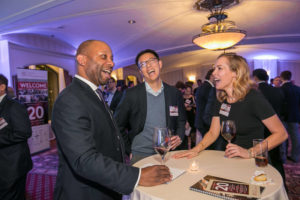 "It was a proud moment in the history of the Parker Center—a terrific opportunity for old friends and classmates to come together, reminisce, reconnect, and reflect on the important role the Parker Center has played in their careers," Lakshmi Bhojraj added.
During the dinner that followed a reception marked by warm and lively exchanges, Dean Mark Nelson opened the evening's program by welcoming everyone, calling out key members and benefactors in the audience, and showcasing this Parker Center 20th Anniversary video. Nelson then introduced Parker, who told the story of the founding of the Parker Center, remarking on how far it has come.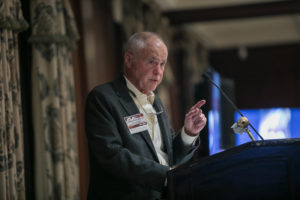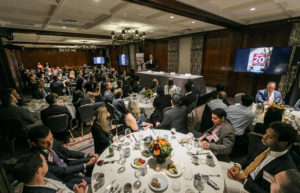 Mark Krutty, MBA '19, wrote in his account of the event:
"Jeff spoke about how he saw a white paper proposal from the founders outlining the vision for what would eventually become the Parker Center for Investment Research. The idea of a center for investment research, consisting of a state-of-the-art analytical facility, a student-managed fund, and cutting-edge faculty research appealed to him far greater than the idea of supporting a classroom and he decided to fund this initiative to make it a reality."
After dinner, Nelson introduced the panelists for the evening's exchange about Current Trends in the Global Investment Management Industry. Panelists included Johnson alumni Matt Born, MBA '97, CIO at Fidelity Investments, Stanislas Rotman, MBA '99, CEO and founder of Nevastar Finance, and Swaminathan, a partner and director of research at LSV Asset Management. Stewart, clinical professor of finance as well as Parker Center faculty co-director, served as panel moderator.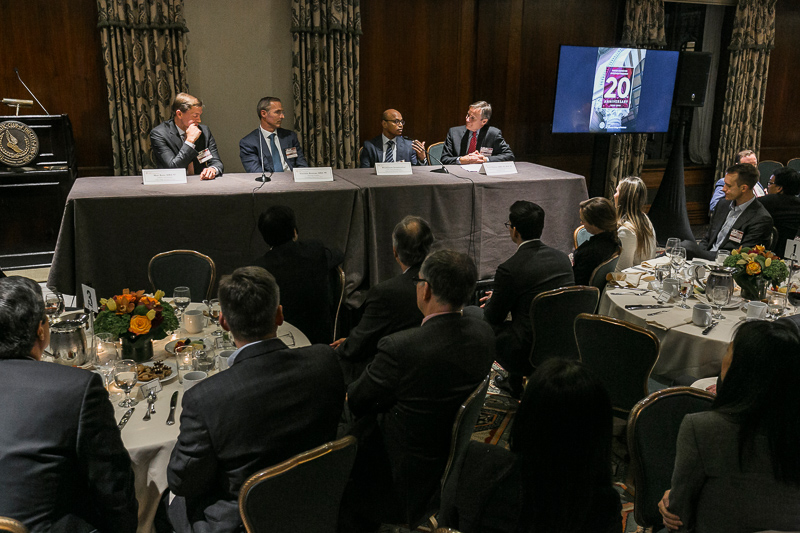 "It was a great panel discussion," says Lakshmi Bhojraj. "Whether it is active versus passive management, ESG [environmental, social and governance] investing, or artificial intelligence and its implications for the investment management industry, there is so much going on that people want to hear about. And this was a great opportunity to hold that discussion."
The Parker Center's achievements
While the Parker Center had its roots in the Cayuga Fund, the center has, over time, significantly grown and elevated its stature in the investment management industry. The center now operates an impressive portfolio of events and activities designed to enhance the networking and recruiting opportunities for its students and build industry connections for the school.
The MBA Stock Pitch Challenge and Undergraduate Stock Pitch Challenge
These stock pitch challenges provide a forum for students from top MBA and undergraduate business programs to compete and showcase their stock-picking skills in front of a panel of distinguished judges drawn from sponsoring firms.
MBA Women in Investing and Undergraduate Women in Investing (WIN)
These pioneering conferences, founded by Lakshmi Bhojraj, are designed to educate and encourage women to pursue careers in asset management, a field in which they are vastly underrepresented.
The Investment Portfolio Case Competition
Parker Center faculty co-director Scott Stewart launched this event, held at Cornell Tech in NYC, in 2017. Not only do they create opportunities for students; they also enable the center to build strong relationships with more than 30 top-tier investment management and financial services firms that are integral to students' success.
—Source: Letter from Parker Center Directors Sanjeev Bhojraj, Scott Stewart, and Lakshmi Bhojraj, published in "Parker Center for Investment Research 20th Anniversary 1998-2018"
Related content: