Marketing Executive Coaching Program connects students, alumni, and marketing execs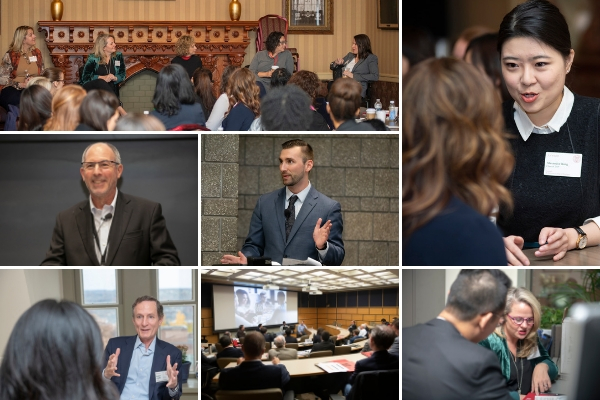 Every year, F. Warren Ellish, visiting senior lecturer of marketing at Johnson and president and CEO of Ellish Marketing Group, partners with the Johnson Marketing Association to bring the Marketing Executive Coaching Program (MECP) to life. For 12 years, Cornell students have had the unique opportunity to get first-hand advice from some of the country's top marketing executives and executive recruiters on how to navigate their careers and grow as leaders.
This year, in addition to Johnson's Ithaca-based MBA students, the event invited juniors and seniors from the School of Hotel Administration and the Dyson School, and MBAs from the Johnson Cornell Tech program and executive MBA programs.
Below are some reflections from MECP—an event that began at Johnson 12 years ago and has become an asset to students within the wider Cornell SC Johnson College of Business.
---
Randy Papadellis, MBA '81
Former president and CEO, Ocean Spray Cranberries, Inc.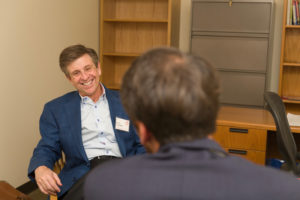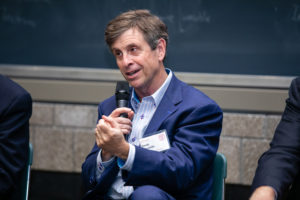 "I've been coming back since it [MECP] started. I've been to every single one for 11 years. The one I missed was because of travel difficulties, but I phoned in, so I still did the interviews. I'm delighted to do it. It's fun for us to reconnect with the executives and keep up-to-date with students' desires and goals. When we first started to do this, everybody was looking to go to large CPG companies, but over the last 10–11 years it's all about startups—how to I get involved, how do I contribute, etc.

Personally, as someone who often found networking hard because of the demands on my time, being able to engage with the students and all the executives has provided a lifetime of friendships and counselors…even for this 'older' participant. I have always viewed my career in three segments "learn," "earn," and "return" … It's amazing Johnson has played a pivotal role in all three!"
---
Neil Beckerman
Former president and CEO, Unilever Foods North America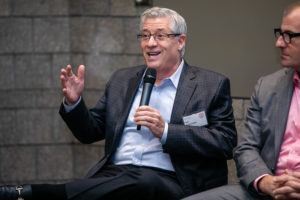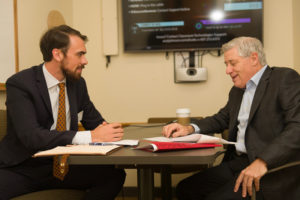 "I was here at MECP from the first year. I started my career the same day with Warren Ellish. I even went to Wharton to get my MBA, and he dragged me here.

What really brings me back is the rewarding experience to meet with students one on one and speak to them to help give them guidance. In my case, I'm looking at their resumes from a business perspective and how I would pitch myself as if it's my own resume without knowing them. Have you thought of this? Or maybe I would focus on this area versus that area.

I like each individual student who has stayed in touch over the course of time that make it worthwhile for us to come back."
---
Lindsay Lehman, MBA '09
Vice president of consumer marketing, Norwegian Cruise Line Holdings Ltd.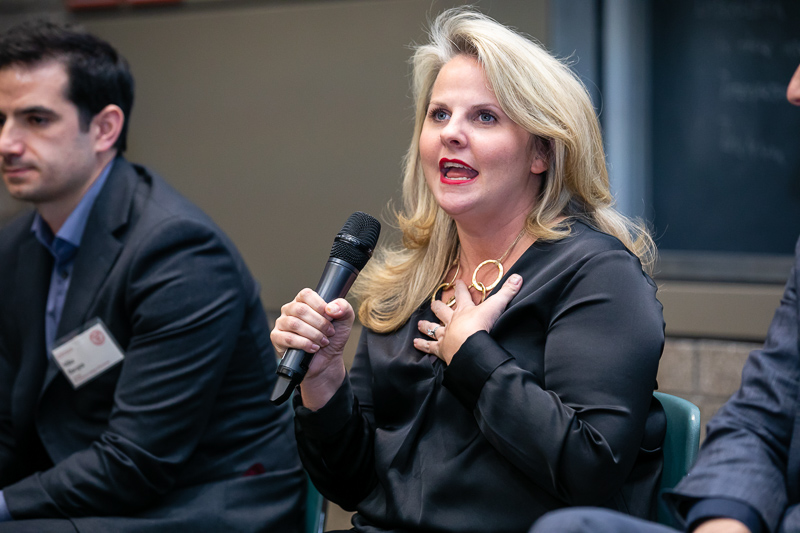 "I completed my MBA here in 2009. Actually, when I was a student, it was the first year for MECP. This is my first time to come back as an executive. It definitely feels like a full circle.

When I participated in the program, it was my favorite part of my MBA. My coaches were Randy Papadellis and Warren when I was in my second year. I had the chance to have one-on-one time with people who were super distinguished in their career, and who have walked your shoes before, but have a distance and perspective to really help guide you. The access to those people was really rare.

Now it's really an honor to be invited to be on the other side. So, when Warren reached out, I just said, 'name a day, I'll be there.' I was so lucky to receive coaching 10 years ago. Now I'm looking forward to giving back."
---
Karen Knight, MBA '09
Associate brand director, Procter & Gamble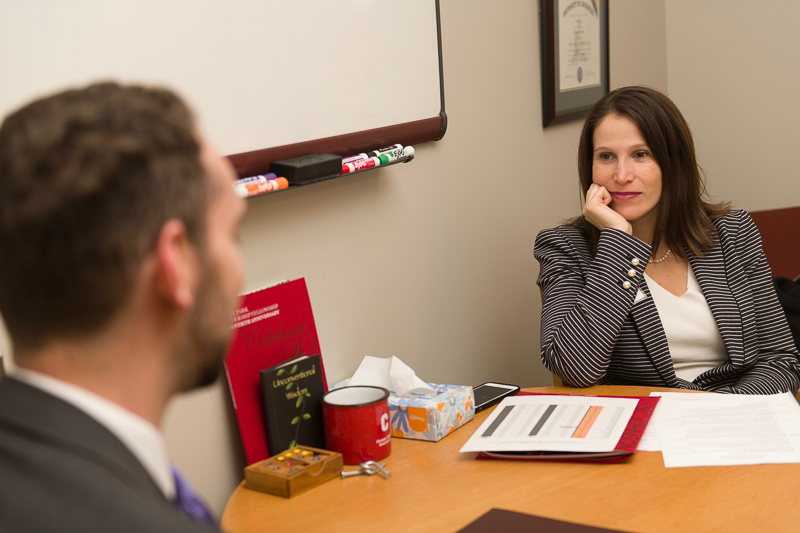 "This is my third year coming back to MECP. I love to see the way the program is growing. I was really lucky to experience the infancy of this program 10 years ago when I was a first-year student here. It's really cool that I was a recipient and now come back as a coach. And it's interesting to see more and more executives from my graduating class and to see how the students' interests have evolved.

I started the Women's Breakfast (one of the events in MECP) learning from a program in P&G. It's a program designed for women from cross-functional teams. We met once a month for an entire day, dedicated to all types of topics, including networking, conflict resolution, understanding leadership style, communication, etc.

It opened my eyes that there's benefits to women working together, helping each other, developing together, coaching each other, and shining light on so many things we have to manage. I thought I could bring some of the things I learned to the students here. We'll have a full 90-minute session involving a panel and break-out discussions to smaller groups to help people to be more comfortable and share their ideas."
---
Aaron Seabron, MBA '12
Senior director of the Baseball Business Unit, adidas International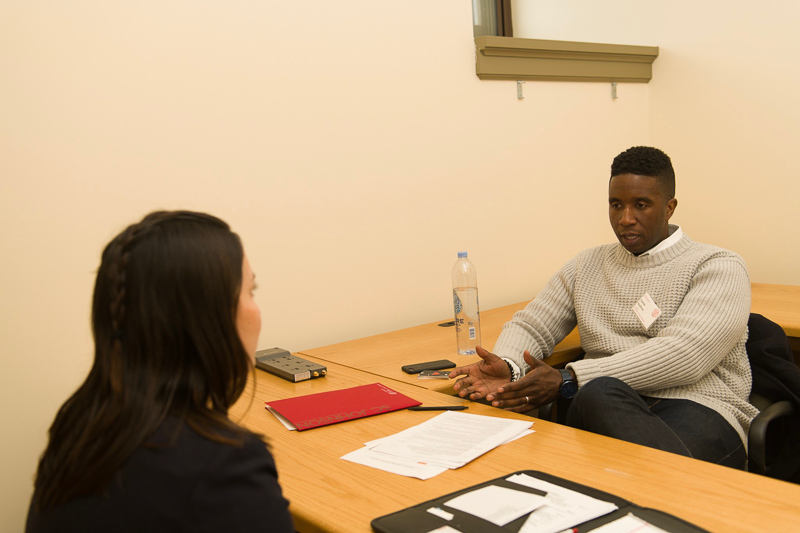 "I graduated from Johnson in 2012. This is the third year for me to come back. I started the View from 10&In event this year. My thought process was that there are so few slots to hear from young alumni, but the perspectives from some of the young alumni might be more tangible for current students. So, I asked Warren to set up a form to talk and share to students beyond the one-on-one coaching sessions. I've got very good feedback already.

So many people were helpful to me. When I was earning my MBA, there were so many people helping me when I was making decisions. So, I've always made it a point that I want to make myself available when people want my thoughts or perspective. It's always great to come back, to give back to Johnson, to give back to marketing."
---
Ron Tidmore
Former president of three PepsiCo domestic divisions, including Pepsi USA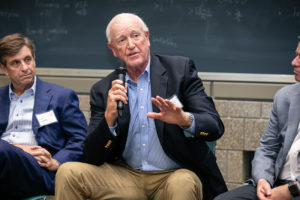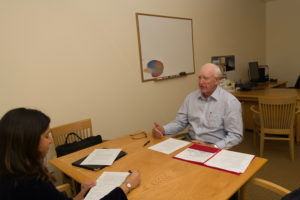 This is my 12th year to come back to MECP. I'm very impressed with how the program has grown and expanded and is getting better year after year. I think Warren did a great job putting a fundamental structure in place in year one. But each year, they go back and ask how to improve and make it more meaningful for the students and make it a better experience for everyone. It's an exceptional program.

I certainly enjoy the students. I always leave here energized by their enthusiasm, their creativity, and their ideas. I think the executives are here to provide the real-world perspective. And the students found out there's really not any magic. Your success in life comes with a combination of hard work, being creative, being persistent, and being smart. And doing all those things and doing very well. I've been impressed by the consistency of the intellectual characteristics of the groups over the years. They're very motivated and hard-working."
---
Reid Dylan Holzbauer, Two-Year MBA '19, MECP student chair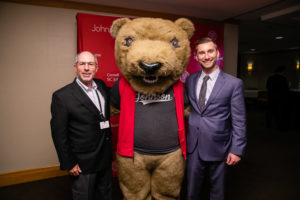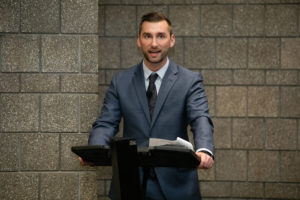 "The MECP had a huge impact on me as a first-year at Johnson. It solidified my excitement to enter the field and my coaches gave me career advice that I will draw upon for decades. It was truly an honor to do my part to replicate this same type of impact and connect current students to nearly 60 seasoned industry executives."
---
Alexandra Wang, Two-Year MBA '19, MECP student co-chair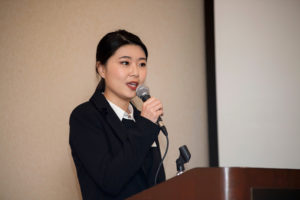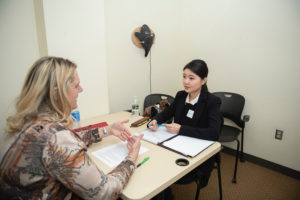 "Last year, I found it inspiring to hear the successful marketers' career stories, to learn from their mistakes, and to learn about how the changes in industry trends can impact companies and personal lives. As a marketing enthusiast, this is the best lesson possible in business school.

Therefore, I decided to help organize the program for this year. I wanted to help more students benefit from the program. And I think this is the best way for me to give back to the community as a current student—working on the area I'm passionate about, connecting people to make things happen, and passing on the wisdom for the community. Personally, I had the chance to work with the executives, interview them individually, and listen to their personal advice on my career choices. Each piece of the experience has been eye-opening and helpful for my own development.

I wish the program would keep thriving, and I can't wait to come back some day in the future to see how the program has changed!"
---
Steven John Van Vechten, Two-Year MBA '20
"Since setting foot on Cornell's campus, I have known that a Johnson MBA would springboard me to new heights in marketing. I didn't know, however, how much Johnson's extremely accomplished alumni would invest in my success. Through MECP, I received one-on-one coaching from several world-class marketing executives, who not only shared their secrets for success, but helped me better position myself to follow a similar trajectory. During our extended one-on-one sessions, I heard their perspectives on the future of marketing, the traps that young marketers fall into, what skills will become increasingly important, and how to enhance my skills as a marketer. Cornell's MECP is a one-of-a-kind marketing mentorship program and one that I will never forget."
---
Shawn Weger, Two-Year MBA '19
"As a second-year student, I knew how valuable this program had been for me previously. It is such an incredible opportunity to take some time to invest in my personal growth through developing a network of inspiring mentors. This year, MECP offered me the opportunity to ask pointed questions about how to approach my first role out of business school and how to set manageable but attainable goals for my career upon starting full-time.

Though the 1:1 sessions are always impactful for me, this year I also particularly loved the 10&In panel, which featured alumni from within 10 years of graduating from Johnson. The panel helped me understand what success could potentially look like, as I think about my career eight to 10 years from now. The alumni provided valuable insights of how to approach the rest of my time at Johnson, as well as how to consider career moves and how to identify mentors and sponsors. I've often been caught up in what the next role looks like and what the future long-term goal is, but this panel helped enlighten me to some of the short-term wins to bridge the immediate role with the long-term role."
---
Miguel Brotons '20 (School of Hotel Administration)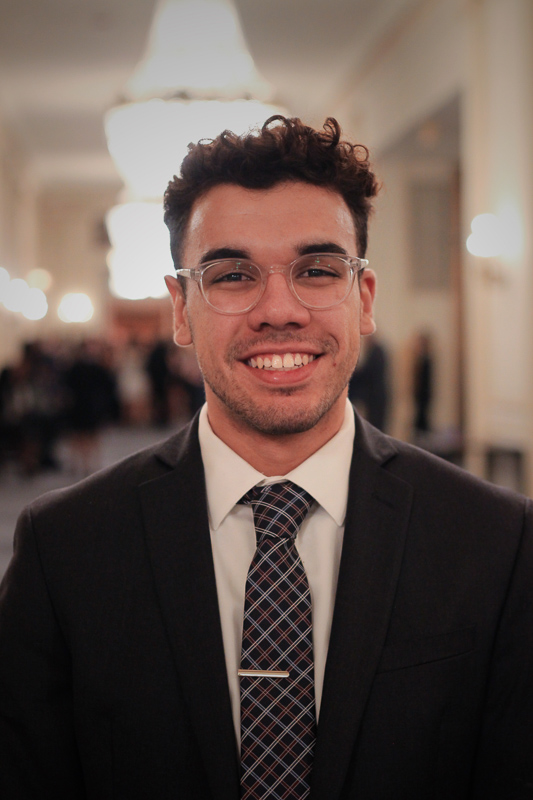 "The MECP program was an extremely insightful experience. I felt fortunate to have to the opportunity to discuss my passions and possibilities with such well-respected leaders. As an undergraduate student, MECP provided a diverse view of marketing and offered unique perspectives that validated my pursuit into the industry. I am thankful for my mentors and the time they took to discuss my interests, my career, and my personal brand."
---
Debbie Luk Graves, associate director, Johnson Career Management Center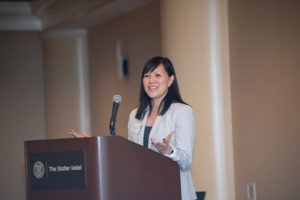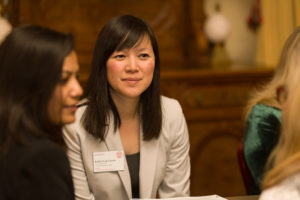 "Johnson's Career Management Center sponsors and supports the Marketing Executive Coaching Program every year because it offers such a valuable and unique opportunity for our students. It truly is a program that set us apart from other top schools, and it's wonderful to be surrounded by the energy and talent of both the executives and the students across the College of Business during those two days. I often hear from students and alumni about how grateful they were to have access to such a program and how it was a highlight of their time at Johnson."