Park Fellows alumni spotlight: Angie Fresch, MBA '03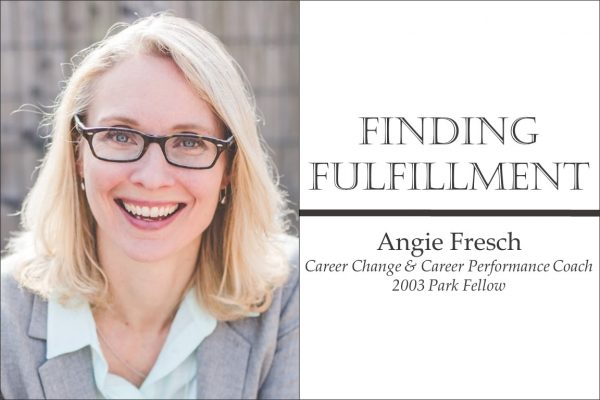 Angie Fresch, MBA '03 and a Park Fellow, is a career coach who works with mid-career clients in different types of career transition. Oftentimes, she works with her clients on complete career overhauls to find fulfilling work that fits within their lives. She also works with clients who want to take their current career performance to the next level. Angie recently took a few moments with us to reflect on her journey as a Park Fellow and how it directly relates to the work she is doing today.
Q: A large part of the Park program is about increasing our capability as leaders to have impact in ways that are important to each of us. How are you living out your impact?
This is such an interesting question because what I'm doing today is directly correlated to the Park program – exploring not only what it takes to be a successful business leader but also how to lead a rich and rewarding life of doing well, while doing good. I'm passionate about people being fulfilled with the work that they do during their lives. The more fulfilled you are, the greater likelihood you have of showing up each day in alignment with who you are, and the better the impact you'll have on the world. There are so many positive benefits to working in line with who you are and we each have a lot of layers that define what's truly important to us. Some clients I work with feel like it might be "selfish"—to want more satisfaction from their work (e.g.: "shouldn't I just be happy that I have a job and can provide for my family?"). However, the more that people work in line with their values and what's important to them, the greater positive influence they will have on those around them. To me, the best thing you can do for the world is to show up and contribute in a way that's aligned with who you authentically are. And that is what I strive to do for myself and my clients each day.
Q: Are there experiences you recollect from the Park program that have increased your effectiveness and ability to have an impact?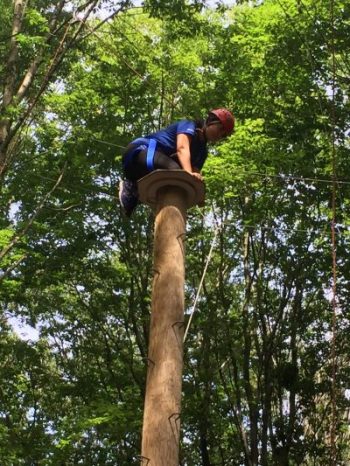 One experience happened within my first week of the Park program. We headed to the ropes course and one of the challenges we encountered was jumping off a telephone pole in the hopes of reaching the trapeze bar; or falling short. I had to overcome my fears to leap off of that telephone pole, not knowing where I would land. This challenge still strongly resonates with me – the greatest challenge for so many people is overcoming the fears that exist in their own minds. A lot of the work I do today is focused on helping people get around their personal challenges and their internal blocks that are driven by worry and fear, which are the primary obstacles holding them back from what they are meant to do. I am always brought back to that moment of standing on top of that telephone pole, terrified but preparing to jump and overriding the fears that were in my mind.
Q: What is your most memorable moment as a Park Fellow?
It's hard to pinpoint just one most memorable moment as a Park Fellow, but one thing that has stuck with me was the feedback we gave to each other across the program and how useful that was. For example, I still recall a piece of feedback from a Park Fellow colleague which was: "Angie should just go full blast who she is". I was intrigued by the comment, but the lightbulb moment didn't happen just then. It really stuck with me that she could see something I couldn't. I realized through the feedback experiences from other Park Fellows how vitally important it is to bring other people into your journey to shed light into things you can't see yourself. I believe my colleague saw who I authentically was and that she could sense that I was meant for a different direction than I was tracking at the time.
Q: What advice do you have for your peers on having an impact every day?
Nothing is more powerful than being authentically who you are. People wear masks for so long, to either protect themselves or the play the game they think they need to play to survive. But the only way to truly see a change is to take off the mask and show up authentically. Some ways to ensure you're being authentically you are: 1) engaging in meaningful conversations with others along the course of your career, 2) asking for feedback and input on how you are showing up, and 3) reflecting on the impact you are making. Sometimes the answers may confirm and crystallize what you know, and other times they may surprise you.