Alumnus Patrick Lafferty recounts life lessons from Army to MBA for military preview event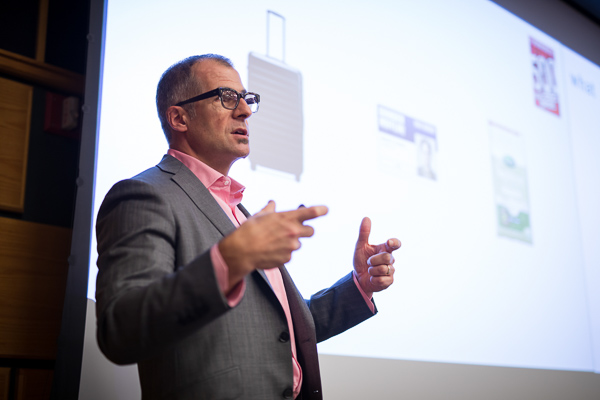 Patrick Lafferty, MBA '10, has spent much his career ascending through marketing and advertising roles with some of the world's most well-known brands: American Airlines, MasterCard, Kellogg's, and McDonald's, to name a few. Most recently, he has taken on a leadership position as U.S. president of mcgarrybowen, Ad Age's 2017 Comeback Agency of the Year. Lafferty's accomplishments have led many to assume that his career trajectory followed that of the conventional "Madison Avenue" marketing mind, but his story isn't typical by any means.
After all, how many marketing executives spent seven years in the Army, transitioned into the world of advertising, and then went back to school to earn an MBA after 15 years in the industry?
This fall, Lafferty returned to Johnson, finding himself back on campus and inside the classroom. This time around, however, the tables had turned. Rather than taking notes, Lafferty was leading a keynote address. As a guest speaker for Johnson Military Preview (JMP), an event designed to introduce prospective military applicants to Cornell MBA programs and the academic community, Lafferty offered life lessons, along with some words of wisdom. More specifically, he shared what the Cornell MBA experience meant to him, as well as how his military background enabled him to succeed in and beyond business school.
From Army to advertising
After seven years spent serving in the United States Army as a platoon leader and company commander, Lafferty made the decision to transition into the next phase of his career. "It seems like an odd transition to go from the Army to advertising," Lafferty admits. However, he argues the two aren't as dissimilar as they may seem at first glance. "So much of what I did in the Army was about understanding people, whether it was the people I was leading or the people in the countries that I was working in," he says.
Lafferty describes his experience in the Army as a "study in human nature." Oftentimes he had to encourage people to do things they didn't want to do or to make decisions that would not have been their first choice. Now, he says he gets to do the same thing, albeit across many different businesses. "It's the understanding of people that's the part I absolutely adore," he explains. In corporate America, he's found a place where he's able to tap into both his knowledge and emotions.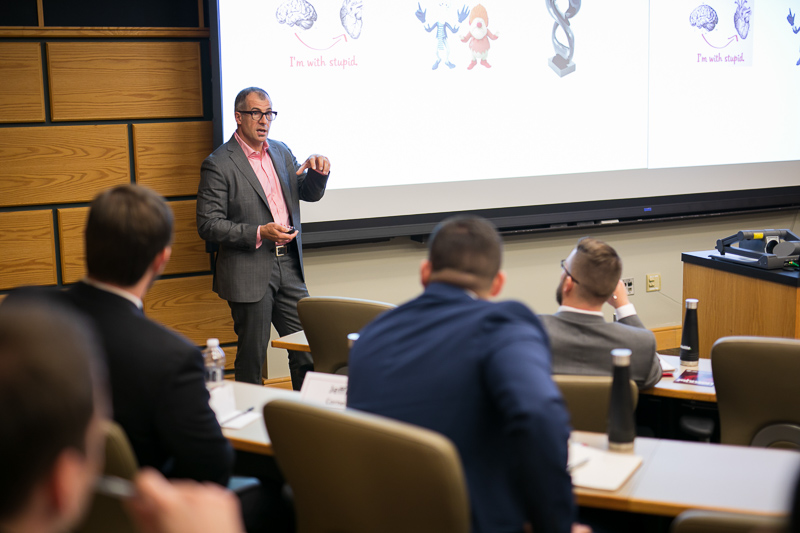 After leaving the Army, Lafferty got his first ad agency gig at Leo Burnett Worldwide. "It took me a while, two or three years in corporate America, to kind of really put the pieces together," he says about his transition into advertising. "Had I done the MBA program before then, I would've started that much more ahead."
After 15 years in the industry, Lafferty says he was at a point where he wanted to shift his focus from leading accounts to the general management of the agency business. In order to do this, he knew he needed to round out his skills. In fact, Lafferty says this is this very reason that few marketing executives find themselves elevated to CEO; instead, this role is often filled by those with backgrounds in operations, finance, or sales. "Marketers can be a bit one-dimensional," he confesses. "They can lack some of the range of skills necessary. And I knew I did. I lacked those skills."
Why Johnson? When it came to the decision of where to pursue his MBA, Lafferty narrowed his choices down to three top-tier schools: Kellogg, Wharton, and Johnson. He explained that Northwestern's Kellogg seemed like the most obvious choice, given its reputation as a great program with a distinct "marketing bent." Wharton, Lafferty had learned from working with Harvard alumni out in the working world, was centered around finance, so much so that he saw it as too heavy a focus in the larger MBA curriculum.
Approaching the admissions process with this in mind, Lafferty determined that Wharton's overwhelming focus on finance would be too much of a stretch, while Northwestern's curriculum seemed far too familiar for his marketing mind. "Johnson was really well-balanced, I felt, all the way around," he says about his decision to choose Cornell for business school. Trusting his gut, he took Johnson up on the offer to earn his MBA in the Executive MBA Americas program.
"I wanted to stretch myself and not lean into a strength," says Lafferty, because "the whole purpose of earning an MBA was to challenge myself and teach me new and different things."
Justice League meets Johnson MBA
At the time Lafferty enrolled in the Executive MBA Americas program, he was living in the Washington, D.C. area, so he attended class every other weekend in the city's boardroom. He was one of eight students in his boardroom; by way of live videoconferencing technology, he was able to connect with other MBA Americas students from 20 boardrooms located internationally across the Americas. "I learned a ton from the great variety of classmates I had across the country and in Canada," Lafferty says.
With seven years of Army experience, Lafferty had good reason to believe he knew quite a bit about leadership. Only once he began the program did he realize how much more he had to learn. "I was on the older side of things, probably 42 or so, so there were folks at least 10 years my junior there," he recounts. Everyone brought something to the boardroom, according to Lafferty. Working with teammates who each had their own set of unique experiences, and being challenged to work through the same curriculum together, he says, made the program profoundly. He describes the experience as "exceptionally strong," even more so than he anticipated at the outset.
It was during these class sessions that Lafferty came to join the "Justice League." It's a fun way he's found to describe the classmates he shared the Washington, D.C. boardroom with. "My team was amazing. I'm still very good friends with my teammates," he says.
His boardroom was made up of an incredible collection of people, he says, so it's only natural that they made each other better. Lafferty is quick to credit his Justice League of classmates-turned-comrades as a big reason why he succeeded in the program: "There were parts that I could not have done had I not had that support and the tutoring that I got from some of my teammates."
A major discovery amidst the MBA experience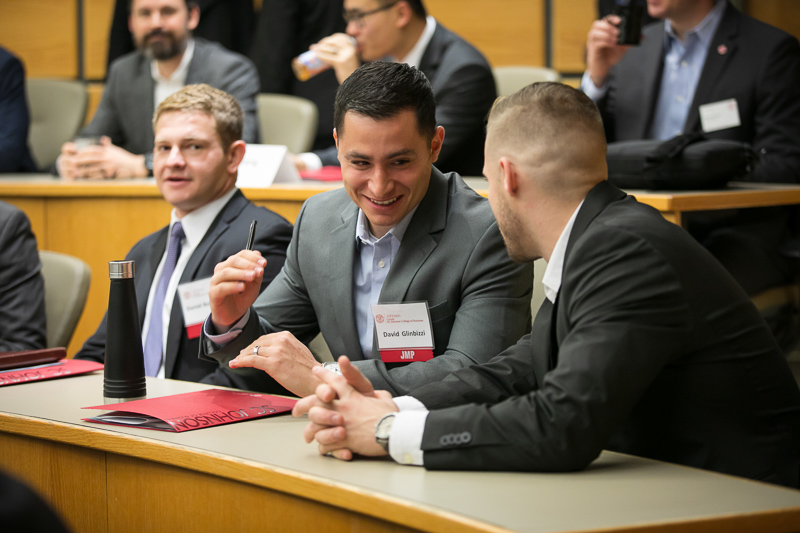 Looking back, Lafferty feels he was able to acquire the range of skills necessary to step into the general management of the agency business, a skillset he was sorely lacking before he earned his MBA.
In fact, even some of the classes he predicted he wouldn't benefit from proved most valuable to him later on his career. The one that immediately comes to mind for Lafferty is a class he took on corporate boards. "Learning how boards function, why they exist, who does what, all of that, was absolutely fascinating and super valuable to me," he says. He calls on what he learned in that class in his interactions with formal boards as well as other interdisciplinary senior leaders.
Of all the things Lafferty gained over the course of the MBA Americas program, one of the most significant things was a self-discovery of sorts. He explained his own "aha moment," saying "I think I finally realized, at the age of 42, that there was more in this world that I was not going to know than I could ever learn." Having peace with that fact, he says, led him to re-examine how he saw himself.
"I was pretty high on myself and thought I knew a lot, and then I realized I didn't." It was a moment of introspection that he would go on to incorporate into what he does in all aspects of his life, from corporate work to his local community. "So much of it is about who you surround yourself with," he says, "and having the humility to surround yourself with people that are smarter and better than you in different ways." More than any one thing, this lesson has had the greatest impact on his post-MBA career success.
Lafferty offered sage advice to group of veterans considering Johnson for their MBA: "When you look in the mirror, remember, it's whom you bring around you and how you open things up that is ultimately going to generate success."
---
Additional photos from Johnson Military Preview