Meet Kevin F. Hallock, dean of the Cornell SC Johnson College of Business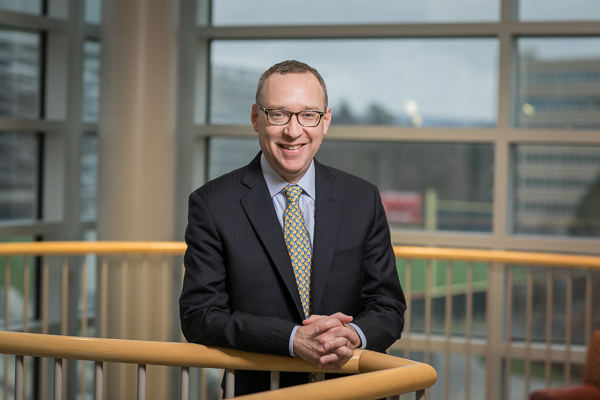 Kevin F. Hallock, economist, compensation and labor market scholar, Joseph R. Rich '80 Professor and former Kenneth F. Kahn '69 Dean in the School of Industrial and Labor Relations, became dean of the Cornell SC Johnson College of Business on December 15, 2018. His first term will run through June 30, 2024.
Hallock first came to Cornell in 2005 as an associate professor of human resource studies at the ILR School as well as a faculty member in the graduate field of economics. He has taken on numerous leadership roles at Cornell almost from the outset of his career here, beginning with his service as acting chair for ILR's Department of Human Resource Studies in 2006. The following year, Ron Ehrenberg, the Irving M. Ives Professor of Industrial and Labor Relations and Economics, an extremely prominent scholar in labor economics, and a former vice president of the university, asked Hallock to co-chair the university's financial policy committee, which he did in 2007-08. In 2010 Hallock became the chairman of Cornell's Department of Labor Economics, which he described as "a small, very cohesive, really excellent group of faculty." When the economics faculty of several Cornell schools merged in 2011, Hallock was asked to head the new Department of Economics as the Donald C. Opatrny '74 Chair, a role he held from 2012 until 2015, when he was named the Kenneth F. Kahn '69 Dean of the School of Industrial and Labor Relations.
In this interview from November 2018, in addition to discussing what inspires and motivates him as a leader, how he views Cornell and the SC Johnson College, and a little bit about his research, Hallock shares stories about his family and some other people who influenced him early in life.
You've held several leadership positions since coming to Cornell in 2005. What led you to take on those roles—especially your new role as dean of the SC Johnson College?
When I was getting my PhD, a mentor told me that, to be a successful academic, you have to be excellent at teaching, research, and service. I took that very, very seriously and I have always been involved in service.
I really love ILR—I love the staff, the students, the faculty, and the alumni. I still have a faculty position there as the Joseph R. Rich Professor. I at first was reluctant to even talk to the search committee about the SC Johnson College deanship, because I felt, and still feel, this intense loyalty to ILR. But I was convinced by a couple of advisors that I should talk to the committee.
When I did, I just became fascinated. There are challenges, but amazing opportunities, in the schools and the college, and I became more and more interested every time I met with them. This college is a unique organization in its infancy that has roots for generations and strength for generations. This opportunity, this idea, is just unique, and I thought it would be interesting to try to work really hard on it. I like trying to solve puzzles, and I enjoy trying to create opportunities for our students, our staff, and our faculty. I intend to be as I was in ILR—objective, fair, transparent, and clear—and work like crazy.
The insights I've gained? Experience really matters in these things.
Given your unique perspective as a professor and a dean, how would you characterize Cornell?
I've spent my entire life around four universities: the University of Massachusetts, where I was an undergraduate and lived from ages 0 to 22, because my father teaches there; Princeton, for four years in graduate school; 10 years at the University of Illinois; and now year 13 here. Cornell seems to me like an Ivy League university with a Big Ten sensibility. Having been at a Big Ten university for a decade and also having spent time at another university in the Ivy League, I really see this. I think what makes Cornell special is that we do just about everything here—we have a vet college, we have the College of Agriculture and Life Sciences, we have the tech campus… When you walk around campus, you start to feel that anybody can be here and belong and feel comfortable. I think Cornell's egalitarian nature and the uniqueness of its parts are things that we need to celebrate and run toward, not away from. As a dean and also as a campus leader, I'd like to try to help Cornell take advantage of what makes it unique.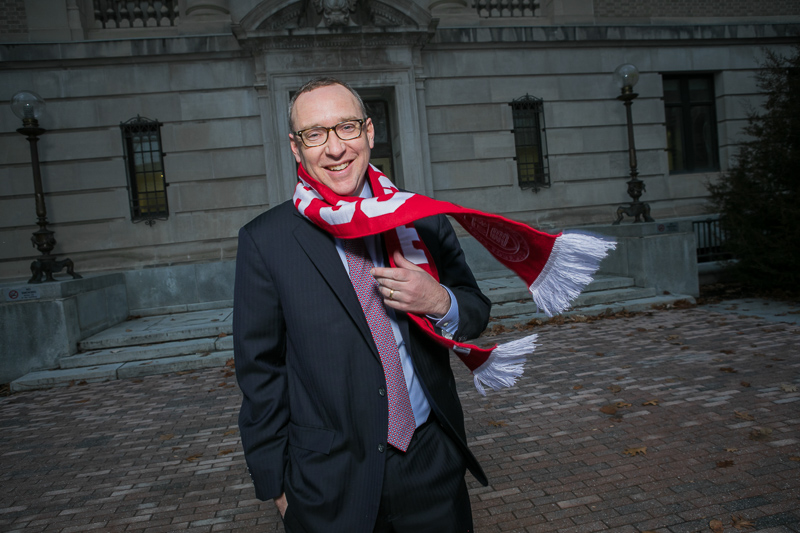 We have amazing strength in the schools, in the college, and at the university, and we can take advantage of all that. This is a very, very unique opportunity of deeply embedded historical institutions that are now part of a new organization—that's incredibly rare in higher education. My intent is that we take the three jewels in this crown and make them better by working together on some things. For example, I think that there could be more connections to other parts of the university. Think of the undergraduate business minor—it's an enormous minor, and this college is at the center of that. There are lots of other things we could do with master's students, or serving other people outside the college, too. And there are advantages in Dyson's direct connection to the land-grant mission of the university.
There are dean's positions all over the world, but this particular one is really complicated and interesting, and that's part of what makes it so exciting.
It must be a little painful to leave the ILR community and what you were building there.
Sure, but from the day I started as ILR dean, I intended to develop leaders who would take over after I left. The interim dean, Alex Colvin, is one of them. Once I reasoned that the place is in great shape and Alex can take over, I agreed to talk to the committee about this deanship.
What are you going to do first as dean? Where are you going to start?
We have to talk about strategy. We have to talk about a business model. We have to talk about how to grow into the space that we have, that we've been building up over the years. There's a lot to do, and a lot of getting people together to talk about it.
It's unlikely that I'm going to make many sudden moves in the first hundred days. I don't think that's proven to be the right way to operate.
How would you characterize your leadership style?
I would say it's incredibly consultative and inclusive. It's very important to get my team together relatively regularly and talk through ideas. You have to be inclusive and listen to people, and then you have to make a decision and move on. Now, the thing is, when you have 3,200 students and 220 faculty members and 800 staff members, you can't hear everybody, and not everybody is going to be happy. But my style of leadership is to be honest, transparent, and open and to work really hard to develop and build trust with people. I'm going to spend quite a bit of time trying to do that.
We're all in this together, and everybody's view matters.
What's at the core of your interest in studying executive compensation?
I've always been interested in why people are paid the way they're paid. I have recollections of speaking with my father at the dinner table, probably when I was in middle school, about why people in his organization were paid the way they were paid. That's really what motivated my first academic paper, which was about compensation of university faculty. My thesis included a paper about that and also a paper about the relationship between corporate boards of directors and their structure and executive pay. Since then, I've written papers about the effect of labor market events on stock prices and on the complexity of executive compensation contracts and corporate performance.
You wrote a book about compensation: Pay: Why People Earn What They Earn and What You Can Do Now to Make More. Are you going to be able to do any more writing as dean?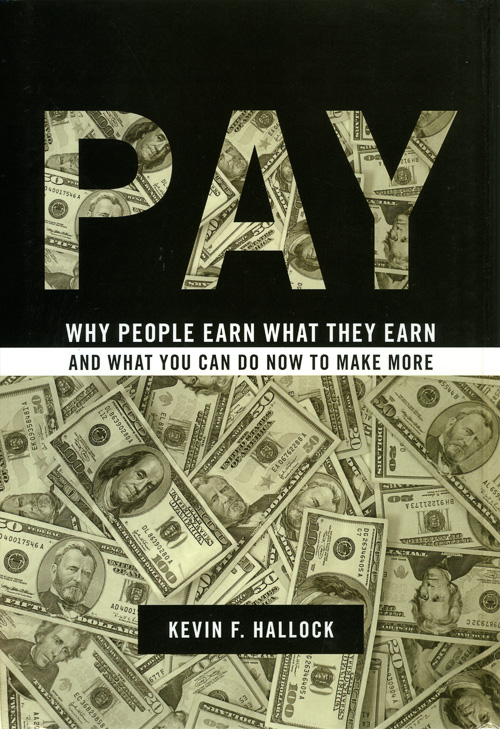 In the 50 consecutive months prior to becoming dean of ILR, I wrote a thousand-word monthly column for Workspan, a magazine for compensation nerds. I quit cold turkey, 50 in a row and out. And during or right before that time I wrote Pay, a book designed for a general audience. My editor said, "Think of one person you're writing this for." I'd just been to the dentist, so I said, "I'll write it for the dentist."
I am trying to write a book, but it's not academic research per se. It's intended for a general audience, and I really enjoy that kind of writing. I don't think you can do novel, interesting research without being fully committed, but this sort of general-audience writing can be done for a few hours on a Sunday night. So I hope to do a little writing, but I'm going to need somebody to schedule it and say, "You are writing right this second." Otherwise, there's too much to do as dean.
Your license plate says "WORK." Why is that?
Work is quite a novel thing. It's admirable to work and to do good work. I was the dean of the School of Industrial and Labor Relations, which is the greatest academic institution focused on the workplace in the world. Several people have asked me for it: "Oh, you're leaving ILR, can I have your license plate?" Alumni have asked me for it. But I'm going to keep it, because work is fundamental to business.
I surely have the cheapest and least desirable vehicle of all senior leaders on campus. It's a six-year-old Toyota Tacoma pickup truck that has 37,000 miles on it. Since I live a ten-minute walk from campus, I only drive it about once every three weeks. I like to think I'm outdoorsy, but I'm not.
What's the most valuable or memorable thing you ever learned from a student?
During my first month as dean of ILR, I was on my way to a concert at Sage Chapel on a Saturday evening where my son, then a high-school student, was going to be singing with the Cornell University Glee Club. I heard a student crying near ILR's largest auditorium, so I stopped and I asked her if she was okay. And she said yes. Then I started walking away, and she really started sobbing, so I sat down next to her and asked her what was going on. She said she was a transfer student and she had just been rejected by a club. She felt she shouldn't have transferred, she didn't belong or fit in. I asked her to come with me and my wife to the concert. She didn't want to do that, so I asked her to promise to email me by midnight and then meet with me in my office at four o'clock on Monday. And she did. And because of that exchange, the next year we added a first-year experience for our transfer students to address things like sense of belonging, well-being, and inclusion. ILR had a new-student experience for first-year students, but I think we'd assumed that transfer students already had it all together. But they're also new students, and that experience said to me that we had to do this for them.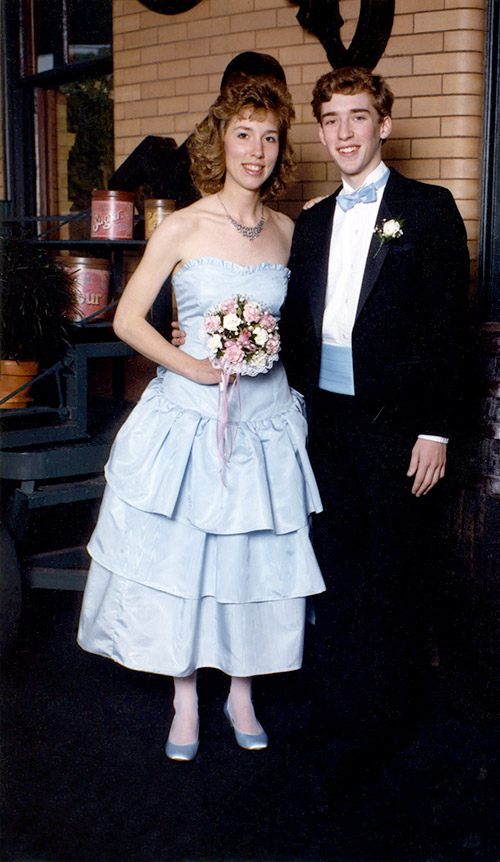 We understand that you met your wife, Tina, when you were 4. Tell us more about her.
I've known my wife for 45 years. We're now 49. I am so lucky to have met her. Our first date was when we were 16. We grew up together in a small town in western Massachusetts; there were 42 kids in our public high school's senior class. Our lockers were next to each other in grades seven through twelve, because our names were alphabetically in order. We both went to UMass Amherst and we got married three weeks after we graduated.
What did she have to say about your taking on this new role as dean of the SC Johnson College?
The first thing she said when I came home from dinner with the provost and told her he'd offered me the job was, "Congratulations. You're still doing the dishes." [Laughs.] That's exactly what she said.
In terms of my taking the role, she was very supportive—and she has been very, very supportive of my work all along. She doesn't work at Cornell, but she spends an awful lot of time doing Cornell work.
Tina is really connected to students and to alumni. She knows a lot about ILR. She doesn't know much about the college of business yet, but she will.
You have a daughter and a son living in Massachusetts. What can you tell us about them?
My kids are both really funny—and smart, too. Our daughter, who is 24, lives on Cape Cod and works at a residential school for kids with emotional and physical challenges. She's been taking courses in pharmacology, chemistry, and anatomy and physiology at Cape Cod Community College and is applying to RN programs now. She is driven and will be an exceptional nurse.
Our son, age 20, is a junior at UMass Amherst, where I went, and my wife went, and everybody in our family who has a degree went; everyone has at least one degree from there. My father has taught physics there since 1970. He's a low-temperature condensed-matter experimental physicist.
Our son is studying psychology and he lives in the North Amherst fire station. He loves it, and there's a great community there. He cooked Thanksgiving dinner for 20 full-time and student firefighters. He's an EMT in New York and in Massachusetts. He's a super-happy guy.
People ask where our children's bent for community service came from. Every male in my wife's family was a firefighter, a court officer, or a police officer. My mother was a pediatric nurse-practitioner and retired after 50 years as a nurse. Now she's as busy as ever, volunteering. My wife is a family navigator for the Racker Center, a nonprofit in town. She works in a rural school district supporting families who have children with mental health challenges. It's incredibly demanding work.
We go to Massachusetts a lot; we still call it home. My parents are there; Tina's mother is there; her father died in 2001. All of Tina's siblings and my only sibling and his wife live in western Massachusetts. On Christmas Eve we will have 50 people at my mother-in-law's. And then we will leave there and go to my parents' house, where it will be my parents, me, my wife, my kids—six. So every year it's like my big, fat Greek wedding, total chaos and fun, at her house, and very formal at my parents' house. But we love being with both. They are just very different experiences.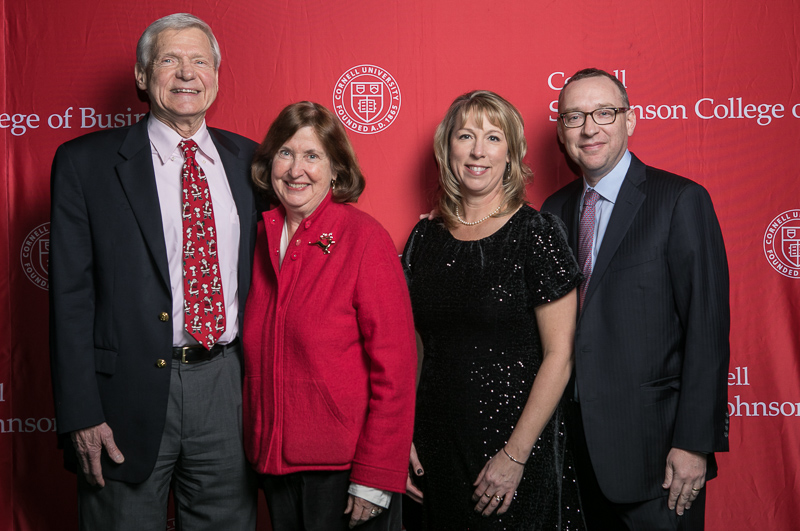 What person or experience has had the biggest impact on your life?
I have been lucky enough to wander into a series of extraordinary mentors who have really been hugely impactful.
I had a teacher in high school, Kathy Masalski, who was absolutely remarkable; she taught you how to think. When I was a sophomore, she taught a course called Historical Evidence. At the time, our baseball team was in the process of winning the state championship—I played third base and our team was getting a lot of attention from the community—so why would I focus on my schoolwork? Few, if any, others on the team did. So I did poorly on an exam in the spring term. Mrs. Masalski took me aside and said, "You can be different, and you have to take this seriously." And from that day, I have not stopped working. It was transformative.
The two other huge impacts on my academic and work life were my graduate advisors, Orley Ashenfelter and David Card. They are remarkably smart people, funny and interesting, and I am still in touch with both of them.
Then there's my father: the advantage to having a parent who is an academic is immense. I was very lucky. My father is an exceptionally accomplished academic, and I could rely on him. He was an academic administrator; he was a department chair for a long time; he served as dean a few times, so he knows some of the possible issues one would confront, and that has been really valuable. I still talk with him about some of the things I confront. I pretty much know what he's going to say, but I talk with him anyway.
With all that you've got on your plate, what do you do to recharge?
I'm actually not very good about that. But I am trying.
I like to go out to meals with people. We go out a lot with friends in town. I recharge by doing that.
A couple of summers ago, I built a shed from scratch in my back yard. I poured 3,000 pounds of rock. I downloaded plans for $14.99, and I built the shed from the walls to the cedar shingles to the roof. I built double doors and a single door out of one-by-six. I put a window in. My brother came for two days and helped me frame the sides and do the rafters. I loved that. It was a huge recharge. I worked like crazy, I was exhausted, but it was so much fun and it was so different from what I usually do.
I spend my time with my family and my dog to recharge. I read. I watch TV. I also try to run about 20-to-25 miles a week. I don't like running, but I love how I feel after I have run.
This summer, I decided to switch to a bicycle. I bought a brand new bicycle and I rode 750 miles this summer. I was building up to do the Ride for Life, but then my friend David Harris was inaugurated as president at Union College that weekend, so we celebrated with him for the weekend. And my bike hasn't been touched since. Two weeks before that, I rode my bike 76 miles out to Sampson State Park, on the east side of Seneca Lake, and back. Now I am just back to running.
Your high-school baseball team won the Massachusetts state championship. This year, the Boston Red Sox won the World Series for the fourth time this millennium—after amassing 86 years of disappointments. What lessons can baseball teach us about life and/or work?
Preparation matters. The work matters.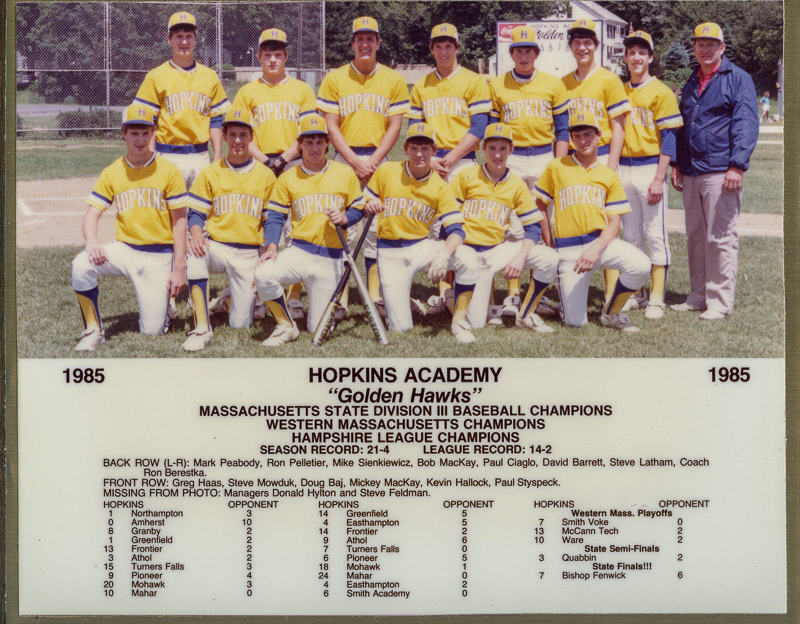 That baseball team was a big, big deal for me; to be able to participate in such a thing was a huge event in my life. I really was lucky to be on an extraordinary baseball team, but what distinguished us, really, was that we were better prepared and a smarter baseball team than anybody we played. Our coach used to say, "The harder you work, the luckier you get." We really knew a lot about baseball, for high-school kids. That's probably the biggest lesson I think of with baseball.
The team was the same the year before, except that my brother was on it, and then he graduated and I took his spot. I was objectively inferior to my brother as a player, but the other eight starters all got better by a year and our team was, therefore, better. My brother and I have this shared experience of knowing all of the teammates and their stories, every one of them. We could probably name them by position; I'll bet I could do it right now.
It is interesting to go back and see these folks from so long ago. We typically get together with a few friends from high school at the holidays, because several still live in our home town.
The Red Sox thing is amazing, but to be a Red Sox fan, until 2004, was horrifying, especially in 1986, when they lost to the Mets in the World Series. Now think about my son—he's 20. I think there've been 11 championships in 20 years by the Red Sox, the Patriots, the Celtics, and the Bruins. So you say to your kid, "You want to go to the World Series?" and he says, "Eh, you know…"
On the work side, baseball is a metaphor for what's happening in the labor market and in business, with this new obsession with analytics. I require the book Moneyball by Michael Lewis in my compensation design classes for master's students. There's so much more data, and people are scrambling to figure out how to analyze this data. I think that baseball was way ahead of many other industries in realizing that they were leaving money on the table by not fully understanding everything. People are catching up very quickly now, and that's exciting. Just this week a former student wrote to me about the work she is doing in her company with business analytics; this trend is extremely exciting.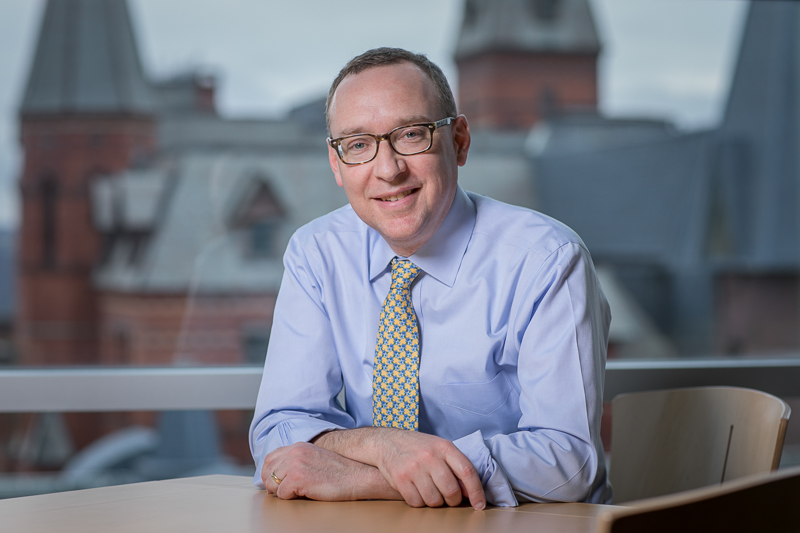 ---
For further reading, here's a selection of Kevin Hallock's columns in Workspan: