Executive MBA Metro NY program moves to Tata Innovation Center on Cornell Tech campus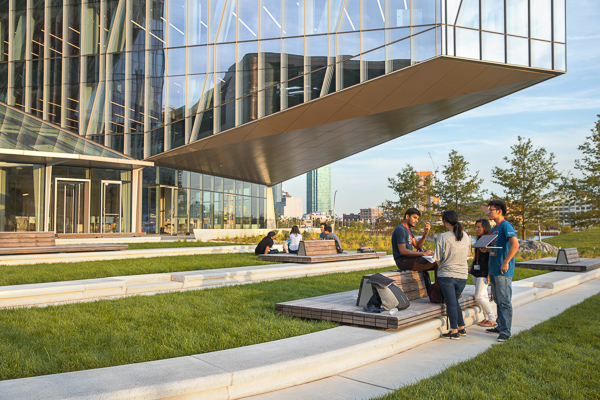 The Cornell Executive MBA Metro NY program, one of four Executive MBA programs offered by the Samuel Curtis Johnson Graduate School of Management, is moving from Palisades, NY, to the Cornell Tech campus in New York City effective July 2019. The Executive MBA Metro NY program will be housed in the beautifully designed Tata Innovation Center, located on Roosevelt Island.
"We are thrilled to welcome our Executive MBA Metro NY students to the Tata Innovation Center on the Cornell Tech campus this summer," said Mark Nelson, the Anne and Elmer Lindseth Dean of Johnson. "Cornell's tremendous network among the New York City business community, along with the campus's proximity to a thriving technology hub, some of the world's most prominent corporations, and an epicenter of global business, are key reasons why this move is of incredible benefit to our students, faculty, staff and alumni."
The Cornell Executive MBA Metro NY program offers working professionals the opportunity to enhance their leadership skills, which are critical for today's dynamic business environment. Cornell's seasoned faculty teach classes over the course of 22 months on alternate weekends. The program's curriculum remains focused on general management with a rigorous and comprehensive core applicable to students from any industry and functional area. Advanced coursework and electives include Innovation and New Venture Creation, Advanced Strategic Analysis, Designing Data Products, Product & Brand Strategies, Valuation, Investment Banking Essentials, and the Cornell Management Simulation.
The Executive MBA Metro NY program will continue to offer its hallmark weekend residential component to foster collaboration across the cohorts, allowing students to remain fully immersed in coursework and team projects and take advantage of social and cultural events in NYC. Saturday overnight accommodations for Executive MBA Metro NY students will be provided at an upscale, four-star property in Manhattan, conveniently located near the campus.
To learn more about the Executive MBA Metro NY program, please contact Executive Director Joy Dellapina at jdellapina@cornell.edu.