Connecting across generations, Statler Fellows discover tech and hospitality synergies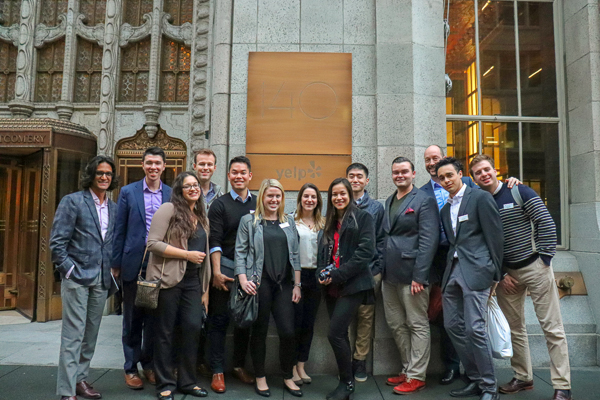 By Togo Tamura '19
The Statler Hotel welcomes guests from all over the world to Cornell University. This independent, AAA Four Diamond Award-winning property is also a training ground for students. We're able to further develop our hospitality skills by working in positions at the hotel through the Hotel Leadership Development Program (HLDP). Students who are promoted to the manager levels through the program are considered Statler Fellows and are invited on an industry experience trip to a different city every year during their employment. As The Statler Hotel's student general manager, I had the opportunity to partake in the trip this year to San Francisco, CA.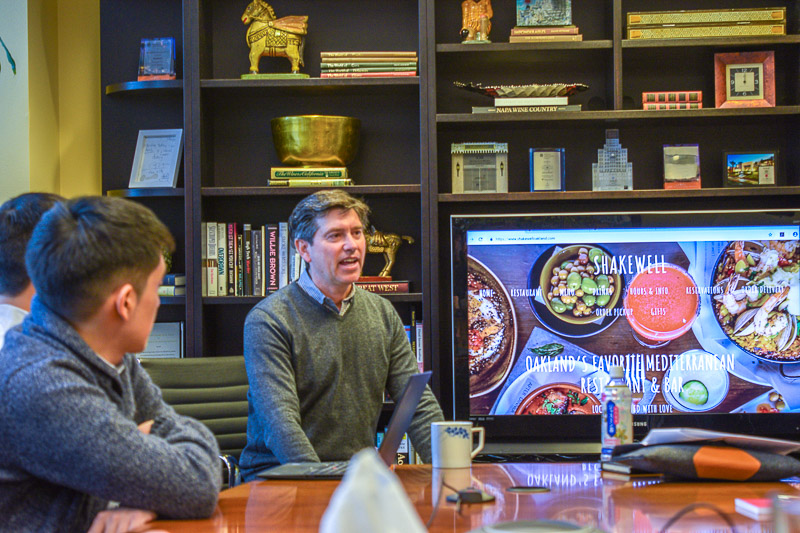 Our itinerary consisted of visiting different hospitality companies in the Bay Area. With diverse selections of hotels (Four Seasons, Kimpton Hotels, Westin St. Francis, Handlery Hotels), food and beverage (Bluestem Brasserie, Hillstone, Bay Club, Souvla, The Riddler, High Flying Foods), real estate investment firms (KHP Capital Partners, Chartres Lodging Group), and tech companies (Hotwire, Yelp, Airbnb, Sonder), we had unique opportunities to interact with leaders showcasing different facets of the hospitality industry.
There were several takeaways that all Statler Fellows brought back to Ithaca. A couple that stood out to me were the impact of the Hotelie network and how the emerging tech companies are transforming the way we think of hospitality.
The impact of the Hotelie network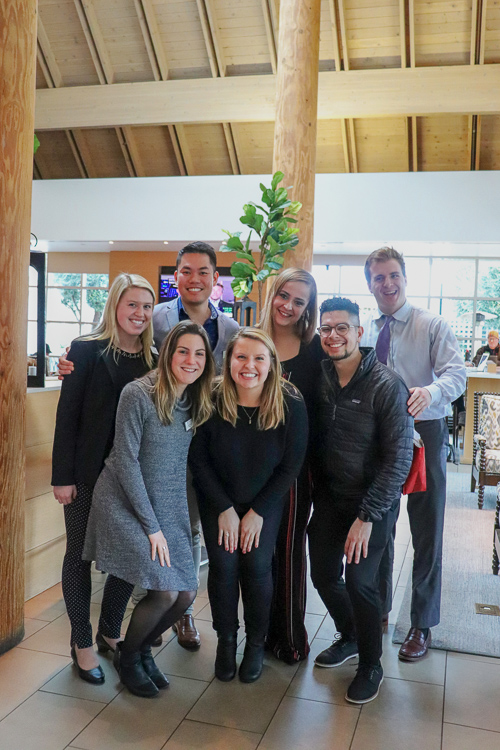 Every Hotelie is told the importance of connections and how SHA has a special network that fuses students, faculty, and alumni together. Despite being about 2,500 miles away from Ithaca, we were again reminded of the Hotelie impact on our first day in San Francisco.
It was heartwarming to be welcomed to the Golden City by both familiar and new faces. Despite the age gap or the graduation years, we instantly connected through our passion for hospitality.
We were treated to many great examples of how Hotelies across generations are living a "Life of Service." One alumnus we visited was Bob Freeman '63, who owns and operates the Buena Vista Café, a San Francisco waterfront landmark known for its famous Irish Coffee. Bob was an incredibly gracious host, sharing stories of SHA's founding dean, Howard Meek.
We also met with Adam Jed '96, owner and operator of Bluestem Brasserie, a popular downtown restaurant near Union Square. Adam told his own stories of his time at The Statler Hotel, gave us a tour of his restaurant, and shared multiple dishes from his menu with us. The duck was a favorite for many.
It goes to show how bits of Cornell and the Hotel School will always be present, no matter which city you visit. We are, of course, Hotelies for life, and this spirit is eternal.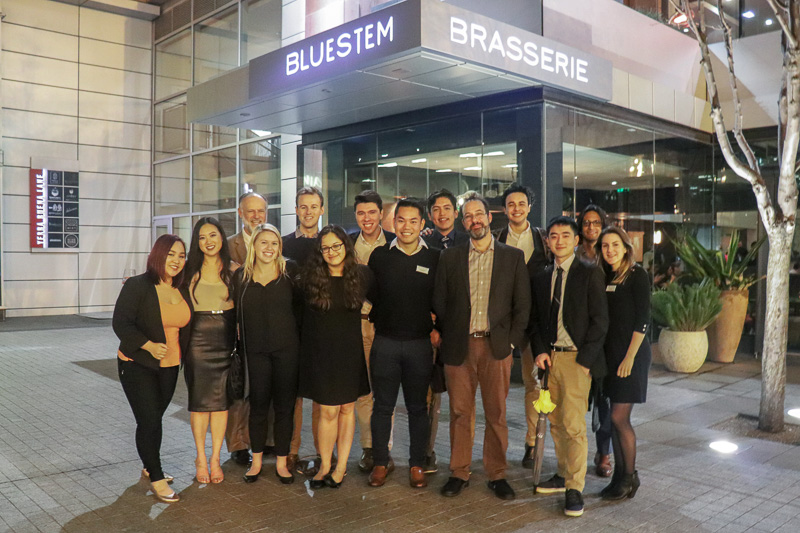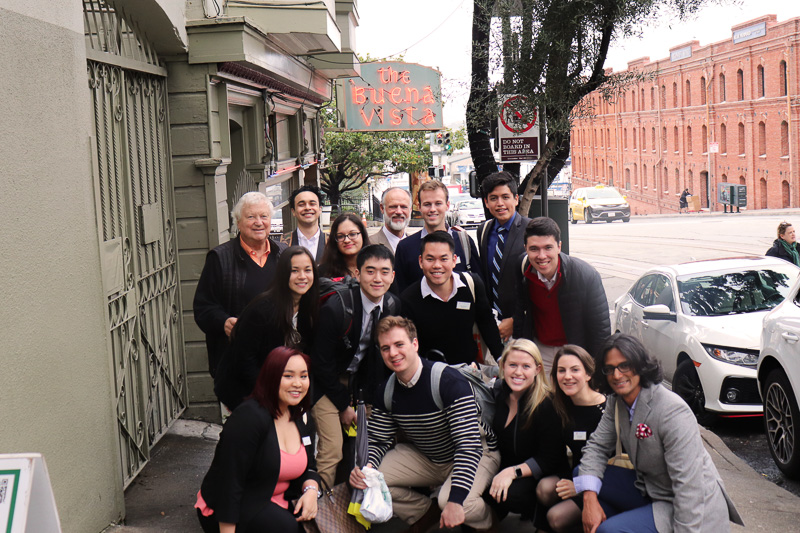 Not disruptors, but reformers
With many tech companies establishing their headquarters in San Francisco, it was natural that we took a tour of some hospitality startups, including Yelp, Airbnb, and Sonder. We were not only exposed to the operations, leadership, and cultures of these companies, but also got a closer look into how they are changing the industry by introducing technology.
It is common knowledge that technology is displacing how we traditionally perceive hospitality. For example, room service is a staple in top-tier, full-service hotels and is required to receive a Four Diamond rating from AAA. Food delivery services, such as Uber Eats and Grubhub, are providing more options and convenience through their apps, displacing room service as a primary amenity.
Tech companies are challenging the perception of service and are labelled "disruptors" of the hospitality industry. CNBC even listed Airbnb as one of the 50 disruptors of 2018. The term "disruptor" has a negative connotation because it paints these organizations as creating havoc with their new ways of providing service.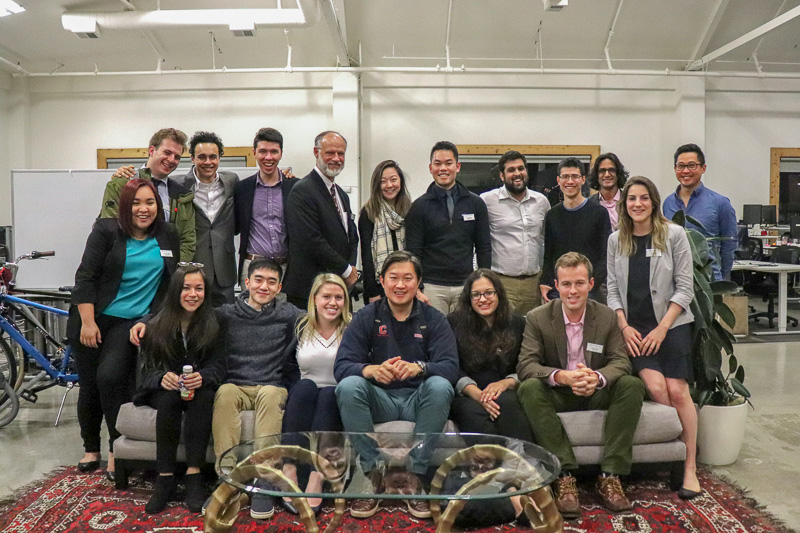 I always questioned the "disruptor" label and, through this trip, realized that it is inaccurate. We are challenged by these tech companies not simply because they aim to steal profits but because they are providing a new form of service. By introducing new ideas and exposing us to different forms of hospitality, they are further expanding our perception of service. The tech companies should be applauded for their efforts as "reformers" and I am thankful that I had the chance to hear directly from them.
***
The HLDP Statler Fellows Industry Study Trip to San Francisco was filled with great hosts, delicious food, beautiful properties, and eye-opening takeaways. It was unique to see experiential learning happen outside of The Statler Hotel. We greatly appreciate the generosity of our hosts, alumni, and donors.
The industry study trip is sponsored in part through the generosity of Steve Weisz '72 and family in support of hospitality operations.
---
About Togo Tamura '19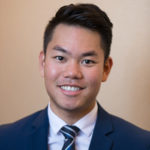 Togo Tamura is a senior in SHA pursuing a concentration in hospitality leadership and minors in real estate and international relations. He currently serves as the student general manager of The Statler Hotel through its Hotel Leadership Development Program (HLDP). As the student general manager, Togo works with both full-time management staff and other student leaders to achieve the independent hotel's greater mission of being a financially responsible, service-driven, teaching hotel. Outside of the hotel, Togo serves as the founder and executive director of The 180, a student-led publication. After graduation, Togo will be working with Four Seasons Hotels & Resorts as an assistant rooms manager.