Johnson's student Marketing Association picks 2019 Super Bowl ad wins

Contributed by the Johnson Marketing Association
Marketing students at Johnson came together to discuss and vote on what are sure to be some of the biggest ads of the year during the Marketing Association's annual Super Bowl Ad Review.  At the event, students apply a series of frameworks such as RAMP (relevant, actionable, message, problem) and CAC (cognitive, affective, conative) to identify and quantify the value and strategies for each of the new spots.  Students, most of whom are enrolled in Johnson's Strategic Product and Marketing Immersion, also discussed the use of the digital extensions that align with the $5 million+, 30-second TV spots, as digital becomes an increasingly valuable way to reach consumers.
"It's always fascinating to see which ads might go viral online—especially since the marketers may have designed the ads specifically with this interaction of TV and social media in mind. This 'digital amplification' is an incredibly difficult beast to tame and creativity abounds in the efforts to harness it," says Clarence Lee, assistant professor and the Breazzano Family Sesquicentennial Fellow at Johnson.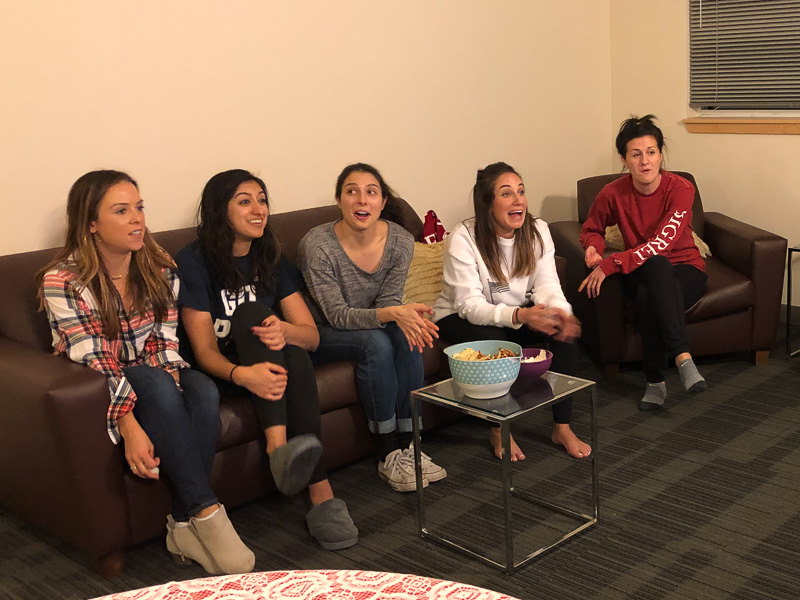 Even amidst the growing trend of Super Bowl spots to be overly silly in order to capture viewers' attention, Cornell students are very attentive to the ads that cleverly articulate their product's feature/benefit in a relevant, compelling, and memorable way.
This year, notable topics of discussion are sure to come from Bumble's spot, featuring Serena Williams "making the first move." Williams, who is often seen as a heroine for female empowerment stands behind the dating app that gives so much power to its female users by allowing them to message their match first. Not only is this a strategic portrayal of Bumble's unique selling proposition, it is highly relevant in the wake of the #MeToo movement.
Olay also delivered a comical, yet effective feature/benefit story by leveraging Sarah Michelle Gellar, a horror movie staple, in a Scream spoof where her anti-aging face cream was so effective that her phone's facial-recognition unlock feature failed to save her. These spots are sure to be highly relevant to their target consumers, as well as memorable, as they expertly identify a consumer need and offer a solution in an interesting and unexpected way.
"A good advertisement not only communicates relevant information, but it also creates emotional associations in consumers' minds, and thus primes behavioral responses. Behaviors are driven by the complex interplay of cognitions and emotions. The Cornell Marketing Association's ranking of the Super Bowl ads is rigorous because our MBA students evaluated the ads on cognitive, affective, and conative dimensions," says Manoj Thomas, associate professor of marketing at Johnson.
Using the RAMP and CAC model, Johnson's Marketing Association presents this year's winners and losers.
Johnson's top three Super Bowl ads:
Pepsi: More Than OK —All of Pepsi's celebrity cameos were positive and relevant, including Steve Carell, Cardi B, and Lil Jon. Pepsi make it clear that it's more than an "OK" beverage choice.
Olay: Killer Skin — Sarah Michelle Gellar was a good choice in reaching the target millennial audience. Olay's product will quickly transform your skin as you start to age.
Game of Thrones X Bud Light — Partnered with Game of Thrones, this ad reaches an identified niche of health-conscious beer drinkers. The ad reinforces Bud Light's new, large nutritional label.
Johnson's bottom three Super Bowl ads:
Audi Presents: Cashew — The message here was "don't hold your breath, you'll have to wait a few years to purchase this vehicle." Many people thought this was an ad for Planters.
T-Mobile: What's for Dinner? — While this ad offered perks like unlimited data, Taco Tuesday, and a free Lyft ride, it can be seen as unfairly making fun of people who suffer from anxiety or women for sending lengthy text messages.
Bumble — Overall, Serena Williams' star power may overshadow the actual product in the ad. Bumble's ad for their dating app shows women's empowerment, but is misleading because Serena didn't meet her husband using the app.