Park Fellows alumni spotlight: Kristen Rainey, MBA '09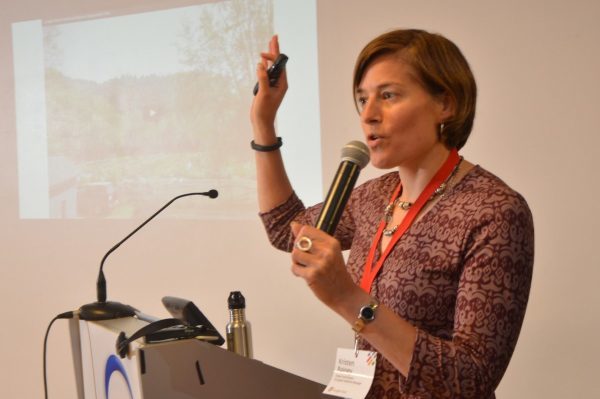 Since 2013, Kristen Rainey, MBA '09 and a Park Fellow, has been the global procurement & resource utilization manager for the food program at Google. In this role, she leads the program's procurement strategy for how it sources food and beverages in 54 countries for 264 cafes. She also leads the program's sustainability strategy, with a focus on food waste prevention and plant-forward diets.
We took a few moments with Kristen to reflect on her journey as a Park Fellow and to learn what advice she has for us.
Q: A large part of the Park program is about increasing our capability as leaders to have impact in ways that are important to each of us. How are you living out your impact?
For the past five years at Google, I have been leading procurement and sustainability for Google's internal food program, which fuels Google employees at our offices around the world. Specifically, I have been working on attacking climate change through food, including by reducing food waste in our kitchens. Through a partnership with Leanpath, we now have an enormous amount of data about our food waste, and we use that data to make better decisions about how much food to prepare in the future. To date, we've prevented more than 6 million pounds of food from going to the landfill.
Q: Are there experiences you recollect from the Park program that have increased your effectiveness and ability to have an impact?
"Difficult Conversations" was a very practical module that has stuck with me over the years and has application in my professional and personal life. One takeaway is the way in which words are communicated—and the body language associated with it—is every bit as important as the words themselves.
Q: What is your most memorable moment as a Park Fellow?
As a student celebrating the 10th anniversary of the Park program in New York was a special event and an opportunity to meet alumni who were part of this community. Another memorable moment is from the project I worked on while a Park fellow: I advised a local entrepreneur who had launched a chocolate bar company. I always left my sessions with her feeling invigorated by her passion towards her business and by the opportunity to tackle various challenges together.
Q: What advice do you have for your peers on having an impact every day?
Schedule a regular time on your calendar (monthly or quarterly) to check in with yourself to ask yourself what really matters to you—both professionally and personally—and then ask yourself what steps you could take to ensure your time reflects your priorities.
Q: Any final thoughts?
If we could consistently get seven hours of sleep a night, the world would be a different place.
Kristen earned an MBA as a Park Leadership Fellow at Johnson, where she focused on sustainability in the hospitality industry and completed her last semester in a food and beverage Master's program at SDA Bocconi (Milan). Kristen also holds a Master's degree in international affairs from the Fletcher School at Tufts University, where her graduate thesis addressed the "Triple Bottom Line" in the food industry. She earned a Bachelor of Arts in 1997 from Princeton University.