Celebrating National Siblings Day with Anne and Allison Latham, both Class of 2020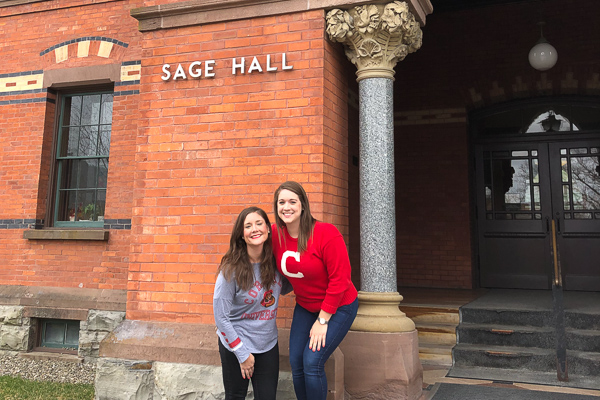 For Anne and Allison Latham, business school is a family affair. The sisters grew up under the same roof, and now as members of the Two-Year MBA Class of 2020, they're learning alongside each other inside the classroom. In honor of National Siblings Day, we asked Anne and Allison to share their story of two sisters succeeding at the same business school, in the same graduating class. 
What made you decide to attend the same school?
We never planned on attending business school at the same time; however, 2017 was a time where we both felt we needed to make a change, and we each found ourselves at a place in our respective careers where that would be possible. We started out our research of top-20 programs and overlapped on a few schools, Cornell being one of them. So the long and short of it is that we never explicitly intended on attending the same program, although we must admit that our parents were certainly hoping that would be the case!
Why Johnson?
For both of us, we really felt a genuine sense of community when we visited Johnson for the first time. We were welcomed into the Sage Atrium with open arms, and current students were extremely down to earth and devoid of the excessive ego phenomenon that we encountered at some other business schools we visited.
Allison:
Johnson was very strong in investment banking and I already knew Johnson alumni that had worked at Barclays, a British multinational investment bank and financial services company, with me. These alumni gave me a real sense of one of how Johnson prepares students with both technical and soft skills—a combination that I knew would prove invaluable in navigating a career in investment banking. Another determining factor for me was being awarded a Park Leadership Fellowship and having access to the unique opportunities the program offers.
Anne:
I was drawn to Johnson because of the strong marketing program. I was particularly interested in the Strategic Product and Marketing immersion opportunities and supplementary events such as the Battle of the Brands and the Marketing Executive Coaching Program, which provides access to leaders in the field as well as some of the top marketing companies across sectors including consumer packaged goods, financial services, and tech.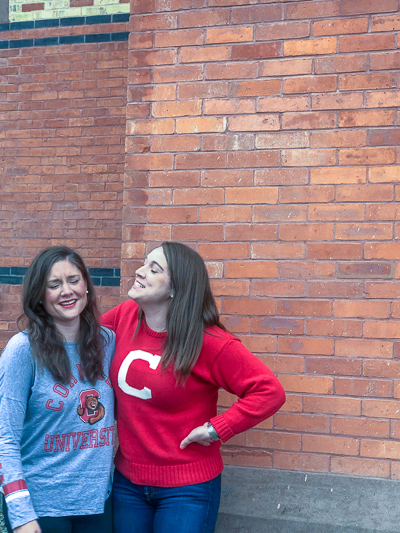 Did you both attend the same undergraduate institution?
We did not. Allison went to The George Washington University in Washington, D.C. and Anne went to Loyola University Maryland in Baltimore, MD. We were only a 45-minute drive from each other during Allison's freshman year and Anne's senior year.
How often do you see each other outside of the classroom?
Quite a bit, actually. We enjoy traveling together with our groups of friends. Over winter break, we participated in the Johnson China Trek and went on to travel for three more weeks with other classmates across Hong Kong, Malaysia, Thailand, Cambodia, Vietnam, and Laos.
We actually just returned from the Israel Trek over spring break, where we saw Tel Aviv, Jerusalem, and Nazareth. The Dead Sea was definitely the highlight of the trip! Beyond traveling together, we also enjoy exploring the beautiful scenery around Ithaca—particularly hikes through Buttermilk Falls.
Why get an MBA?
We shared a lot of the same reasons for wanting to attend business school. We were both looking to make a pivot in our careers that would be accelerated by an MBA—one of us wanted to make the switch into investment banking and the other into brand management. We also both had relevant business backgrounds; however, we were looking to close the gap in some of the skillsets that we felt would set us up for success in the next 10 years, 20 years, and beyond.
Did you attend graduate school with your sibling? Tell us about your experience in the comments below!