Making partner: How Jen Davis '99 discovered her passion and forged a path at Goldman Sachs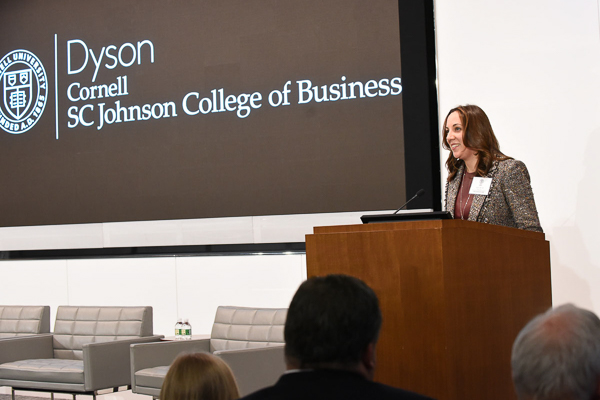 When Jennifer Davis ՚99 arrived at Cornell, she didn't know what investment banking was, let alone that it would become her life's work. Through a process of self-discovery, hard work, and help from her mentors, Davis climbed the ranks at Goldman Sachs and went on to become a partner in the Consumer Retail Group in Investment Banking Services in 2016. "I definitely figured things out as I went," says Davis on her path to success. "It was an evolution, not my destination from the outset."
An instrumental period for self-discovery and growth
Originally from upstate New York, Davis was familiar with Cornell and eager to stay within her home state for college. She felt that Cornell offered an unparalleled opportunity for her to gain an exceptional education.
Ultimately, it was Cornell's academically rigorous reputation and the uniquely positioned applied economics and management (AEM) major that sealed the deal for Davis. "I wanted to have a broader, very practical education when I graduated, and I thought an undergraduate business degree would provide me with a lot of options down the road," she says. The Dyson School, part of both the College of Agriculture and Life Sciences (CALS) and the Cornell SC Johnson College of Business, gave Davis a strong business background to lean on when she decided not to pursue a pre-veterinary track as she had originally intended. Although she enjoyed the academic rigor of her science classes, it was the business classes she was most passionate about.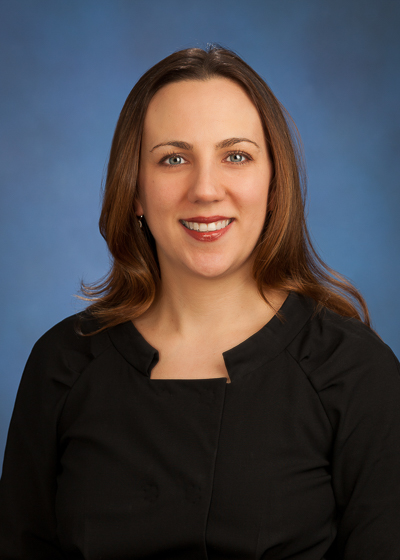 "I had no idea what investment banking was when I went to Cornell," she jokes. In addition to researching and exploring professions through the Career Center, Davis was able to zero in on investment banking by focusing on interesting coursework and her natural abilities.
As a student, Davis appreciated the sheer volume and diversity of the classes available at Cornell. Aside from taking courses in business and science, she enjoyed exploring fun electives like Swedish Massage and physical education courses. She also relished the intimacy of belonging to the Dyson School. "You felt a lot more camaraderie with a smaller group of students who you saw in many of your classes," says Davis. It was the best of both worlds: an intimate classroom experience with the benefits of a much larger institution.
Davis credits her professors with stimulating her ongoing interest in business and encouraging her growing fascination with finance. Cindy van Es, a professor of practice in the Dyson School, mentored Davis throughout her time at Cornell and was instrumental in her path to graduate school. "I went to Harvard Business School for my MBA, and she wrote one of my recommendations; so there was just a lifelong relationship that I developed with some of the professors in addition to the actual course content that they delivered," says Davis.
Climbing the corporate ladder
Today, Davis serves as head of retail investment banking at one of the most prestigious firms in the industry, Goldman Sachs. She joined the firm in 2003 as an associate, was named managing director in 2011, and partner in 2016. In her current role, Davis focuses on client coverage of companies across a variety of retail sub-sectors.
"I cover about 45 different clients—everyone from Lowe's, to PepsiCo, to Ralph Lauren—and my job is to meet regularly with the CEOs and CFOs of those companies and come up with creative ideas about how Goldman Sachs can be helpful to their strategic and financial goals," says Davis, who enjoys the diversity of the work and the challenges each new day brings. She finds it especially rewarding to meet with executives from companies of all sizes and stages in the business lifecycle. "I love helping them think through their goals and how we can help accomplish them," says Davis.
Internally, Davis loves the team-based approach and collaborative culture at Goldman Sachs. Even 16 years into her career there, she finds herself in awe of her colleagues and what she can learn from them. Outside of the professional connections formed, Davis is fortunate to call a number of her co-workers close personal friends as well.
Advice for a long and fulfilling career
If Davis could give today's Dyson students a piece of advice, she'd say to "keep an open mind in terms of career paths and opportunities, and don't just follow the hot job or the hot career of the day." Rather, it's important "to have a really introspective and honest assessment about your own strengths and weaknesses and how those might play into what works well in terms of a career." She also advises students to gain international experience as soon as possible. She says, "I think we're becoming increasingly global in business, so it's important to get some sort of international experience at some point in your career, and it's usually easier to do so early on."
Taking a long-term perspective has helped Davis achieve success over the years at Goldman Sachs. "It's important to have the mentality that it's a marathon, not a sprint and that there are good days and bad days in every job," she says. "I've been very fortunate to cultivate a really great group of mentors, sort of a personal board of directors, who've helped guide me at every turn in my career."