Accelerate Johnson 2019 welcomes incoming One-Year and Johnson Cornell Tech MBAs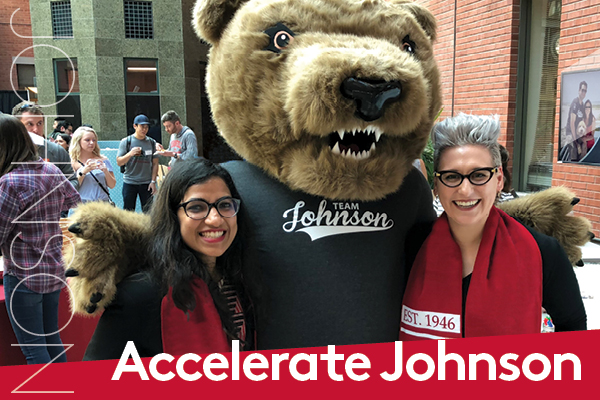 Incoming candidates for Johnson's One-Year MBA program in Ithaca and the Johnson Cornell Tech MBA program in NYC—made this year's Accelerate Johnson (AJ) welcome event bigger and better than ever before. Hosted on the Cornell Tech campus in March, AJ 2019 offered candidates their first introduction to the people that comprise both of these one-year programs.
Held jointly between the two programs for the first time, AJ's day of panels, interactive presentations, and leadership activities showcased the interconnectivity at the core of Johnson's accelerated MBA offerings.
"Our one-year program cohorts build a close affinity throughout their experience," says Vishal Gaur, associate dean of MBA programs. "Johnson Cornell Tech MBA students spend three months on the Ithaca campus at the start of their program, building their business acumen through Johnson's MBA core curriculum. They take these foundational courses alongside their One-Year Ithaca MBA counterparts, working together on the same core teams. This amplifies everyone's network, and tight cross-program friendships are formed. The two groups stay connected even after the Johnson Cornell Tech students relocate to Roosevelt Island in late August, as many of the One-Year Ithaca students take advantage of our Johnson NYC curriculum."
Alumnus offers advice in keynote address
This year's welcome weekend began with some words of advice from Jamey Edwards, '96, MBA '03, CEO of CloudBreak Health, who delivered AJ's keynote address. Speaking to both incoming classes, Edwards stressed that incoming students should aim to form friendships and build connections within the Cornell MBA community.
"There is nothing more important than your network and the ability to reach out as your careers progress," Edwards underscored, the winner of Johnson's 2018 Robert J. Swieringa Young Alumni Service Award, said. "You are about to become part of a very big Cornell family and you should make the most of this opportunity."
"Excited to be speaking to admitted Johnson #CornellTech and One-Year Ithaca #CornellMBA students today in #NYC for Accelerate Johnson!"@cornell_tech @cornellmba @cornell #MBA #innovation #roadmap #entrepreneurship #entrepreneur #startup #startuplife pic.twitter.com/bT8vGtJdfm
In his remarks, Edwards also spoke about technology, entrepreneurship, and the necessity of storytelling in succeeding as a business leader. Reflecting on his own experience in business school, Edwards credited his Johnson MBA as an essential ingredient to his success. Finally, he encouraged the incoming class to fully invest in themselves and in one another over the next year, while also making sure to cherish their time together in Ithaca.
A warm welcome from Dean Huttenlocher
Daniel Huttenlocher, the Jack and Rilla Neafsey Dean and vice provost of Cornell Tech, offered candidates an official welcome to the Cornell Tech campus on Roosevelt Island. Dean Huttenlocher described to candidates both the vision for Cornell Tech and its relation to the wider university and community.
.@cornell_tech Dean Huttenlocher welcoming our new #CornellMBA and #CornellTech One Year #MBA students and sharing the campus vision to develop pioneering #leaders in #DigitalTechnology to produce economical and societal impact #Cornell #GoBigRed pic.twitter.com/wBG2rmfZJo
Breakout sessions highlight academics, recruiting, and student life
Following the joint welcome, the One-Year Ithaca MBA candidates broke off into sessions designed to dive deeper into various aspects of Johnson's flexible curriculum, recruiting preparation, and tight-knit community.
Our #CornellMBA community is very special and One Year #MBA Assistant Program Director, @SpecialKate8, highlights some of the ways to get involved and give back #impact #AccelerateJohnson pic.twitter.com/VWl9G37Lhx
After sharing their intros and backgrounds with each other, our new #CornellMBA One Year students learned about our approach to accelerated #career management from Annie Marra in our Career Management Center. pic.twitter.com/HUO4PYVLvc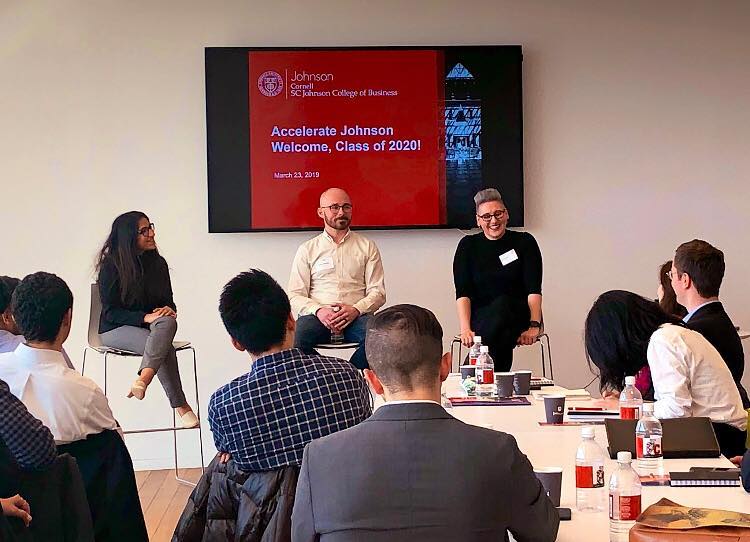 Blended core teams to build leadership skills
Once the breakout sessions concluded, the two cohorts reunited for an introduction to the blended core teams that will work together over the summer. Referring to this part of the curriculum as a "24/7 leadership development laboratory," Laura Georgianna, executive director of Johnson's Leadership Programs, immediately followed her discussion with a team exercise that involved candidates working together to solve a problem presented to them.
Brought our #CornellMBA and #CornellTech students together for a #leadership discussion and #team exercise with @LCGeorgianna, Executive Director for #LeadershipPrograms @CornellMBA pic.twitter.com/Yh3uw9d2lD
Incoming candidates look ahead to their 12-month journey of transformation
The day ended with a chance for candidates to mingle, toast to the future, and meet a very important member within the Cornell community: Touchdown the university's beloved bear.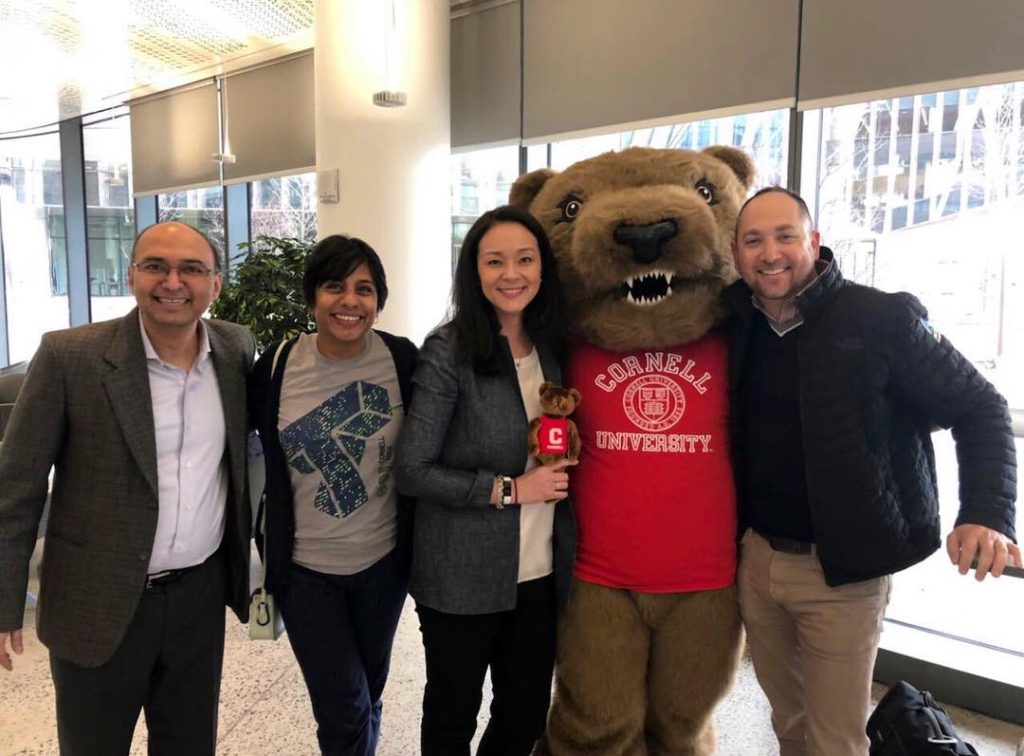 Most importantly, this year's action-packed AJ left candidates-or soon-to-be classmates-more excited about their MBA experience.