DJ 2019 welcomes admitted Two-Year MBA students and their families to Johnson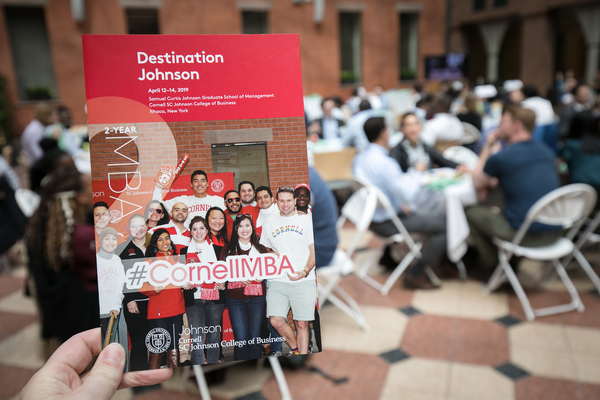 In April, Johnson welcomed 140 admitted students to campus for its annual Destination Johnson (DJ) event. Visiting students and their families spent the weekend learning about Johnson's Two-Year MBA program, the school's incredible academic and co-curricular opportunities, and resources available for Cornell MBA students.
More than 240 current students and their partners worked as volunteers to host, feed, inform, and entertain future members of our Johnson family throughout the weekend. From team building exercises to immersion information panels and social events, attendees saw our ambitious, diverse community come to life firsthand.
Getting ready for one of our most favorite and memorable milestones in the #MBA admissions process! Excited to welcome our #CornellMBA Two Year Class of 2021 to #DestinationJohnson 2019! 🐻❤️🙌🏼 #Cornell #Ithaca #ITH #bschool #welovethebear #oneteamonedream pic.twitter.com/QpBWzyoDsK

— Judi Byers (@Judi_Byers) April 9, 2019
Here's a recap of some of the weekend's highlights:
Dean Nelson and Judi Byers, admissions, welcome guests
DJ attendees gathered in the Statler Hall Auditorium for an official welcome by Judi Byers, executive director of admissions and financial aid, and Mark Nelson, the Anne and Elmer Lindseth Dean of Johnson.
"Working in admissions, we consider events like Destination Johnson to be one of the most rewarding moments of the admissions process—a chance for us to celebrate with you, and in doing so, reflect on the many steps we've taken together throughout the admissions process.

"Together, you've shown us that you not only have the intellectual curiosity and resilience to be successful in our classrooms, but the self-awareness, motivation, and drive to become the very best version of yourself—and you will, here at Johnson."

—Judi Byers, executive director of admissions and financial aid
Thanks Dean Nelson & @Judi_Byers for formally welcoming our Class of 2021 to #DestinationJohnson and sharing all of the exciting things happening at @Cornell! #CornellMBA pic.twitter.com/nsg7ZquWF2

— Johnson Admissions (@CornellMBA_Adm) April 12, 2019
Dean Nelson expressed his excitement for the future and the next generation of Johnson students. "This is an amazing time in the life of Johnson," he said.
Characterizing the Johnson community as one where people are "fiercely dedicated to one another," Nelson described a number of opportunities that comprise the academic experience of a Cornell Johnson MBA student, such as the immersion curriculum. He also spoke at length about Johnson's footprint in New York City with offerings on the Cornell Tech campus. From this, he sees Johnson "bringing together Ithaca and New York in ways we never could before."
"What defines Johnson, and ripples out to define our college and define Cornell, is that people are remarkably driven but also remarkably supportive. They have each other's backs as they're driving each other forward at the same time."

—Dean Mark Nelson
---
Keynote address from Bain & Company's Hernan Saenz
Hernan J.F. Saenz, III, MBA/MILR '98, head of the Global Performance Improvement Practice at Bain & Company, delivered DJ's keynote address.
Hernan J.F. Saenz III, MBA\MILR '98, head of global performance improvement practice at Bain & Company, reflects on his business education: "You may think an MBA is only two years … I'm here to tell you that my MBA has been with me for 22 years." #CornellMBA @BainAlerts pic.twitter.com/qgqb6kxZj5

— Johnson at Cornell (@CornellMBA) April 13, 2019
Saenz spent two-and-a-half years at Cornell, where he earned both an MBA from Johnson and a master's degree from the ILR School. Following graduation, he went to work for Bain & Company. When he first joined the company in its Boston offices, Saenz says there were 45 hires and most of them were prior Bain employees or summer associates. Of the group, he was the first promoted manager and partner, which means, he said, "this place trained me really well."
"When I came here, I ran into things I did not expect. I did not expect to still be friends with faculty that taught me more than 30 years ago. I did not expect such a selfless community."

—Hernan Saenz
Saenz said he was also surprised by the many opportunities he had at Johnson to push himself to grow as a leader.  The same was true inside the classroom, said Saenz. "I was able to do consulting projects and even wrote a business plan that I could've funded, had I not decided to go to Bain. It's that sort of incredibly practical training that has helped me find so much success," he recounted.
---
Friendly advice from Student Council co-chairs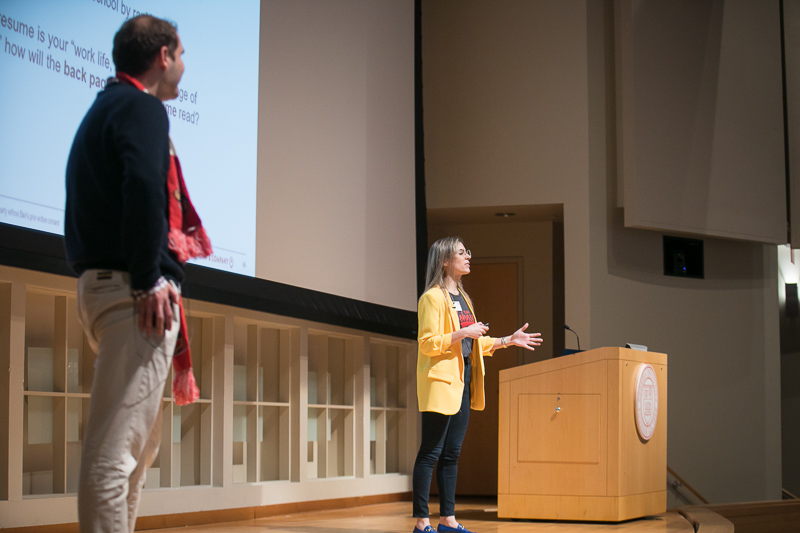 Sabina Bellizzi, MBA '20, and James Feld, MBA '20, both student council co-chairs, addressed DJ attendees. They emphasized how you can be yourself at Johnson and offered words of advice to the incoming class: "Work hard, play harder!"
View this post on Instagram
---
ODI welcomes Consortium members and Forté fellows
The Office of Diversity and Inclusion hosted a Consortium lunch and presentation for new members of Johnson's Consortium family. The newest Forté Fellows also gathered for a welcome event.
➞  Read more about ODI's initiatives and partnerships:
---
Getting to know Ithaca and the community
Admitted students took tours of Sage Hall and the Cornell campus on a cloudy, yet warm day! Friday evening featured the Taste of Ithaca reception with a sampling of local foods and beverages in Sage Hall.
Joint Ventures (JV), a group for families, partners, and spouses of MBA students, was present throughout DJ weekend. JV leaders spent time with incoming families by leading tours, answering questions, and providing a unique perspective. When you take on a two-year MBA journey, it's a family decision.
➞  Read more about JV and MBA families:
---
Building teams with LEGOs
Laura Georgianna, executive director of Leadership Programs, gave the incoming class a taste of how Johnson builds high-performing teams in a hands-on leadership activity during Saturday's session.
➞  Read more about team-building and leadership at Johnson:
---
Ways to step outside the classroom
Current and admitted students packed the Dyson Atrium in Sage Hall for the Club and Housing Fair. Club representatives helped to show the breadth and depth of student organization options at Johnson. There are more than 70 student organizations for Johnson MBAs, each offering opportunities for leadership.
There are lots of opportunities to get involved at Johnson! Our Club Fair is happening now at #DestinationJohnson! #CornellMBA pic.twitter.com/pxKlZynhMA

— Johnson Admissions (@CornellMBA_Adm) April 12, 2019
DJ guests walked to the Breazzano Family Center for Business Education for professional and industry club mixers. Groups represented included:
➞  Read more about student organizations at Johnson:
---
Launching your career search with the CMC
Representatives from the Career Management Center (CMC) presented on resources available at the CMC, an overview of employment statistics, and a selection of internships that the Class of 2020 will be participating in this summer. During this session, students and alumni spoke about their experiences in consulting.
➞  Read more about Cornell MBA careers:
---
Highlighting Johnson's strengths and unique offerings
"Johnson highlights" sessions featured panels on entrepreneurship at Cornell, the Johnson NYC curriculum, and women's careers in business. These discussions on specialized topics emphasized Johnson's unique offerings and differentiators while outlining some incredible opportunities for incoming MBAs.
➞  Read more about entrepreneurship at Johnson and Cornell:
➞  Read more about Johnson and NYC:
➞  Read more about Johnson's women in business:
Immersion showcase
One of the hallmarks of a Johnson education is its immersion curriculum. Admitted students heard from a panel of representatives from each immersion: investment research and asset management, digital technology, investment banking, corporate finance, semester in strategic operations, strategic product and marketing, and sustainable global enterprise.
➞  Read more about Johnson's immersions:
---
Insightful lunch, M[BA]sh, and Sunday brunch—DJ covered it all
Saturday's lunch featured a buffet meal and topic tables, which brought great conversation among attendees. DJ attendees gathered for drinks, dancing, and celebration on Saturday night at Duffield Hall. The event was complete with a band and DJ. In true Johnson spirit, the M[BA]sh showed incoming MBAS how your classmates can easily become your friends—live band, DJ (disc jockey!), and all.
The weekend concluded with a brunch hosted by the Women's Management Council (WMC). WMC president Caitlin Namnoum, MBA '20, introduced alumna Kate Rubenstein, MBA '05, managing director for portfolio operations at The Blackstone Group, and Risa Mish, professor of practice of management.

---