Yasmin Watt '22: Challenging the status quo to create a supportive community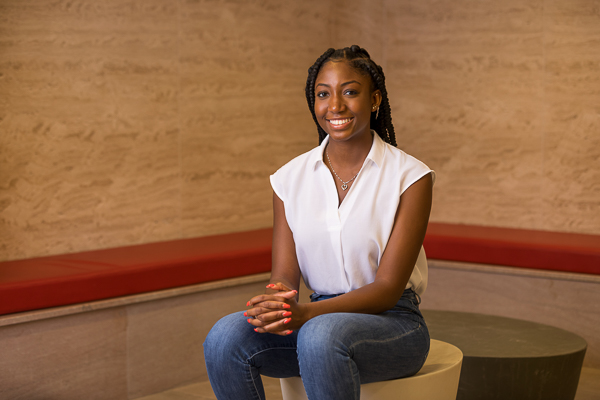 Yasmin Watt '22 comes from a family of immigrants who inspire her to challenge the status quo. She grew up surrounded by the success of her family members, who moved from the Caribbean to America in pursuit of better lives. Her mother and father both graduated from The City University of New York and settled in New Jersey so Watt and her older brother could experience similar opportunities. Growing up, as her parents guided Watt and her brother through every new milestone, from their first soccer games to getting accepted into college, she appreciated their unyielding support. And that encouraged her to find a way to offer support to her cohorts in her community.
Watt focused her first efforts on supporting her classmates at Dwight-Englewood School, where she saw so many struggling to cope with the competitive, private school environment. Recognizing the lack of resources available to help new students acclimate to the private school lifestyle, she decided to pitch new initiatives aimed at creating a safe, open space for students to express themselves. She successfully launched a club she named D-ESTRESS (playing on the name of their school) that offered programs designed to teach hands-on ways to relax, ranging from guest speakers who discussed ways to lower stress to activity days filled with yoga sessions and coffee chats. "The club was about finding ways to lower stress levels by actively engaging our whole community," says Watt.
Inspired and influenced by Cornell alumni who are community leaders
When Watt began applying to colleges, she was inspired by two Cornell alumni who had graduated from her high school: Maya Gunaseharan '12 (ILR) and Sean Larry Stevens '10 (Arts & Sciences). Gunaseharan, who is now pursuing her master's in educational leadership and societal change, taught at Dwight-Englewood and still returns to the school to share her passion for increasing diversity in the private school system. Stevens also returned to Dwight-Englewood to share his experiences as the principal of a high school in New Jersey—KIPP Newark Collegiate Academy. He is committed to educating children in endangered communities so they can pursue a college degree. "They [Gunaseharan and Stevens] both have made such big differences in so many people's lives," says Watt. "When I think about the qualities I aspire to have, these two people really have it all."
Invested in making a difference for all students
Watt chose Cornell because she wants to become a passionate leader like Gunaseharan and Stevens. At Dyson, Watt discovered a supportive, collaborative culture and network that reminds her of her high school, friends, and family back home. At Cornell, she continues to find ways to add value to her community. As a member of the Cornell Caribbean dance team, she enjoys sharing her family culture through dance. Through her participation in the Dyson Undergraduate Council and Dyson Students of Color Coalition, she hopes to enrich the Dyson experience for all students, including students of color.
"I am going to be the new VP of alumni relations for the Dyson Undergraduate Council, and I plan on creating more initiatives where students can bridge the gap between themselves and alumni," says Watt. "I want students to feel more connected to the real world."
Before attending Cornell, Watt wasn't sure how she could mold her passion into a future career. She is interested in many different areas of study, ranging from finance to entrepreneurship, and is determined to continue exploring them during her undergraduate career. She has learned about different business fields in her introductory courses at Dyson, and that has fueled her enthusiasm for becoming a business leader. Long term, her goal is to continue to work on projects focused on helping people and communities.
"I hope that one day, through whichever career lens I choose, I can make a positive impact on as many people's lives as possible," says Watt.
—Written by Ashley Win, a student writer intern for the Cornell SC Johnson College of Business