Dyson recognizes achievements and award winners for 2018–2019 academic year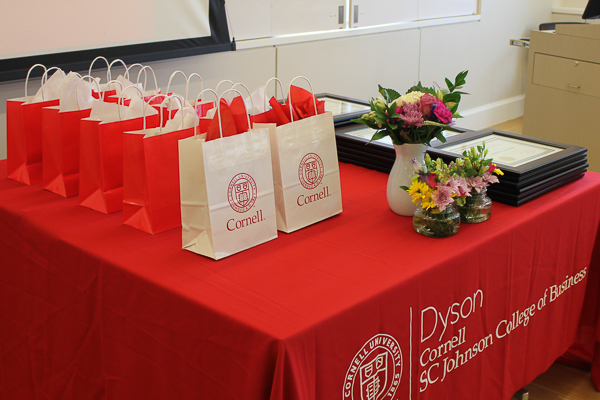 Students, faculty, and staff gathered May 2 in recognition of many excellent contributions and achievements that took place during the 2018–2019 academic year. Please join us in congratulating this year's award recipients at the Dyson School!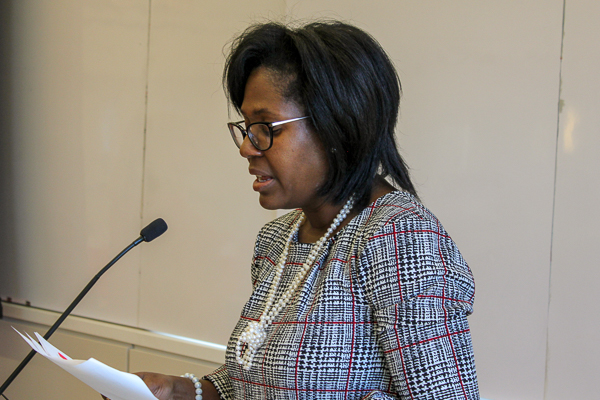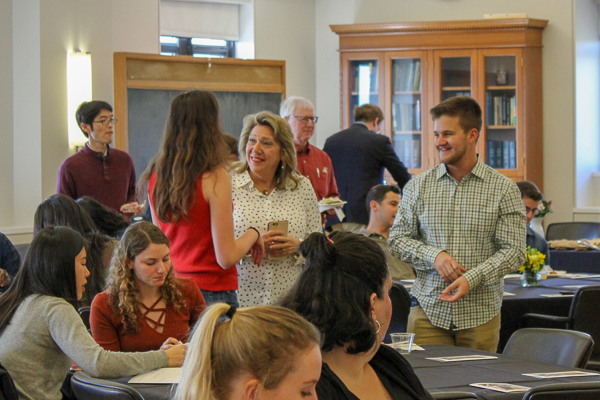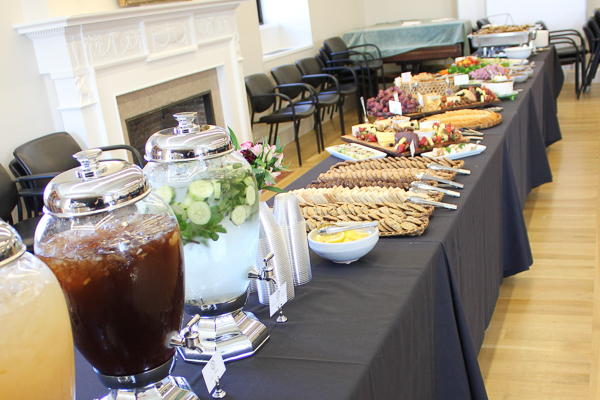 Student awards and accomplishments
Spirit of Dyson Award: John (Jack) Burger '19
An acknowledgement of outstanding and balanced achievement over the course of Dyson enrollment, this award recognizes an individual who has consistently displayed strong intellectual development; thoughtful leadership and service; a global, problem-solving perspective and commitment; and the highest standards of accountability and integrity. The Spirit of Dyson Award winner will present a speech at the Dyson graduation ceremony.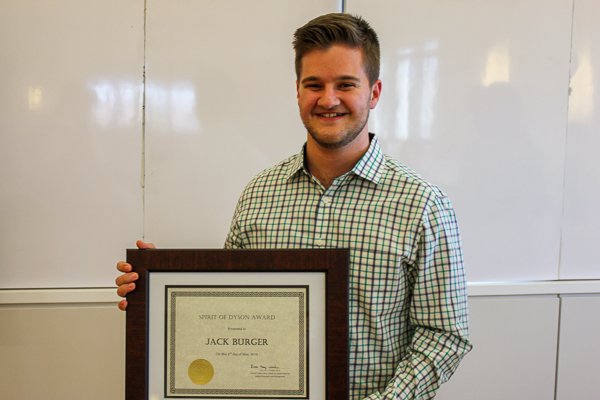 Jack has been dedicated to bettering both the Dyson community and the university during his time as a Dyson student. He has been a TA for AEM 2100 for the last three years, serving as the head TA in fall 2018 and was part of the AEM 2700 TA staff for three semesters. With his participation in the bi-annual Dyson South Africa Impact Learning Trip and his CALS Global Fellows internship in Maun, Botswana, Jack has brought Dyson's values to various sub-Saharan African countries. Jack has also been instrumental in bettering mental health on campus and founded the Cornell chapter of Reflect, an organization that aims to destigmatize mental health by providing free dinners and a space where students can openly and honestly communicate with each other.
---
Undergraduate Research in AEM Award: Michelle Wen '19
An acknowledgement of outstanding research achievements, this award recognizes an individual who has added to our understanding of applied economics and management. The student who receives this award is driven by intellectual curiosity and maintains high research standards.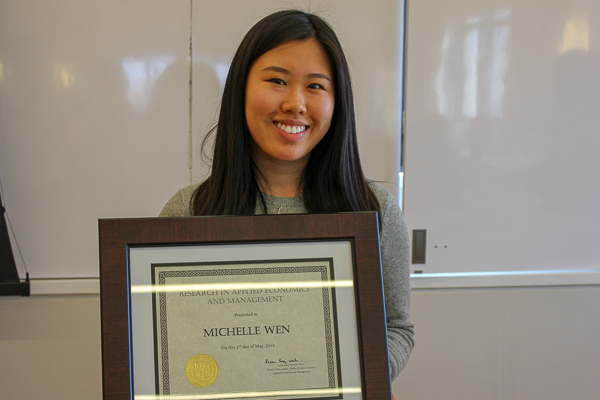 The person who nominated Michelle for this award said: "Michelle has been involved in conducting research with me since she transferred to Cornell as a sophomore. In that time, I have seen her skills greatly advance. Not only has she learned how to conduct laboratory experiments, but she is able to design and carry out original problems that answer important and open questions. I think she has a promising career ahead of her in research if she decides to pursue it."
---
Undergraduate Teaching Assistant Award: Avirook Upmanuyu '19
This recognition is awarded to the undergraduate student TA who has demonstrated exceptional contributions to the Dyson curriculum as evidenced by supervisor nominations, student feedback and observable learning, course development activities, and commendations by peers.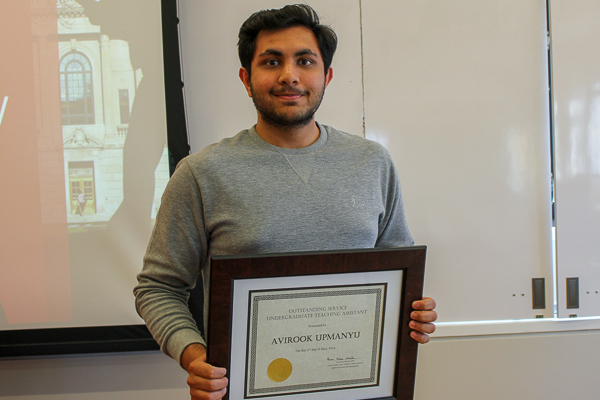 Avirook has been amazing as a TA for AEM2000: Contemporary Controversies in the Global Economy, a writing-in-the-majors course. He challenges students to find holes in political rhetoric and pushes them on the economic logic and evidence behind competing positions on issues. His brains and his energy leave students excited about the difficult material, rather than discouraged. By his contributions in class and in his office hours, he supports students to think critically and prepares them for the "real world." Avirook not only challenges and engages students well, but he cares deeply about his students' happiness and success. He always has time to help, no matter how busy his own schedule becomes. He is intentional about helping newer TAs along, reassuring them that they are doing a good job and kindly showing them how to improve. Most of all, he always makes the people he interacts with feel heard, supported, and believed in.
---
Graduate Teaching Assistant Award: Maria Kalaitzandonakes, MS '19
This recognition is awarded to the graduate student TA who has demonstrated exceptional contributions to the Dyson curriculum as evidenced by supervisor nominations, student feedback and observable learning, course development activities, and commendations by peers.
Maria brings an indefatigable enthusiasm for both teaching and learning to everything she does. This enthusiasm is contagious, serving the students she instructs and inspiring the rest of the instructional team with which she works. Her evaluations are off-the-charts. The written feedback on Maria was uniformly very positive, much of it extremely complimentary, with comments such as:

"I cannot say enough good things about Maria. She runs her sections really well. She encourages students to work together in productive ways, gets people to consider both sides of the arguments, offers helpful writing advice, and uses PowerPoints and handouts to keep the class on track."

"Maria was fantastic and very personable. She used her experiences from work and internships to make the material very applicable."
---
George Warren Awards
The George Warren Awards are awarded to graduate students who have completed outstanding research and scholarship in applied economics and management.
First place: Matthew McGranaghan, PhD candidate
"Lead Offer Spillovers"
Nominated by Jura Liaukonyte, associate professor
It is quite unprecedented for a PhD student to have a lead-author publication in a top journal. The paper is highly innovative in that it uses field experiments in collaboration with two anonymous companies. The paper robustly documents the novel finding that, the way you arrange promotional offers matters a lot, and that the value of the offers at the top of the page increases the engagement with subsequent offers significantly (a seeming behavioral anomaly, since the subsequent offer values are held constant).
Second place: Avralt-Od Purevjav, PhD candidate
"The Marginal Cost of Traffic Congestion and Road Pricing: Evidence from a Natural Experiment in Beijing"
Nominated by Shanjun Li, professor
This paper grew out of Avraa's second-year paper and has been accepted at a top general interest economic journal. Throughout the project, Avraa played a key role in building the model, analyzing the data, and drafting the paper.
Third place: Maulik Jagnani, PhD candidate
"Poor Sleep: Sunset Time and Human Capital."
Nominated by Chris Barrett, professor
Maulik Jagnani's paper is simply a tour de force. It has already been covered by a range of global media and is already attracting citations although it hasn't yet been submitted to a journal for publication. A significant literature identifies poor areas within countries, even geographic poverty traps. But the mechanism(s) behind persistent, spatially-specific poverty remain poorly understood. Maulik offers a novel and powerful explanation: exposure to sunlight, more precisely, sunset time.
---
Cyril F. Crowe Award: Kyler Rood '19 and Nicolette Smith '19
The Cyril F. Crowe Award is given to undergraduate seniors who have demonstrated academic excellence in applied economics and management.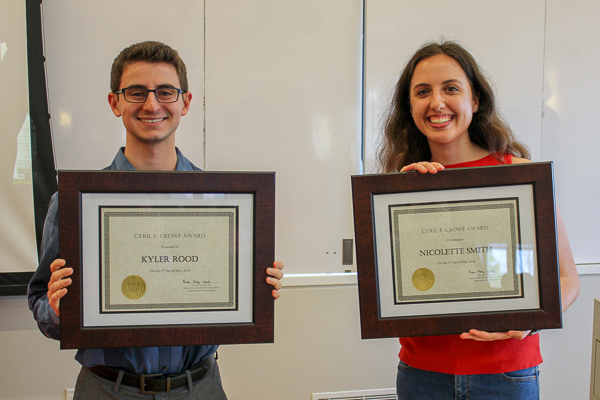 ---
Class representatives for Commencement weekend
Based on classroom contributions and service to the school, these students are chosen to lead the Dyson graduation processional. Those students recognized are among the top 10 percent for academic performance in the graduating class.
Degree Marshals: Long Hay Charlton Leung '19 and Frederick Kauber '19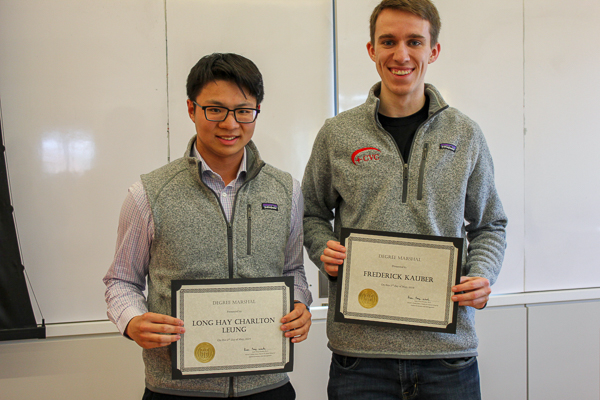 College Name Banner Bearers: Arianne Greenstein '19 and Emily Ma '19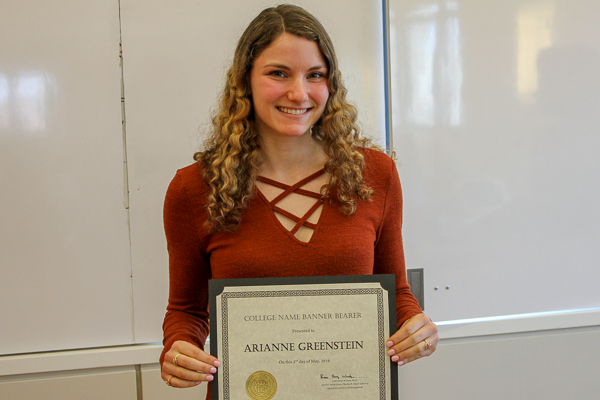 College Symbol Banner Bearer: Ariel Altaras '19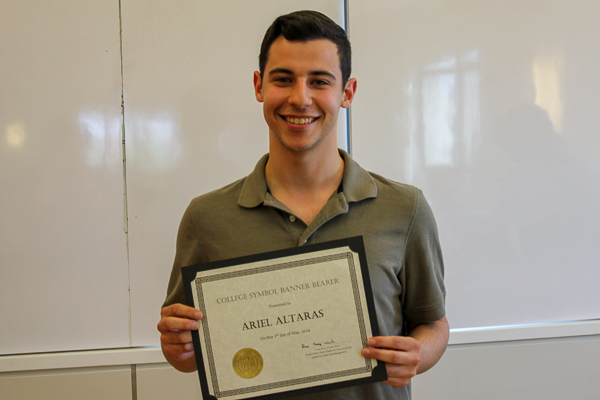 ---
Faculty awards and recognition
Teaching Excellence Award, Undergraduate Program: Donna Haeger, professor of practice
The Teaching Excellence Award for the undergraduate program is presented to the faculty member who is an exemplar of delivering high-quality, engaging, and rigorous instruction in the Dyson undergraduate curriculum.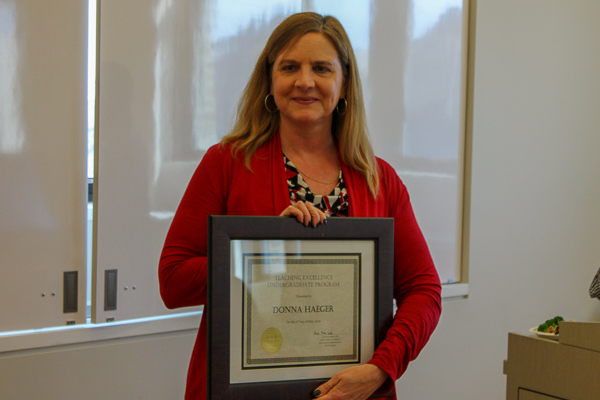 Professor Haeger's enthusiasm for her subject and engagement with students both in and outside class are top-notch.
---
Teaching Excellence Award, Graduate Program: Miguel Gomez, associate professor
The Teaching Excellence Award for the graduate program is presented to the faculty member who is an exemplar of delivering high-quality, engaging, and rigorous instruction in the Dyson graduate curriculum.
Professor Gomez is a dedicated and beloved professor, advisor, and mentor to graduate students. A popular and effective advisor, he supervises the research of a large group of diverse graduate students from a variety of backgrounds and countries on important and frontier topics related to food, agriculture, and bioeconomics.
---
Outstanding Early Career Achievement Award: Sarah Wolfolds, assistant professor
This award if given to the early career faculty member who has shown extraordinary promise in one or more of the following areas: teaching, research, engagement, advising, or administration.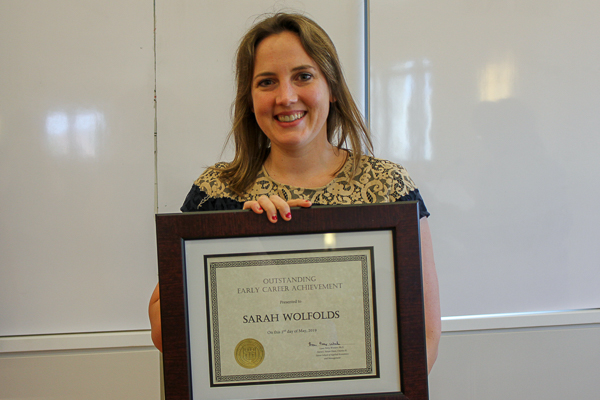 Sarah Wolfolds is also an outstanding teacher who has introduced the use of case study discussion in teaching Dyson's core strategy class, AEM 2601. In addition, she has revamped the course to be a more rigorous, relevant, and effective learning experience for students. Sarah has a gift for connecting with students and engaging them in the classroom. She recently had a publication accepted for the Strategic Management Journal, a top journal in her area.
---
Research Excellence—Our Business is a Better World: Chris Barrett
The Research Excellence award is given to the faculty member or team with outstanding research is support of Dyson's mission, including research publications demonstrating the Dyson value of "our business is a better world;" such publications appearing in peer-reviewed journals of high academic quality; evidence of participation in national and /or international conferences; and citation of work by individuals or groups other than the nominee's collaborators.
Chris Barrett is a world-renowned scholar and expert in agricultural and development economics, with a broad research and outreach program on international poverty, food security, agricultural development, economic growth, agricultural economics, sustainability, and applied microeconomics and econometrics. His more than 300 publications have been cited more than 31,000 times, placing him among the top five globally in the agricultural economics, development economics, food security, poverty, and resource economics fields, according to Google Scholar. Chris has won more than $30 million in extramural research grants from various corporate, foundation, government agency, and nongovernmental organization sponsors and has supervised more than 100 graduate students and post-docs, many of whom are now faculty and staff at leading universities and research institutes worldwide.
---
Outstanding Achievement in Engagement: Andy Novakovic, professor
This award is presented to the faculty member or team that exemplifies excellence in engagement, extension, and/or applied learning, broadly defined—including but not limited to contributions to Dyson's land-grant mission.
I don't think it's overstatement to say Dyson's extension program would be a shell of its current state without Andy. His is a steady and well-informed voice through all of the programmatic and administrative change of the last few years. He's been an effective advocate for Dyson's applied mission to a range of stakeholders most of us could not reach, let alone persuade—as he has done. Plus, his skill in wrangling language and folksy metaphor to his bidding, and to the delight of his audience, is justifiably renowned.
---
Tribute to Retiring Faculty:
Ed McLaughlin, professor

Debra Perosio, senior lecturer

Rod Hawkes, senior extension associate

Bill Drake, senior extension associate

Deb Streeter, professor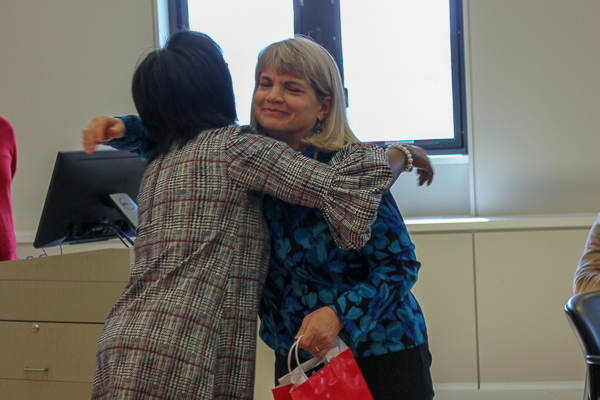 ---
Dyson staff awards
Dyson Fellow Award—"Above and Beyond:" Jen Majka, director of Diversity and Inclusion
This top staff award is given to the person who most exemplifies Dyson's mission and values. The award is designed to highlight performance that surpasses expectations and makes a significant or unique contribution to the work of Dyson.
Since Jen has started working with Dyson, students that once felt underrepresented have been feeling seen as many new extracurricular organizations have been put into place by the students themselves with immense support from Jen. She is always looking out for students and always has her door open. She takes her job seriously and is a fierce advocate for diversity and inclusion. Jen goes "above and beyond" for anyone who comes to her for help for guidance. At the same time, students jump at the opportunity to help Jen out as well. She has helped many students find their place at Dyson.
---
Dyson Values Award:
Pam Duffy, building/facilities coordinator

Billi Mouillesseaux, administrative assistant

Veronica Perina, administrative assistant
The Dyson Values award recognizes staff who support and enact the core values of continuous improvement/professional development; integrity; diversity and inclusion; industrious; engaged in Dyson's mission and in their position; innovative and collaborative through teamwork and contribution; caring, collegial community; and service. The committee will typically consider all nominated staff and select up to three exemplars of specific values.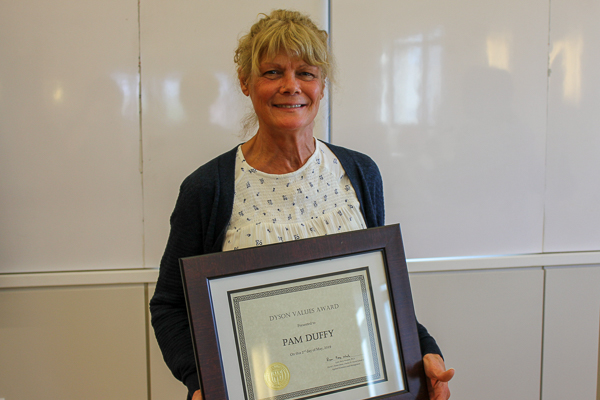 Pam works hard on the tasks that make everyone's lives better. She deals with moving, organizing, and making things happen—and always seems personable and efficient. Her dedication to service is impressive.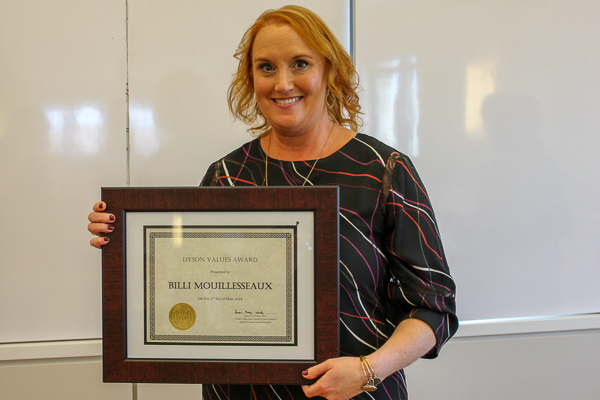 Billi exemplifies not only what makes and ideal Dyson staff member who consistently and seemingly without effort exudes each of the Cornell core values, but we also believe that she epitomizes all the aspects of what makes and ideal human being. Billi possesses the rare quality of setting others at ease with her gentle temperament and sweet disposition. She is truly a pleasure to work with and a joy to know. Her innate desire to contribute with all her being is evident in all that she does. Any opportunity to take a class, attend a seminar, or expand her skill set is taken advantage of. She takes just pride in her accomplishments, but not to assay her ego; her goal is always to better herself so that she may better serve others.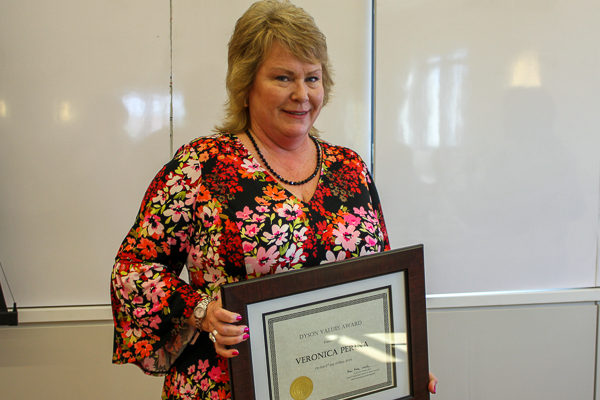 Veronica is an incredibly skilled administrative assistant, but where she stands out even more is in her collaborative relationship with faculty and other staff. She clearly is respected and has contributed to a positive and collegial environment. Her sense of humor and leadership qualities have been a real benefit to the Dyson School.
Congratulations to Dyson's 2019 award recipients and outstanding contributors!