SHA celebrates 2019 faculty and student award recipients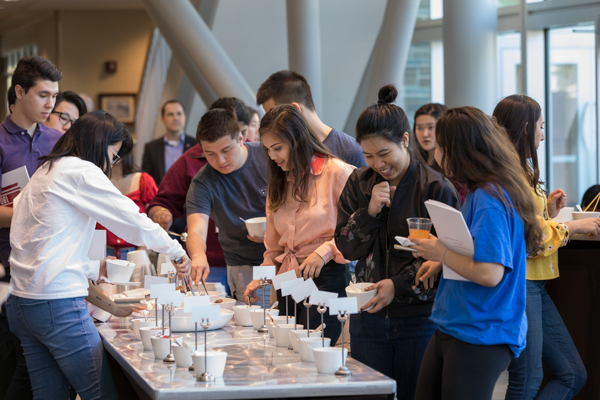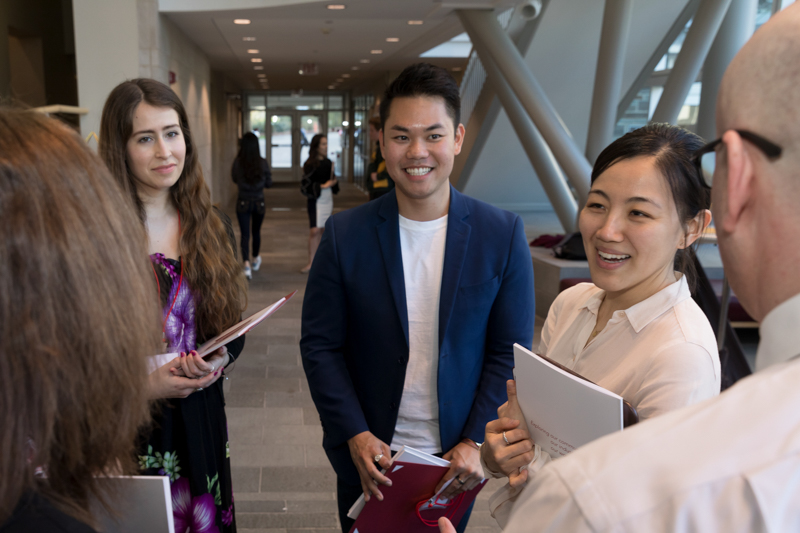 SHA faculty, staff, and students gathered in early May 2019 to celebrate the end of a productive and exciting academic year. Award categories ranged from teaching excellence and scholastic achievement to entrepreneurship, hospitality, and leadership. Please join us in congratulating this year's award winners from SHA.
Student awards and recognition
Class representatives for Commencement weekend
Degree Marshals: Carmel Ruth Bendit-Shtull '19, and Justin Leff '19
College Banner Bearers: Lingling Liu '19 and Rebecca Lim '19
College Symbol Bearer: Jeremy Yan '19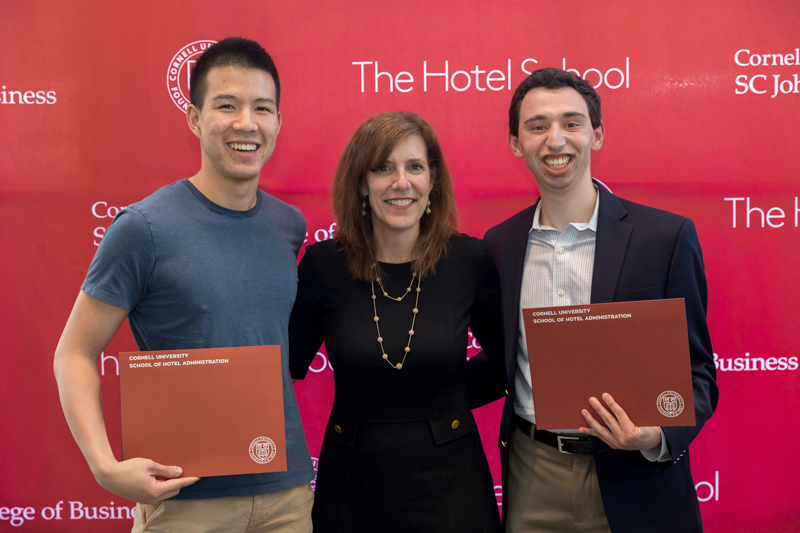 SHA's two Degree Marshals, two College Banner Bearers, and one College Symbol Bearer are selected for their strong academic achievement. These students will join the dean in leading the School of Hotel Administration during the procession from the Arts Quad to Schoellkopf Field during 2019 Commencement.>

---
Merrill Presidential Scholars
Justin Leff '19 and Rebecca Lim '19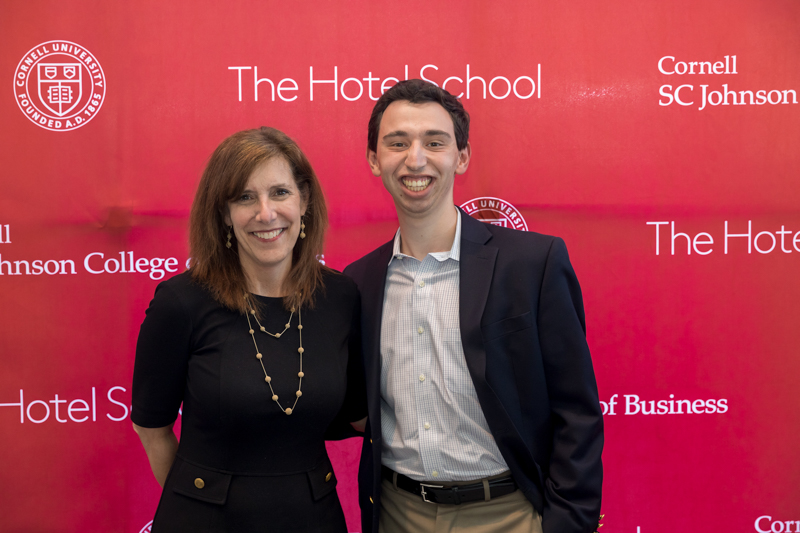 The Merrill Presidential Scholars Program honors the excellence of Cornell students while recognizing their high school teachers and university faculty members for the contributions they have made to these students' success. Each spring, Cornell University recognizes 35 graduating seniors who have demonstrated outstanding scholastic achievement, strong leadership ability, and the potential for contributing to society. The School of Hotel Administration is pleased to have two of these scholars.>

---
CHS Hotelie for Life Senior Award
Winner: Madison Austrich '19
Finalists: Daniella Spector '19, Togo Tamura '19, Adam Saks '19, and Shaina Arsenault '19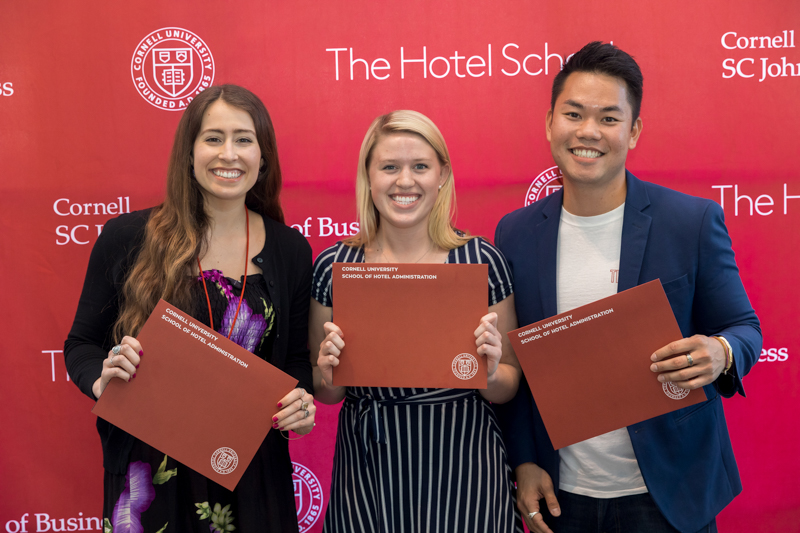 The Cornell Hotel Society and CHS Foundation awards a special prize to five graduating SHA seniors. Four semi-finalists will each receive a $1,000 award, and senior will receive a $10,000 award and have the added honor of addressing the class of 2019 at the SHA diploma ceremony. Students are chosen for this award based on determination and dedication as a student; contributions to the school, university, and/or community while at Cornell; and potential future achievement as an SHA alum, a member of the Cornell Hotel Society and, in general, as a contributing member of society.>

---
CHS Foundation Treadwell International Experience Prize
Daniella Spector '19
The CHS Foundation Treadwell International Experience Prize, available to undergraduate or MMH recipients immediately following graduation, is supported by Jay '61 and Peggy Treadwell. The Treadwell Prize is meant to bring attention to the importance of international experience as a key element in the full professional and personal development of a person who has earned a degree in hospitality. Up to $25,000 will be awarded for a three-month to one-year international language and cultural immersion.>
---
Banfi Vintners Foundation Scholastic Tour Award
Yvelin Lim '19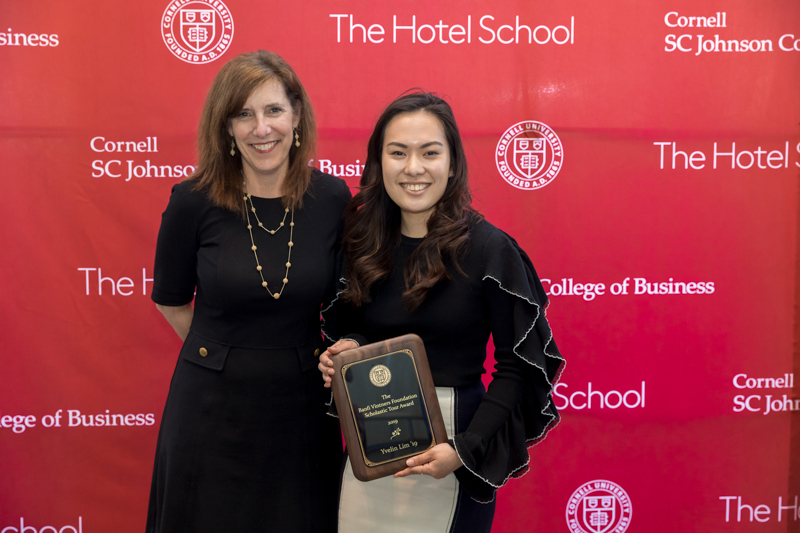 The Banfi Vintners Foundation Scholastic Tour Award is presented to a select number of students at premier hospitality and culinary arts programs nationwide who have demonstrated exceptional interest in fine wines. The award consists of a guided educational trip through the major wine regions of Italy, ending at the Tuscan wine estate, Castello Banfi, where students participate in classes on wine, food, and culture.>

---
Julius Wile Commanderie de Bordeaux aux États Unis d'Amérique Bordeaux Education Prize
Max Aronson '19
The Bordeaux Education Prize is presented to a student with production experience in foodservice operations and an interest in full-menu, table service restaurant operations. The award includes a two-week arranged travel experience of the Bordeaux wine regions.>
---
Leading Hotels of the World Experiential Award
Togo Tamura '19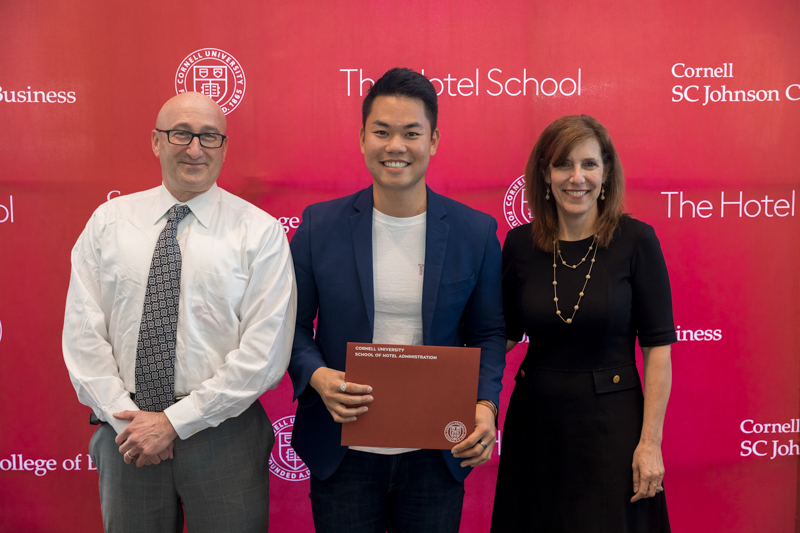 The Leading Hotels of the World Experiential Award is given to a senior who has demonstrated exceptional interest in independent hotel keeping and is committed to practicing in this field. The award consists of a 30-day travel experience at LHW hotels, with one- to two-night stays per hotel around the globe. The award winner will visit LHW member hotels and will meet with each hotel's general manager.>

---
Hospitality Business Plan Competition Award Winners
First place ($25,000): Speak2 Systems
Team Members: Ori Belson, MEng '19, and Timothy Buttigieg '19
Speak2 Systems is focused on improving the well-being and quality of life of intubated patients within intensive care units worldwide.
Second place ($7,500): BoutiquePlus+
Team members: Xiaokun Qin '19; Yennie Handika, MMH '19; Mengmeng Wang, MMH '19; and Yibing Sun '19
Team BoutiquePlus+ is a hospitality digital marketing management company that helps Chinese boutique and lifestyle hotels manage social media, build a substantial online presence, foster customer relationship management, and evaluate social media related revenue management solutions at an affordable price.
Third place ($5,000) MYSE Center
Team members: Ghali Jorio '21 and Michael Zhang, MBA '20
MYSE Center is a coworking and accommodation space designed for fast moving young entrepreneurs and community driven travelers.
Presented by the Pillsbury Institute for Hospitality Entrepreneurship, the year-long Cornell Hospitality Business Plan Competition culminates during HEC weekend, when the five final student groups present and defend their complete business plans to a panel of esteemed industry judges. The winning team receives a cash prize of $25,000 to start their entrepreneurial venture.>
---
Stephen S.J. Hall Ethics Case Competition
First place: Women with Ethics
Team members: Madison Austrich '19, Carmel Ruth Bendit-Sthull '19, Marissa Block '19, Samantha Hogin '20
Second place: Business in SLA+CKS
Team members: Sosonia Ma '21, Aaron Ogita '20, Katrina Yang '21, Laurence Zhang '20
Third place: NSA
Team members: Nikita Forrester '21 and Aziza Henry '21
Fourth place: Noarami
Team members: Abirami Dandapani '21 and Noah Glovsky '21
Competing teams were presented with a controversial case concerning business ethics and given approximately four hours to develop a solution to present to the judges.>
---
SHA Club Leadership Award
Togo Tamura '19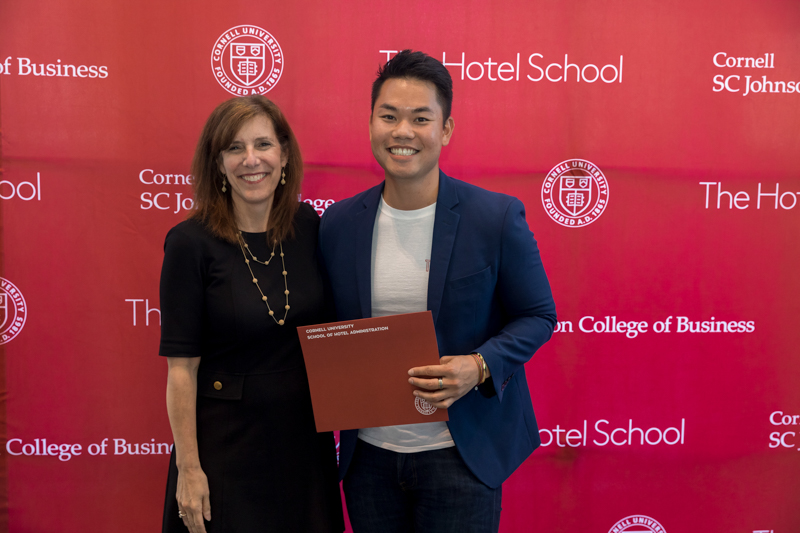 The SHA Club Leadership Award recognizes a student who has demonstrated outstanding leadership and commitment to an SHA club during the course of his or her time at the school. The awardee excels in positive leadership and team building skills, hospitality and service in recruiting guest speakers, and the ability to organize activities with positive outcomes.>

---
CHS Senior Spirit Award
Rani Bernstein '19
The Senior Spirit Award recognizes a senior who embodies what it means to be a Hotelie. This senior has demonstrated academic success and has fostered a large network of meaningful connections with students and faculty. He or she is respected by his or her peers, is seen as a role model by underclassman, and will graduate having left a lasting positive impact on the SHA community.>
---
HEC 94 Unsung Hero Awards
Nikhil Rao '22
Christina Rivara '22
Hayley Martin '22
Bela Patel '22
Kate Grace Cunningham '21
Sommer Hogan '22
Elsa Leung '20
Olivia Ahossou '22
Isha Janjikhel '21
Jenny Bai '21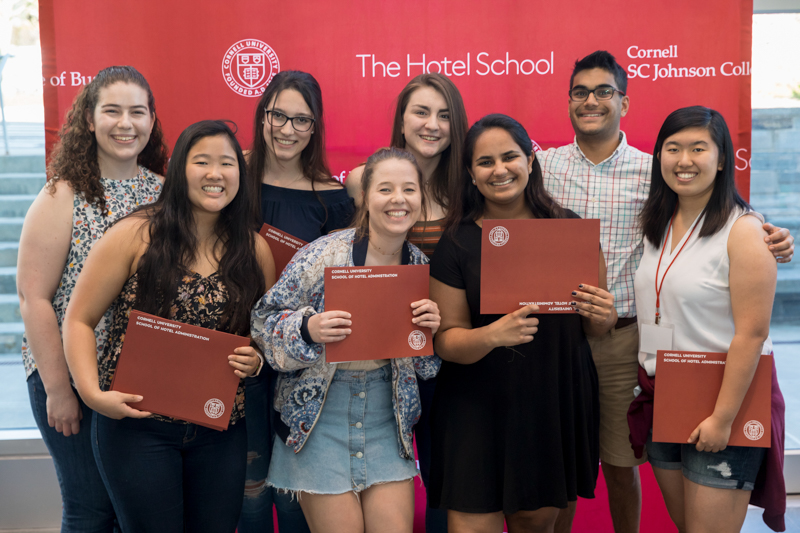 The Unsung Hero Awards recognize students who were involved in HEC as volunteers and went above and beyond. These volunteers consistently offered to help, even when their designated volunteer shift was over. Without the dedication of these individuals, HEC 94: Finding Synergy would not have been nearly as successful as it was.>

---
Celebrating SHA faculty
Faculty teaching awards
Freshman Core: Christopher Boone, assistant professor
Sophomore Core: Jacob Chestnut, assistant professor
Junior/Senior Core: Heeyon Kim, assistant professor
Undergraduate Elective: Cheryl Stanley, lecturer
Graduate Elective: Linda Canina, professor
Graduate Core: Christopher Anderson, professor
These awards recognize outstanding members of the School of Hotel Administration faculty for teaching excellence and their impact on students' growth and development. Undergraduate and graduate SHA students vote for faculty based on three criteria: classroom rigor, enthusiasm for teaching, and relationship with students.>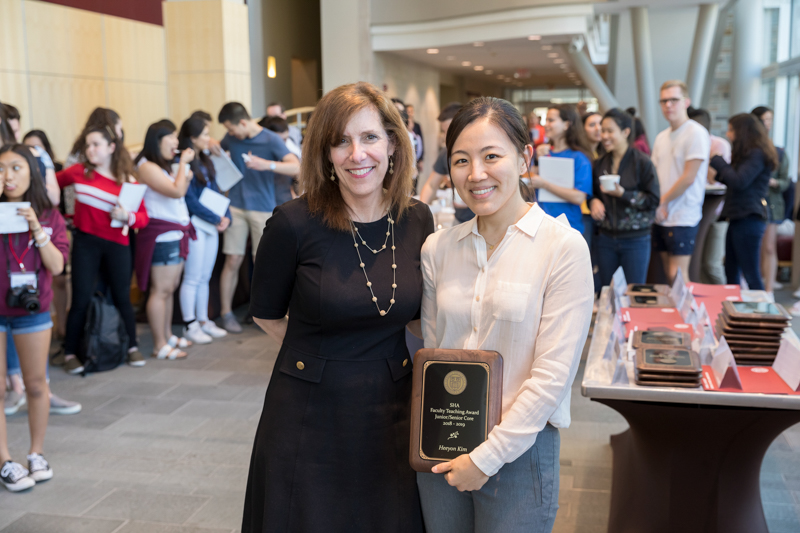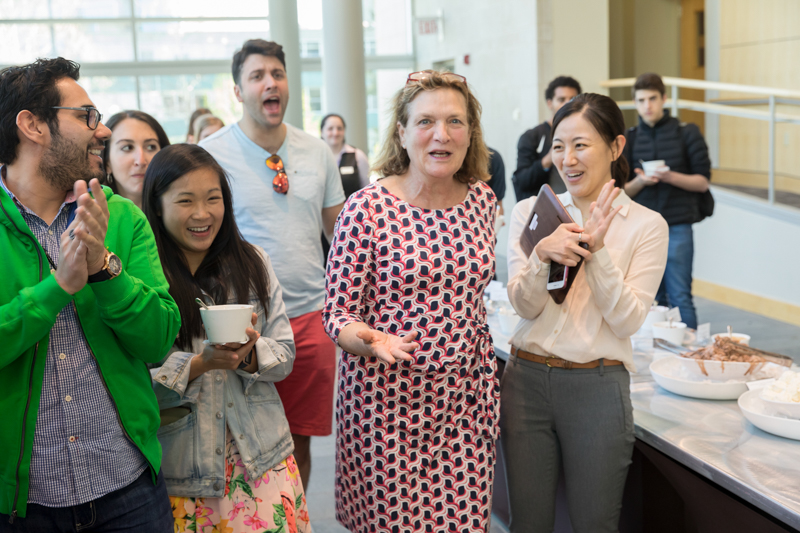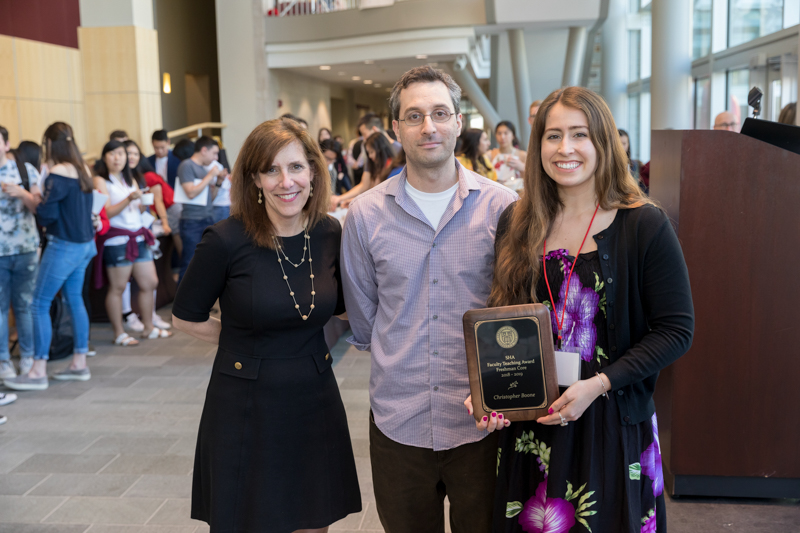 ---
CHR Industry Relevance Award
Elizabeth Martyn '07, MS '18, and Chris Anderson, professor
The Industry Relevance Award recognizes faculty who have researched an important topic and created a Center for Hospitality Research (CHR) Report or Tool that has had significant impact on the hospitality industry. The recipients of this award were selected from research published by CHR. CHR Advisory Board members were polled and asked to vote on their top choices. Elizabeth and Chris co-authored the report "Satisfaction Through Service Excellence: The important of focused training" for Cornell Hospitality Quarterly. Read more about their findings.>
Congratulations to SHA's 2019 student award recipients and outstanding faculty!