Amazing, inspiring, and eye-opening: SHA students recap summer internships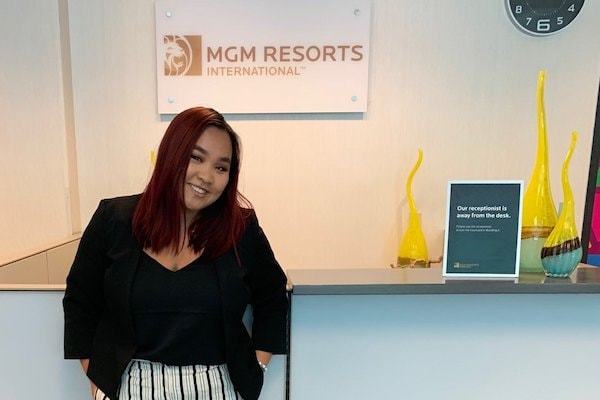 Undergraduates at the School of Hotel Administration (SHA) spent their summers working in—and beyond—the hospitality industry with internships in foodservice, real estate, human resources, data analytics, management, and more. While some students gained experience at resorts and restaurants, others applied their hospitality and service-minded insights as they worked in the professional sports and entertainment industries. Regardless of where these Hotelies interned, one fact remains: The SHA alumni network is both stronger than ever and the embodiment of hospitality.
Hotelies enthusiastically recap their summer internships below.
---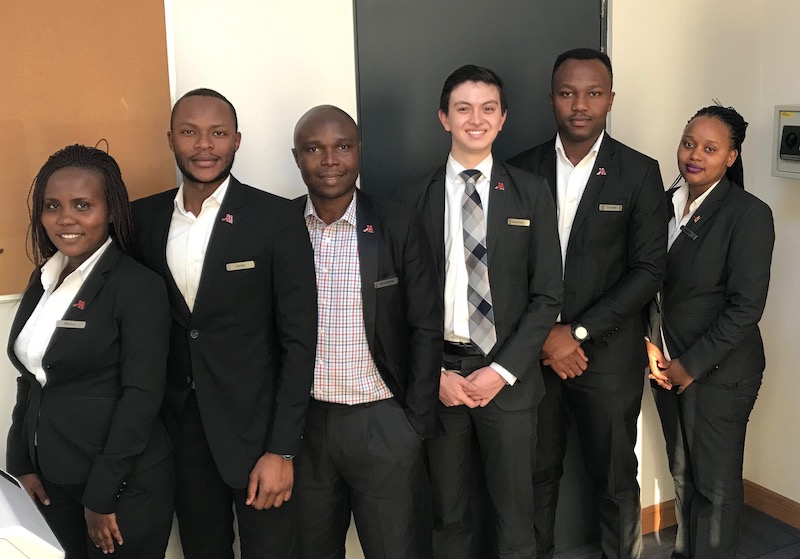 Alexander Baldyga '22
Marketing intern
Marriott International
Kigali, Rwanda
"My dream is to work internationally and use my business skills to help people and create opportunity. I chose the Marriott in Rwanda because the company has a mission I believe in—putting people first, pursuing excellence, embracing change, acting with integrity, and serving our world. I have been able to learn more about the challenges within Rwanda's growing hospitality industry and understand the skills I need to help Rwanda and other emerging markets develop."
---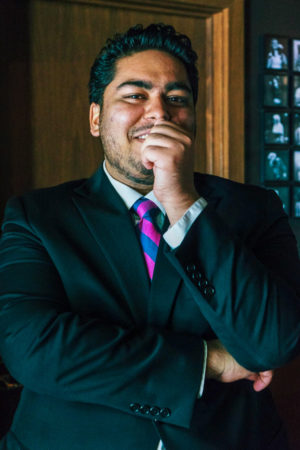 Samay Bansal '20
Front-of-house intern
RPM Steak – Lettuce Entertain You Enterprises
Chicago, Illinois
"One of the most incredible parts of my internship experience with Lettuce Entertain You was the people that I worked with every day. The culture of caring resonates across all employees, and every person I had the opportunity to interact with was willing to sit down with me and tell me something about their life or share some wisdom with me. This internship made me realize how much I thrive in an environment where my peers are supportive. In the long run, it may influence the company that I end up working for."
---
Sarah Baturka '20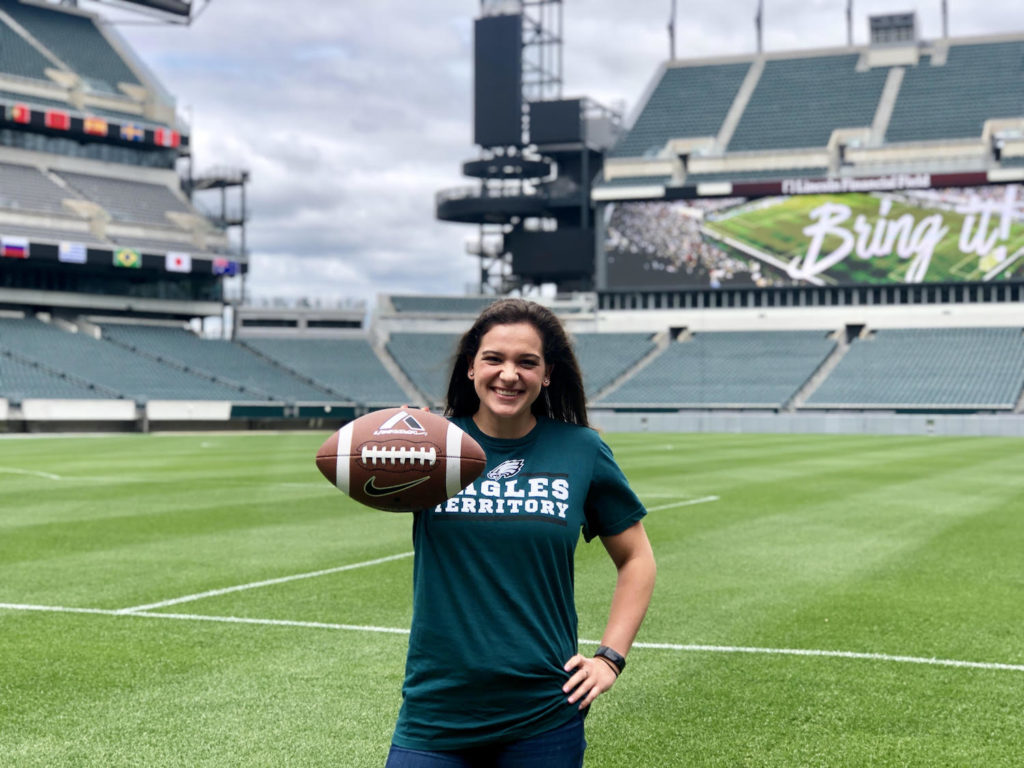 Fan services intern
Philadelphia Eagles
Philadelphia, Pennsylvania
"I applied to this internship on a whim after seeing a posting on LinkedIn, mainly because it is every Philadelphian's dream to work for the Eagles. I was one of a small number of applicants who did not study sports management. However, during the interview process, I was able to speak about my Hotelie education and was confident that my service knowledge would connect to my ability to provide expert assistance to Eagles fans. My main duties included interacting with season ticket members and making sure they were enjoying Eagles events. It's exciting to grow my hospitality experience in such a unique field, and I was excited to work Eagles Training Camp in July. Go Birds!"
---
Elise Burg '20
Digital marketing intern
Red Ventures
Fort Mill, South Carolina
"My favorite part of my internship at Red Ventures was being able to apply what I'd learned in courses such as Business Computing and Database Management to an industry completely outside of hospitality. I've learned that SHA truly prepares you for any career in tech, business, hospitality, and beyond. I actually found this internship through an older Hotelie. The Hotelie network is such an incredible asset for exploring career paths. I'm so excited to come back to Statler Hall and apply everything I've learned about digital marketing to the world of hospitality!"
---
Bradley Chen '21
Amali
New York, New York and
Calissa Hamptons
Water Mill, New York
"My internship this summer has taught me so much about the restaurant industry, but most importantly, it has taught me that no one—not even the best and brightest restaurateur—has all the answers. A true restaurateur is one who never ceases to improve and expand upon their vision of service and hospitality."
---
Faith Earley '21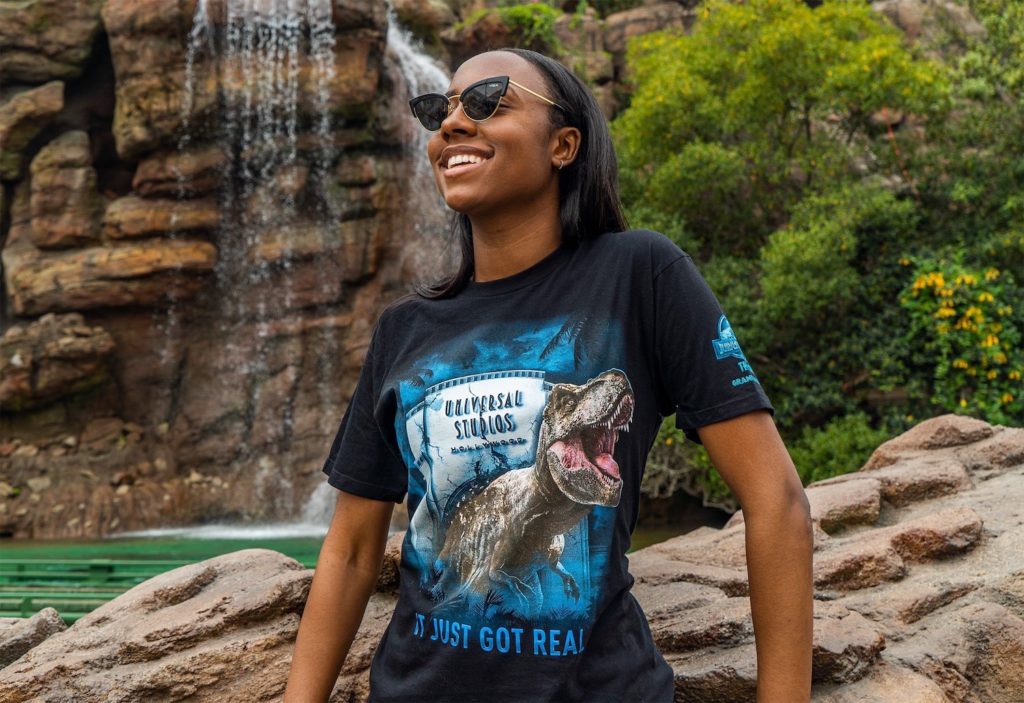 Integrated marketing strategy intern
Universal Studios Hollywood
Los Angeles, California
"Interning at Universal Studios Hollywood was such a fun and unique experience. Though marketing is considered 'back of house,' my office building was only steps away from the theme park itself. It's so cool to work hard on something and then go see it fully come to life in the park. My project this summer, which I presented to our C-suite-level leadership, was determining how USH can better market its food and retail products in Q4 2019 and 2020.

I want to give a shout-out to Professor Gaulke and HADM 2360 [Food Service Management, Theory, and Practice] for teaching me menu analysis and the puzzle/star/dog/plow horse breakdown! It was very helpful in my research!"
---
Alex Gordon '20
Technical solutions specialist intern – travel & transportation
IBM
New York, New York (working on the Marriott account)
Karolina Vass '20
Brand development intern
Marriott International
Bethesda, Maryland
"We found a unique opportunity to work collaboratively during our internships. Through sharing a project, we were able to connect and understand how IBM and Marriott International work together, conduct cross-departmental interviews, and visit hotels and data centers to better understand the complexity of innovation within the hospitality space. Anthony Capuano '87 and Cierra Benson '19 were tremendously helpful throughout the recruitment process and during our internships, introducing us to their colleagues and being there as support so we could gain exposure and learn more about career opportunities."
---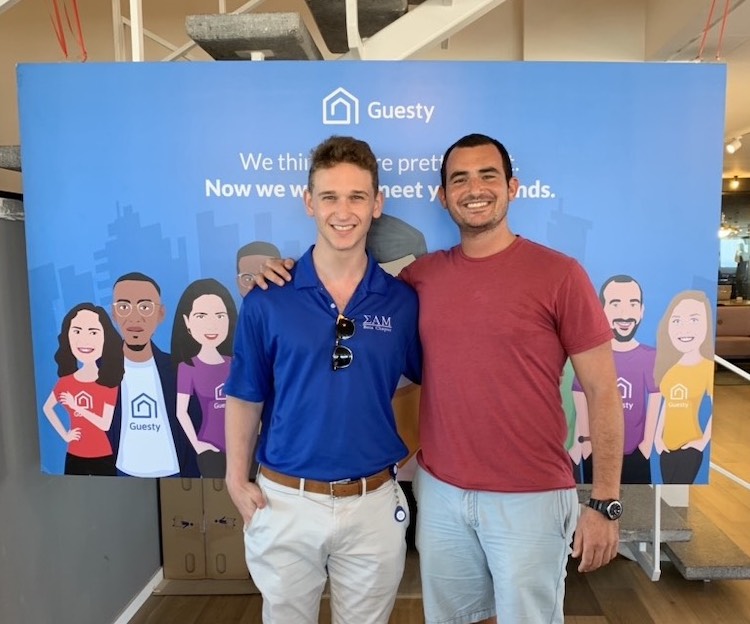 Josh Greenspan '21
Business development and strategy summer analyst
Guesty
Tel Aviv, Israel
"As a business development and strategy summer analyst intern at Guesty, the highest-funded property management platform for short-term rentals across Airbnb and other platforms, I was truly able to understand the pivotal role that technology is playing in evolving the hospitality space. During my time as an intern, I saw firsthand how fruitful the short-term rental ecosystem is and how crucial it is to apply data-driven insights in this space in order to drive revenue. Moreover, having another Hotelie in the office here in Tel Aviv, Matthew Olarsch '10, has truly shown me the pluralistic and global scope of the SHA degree and that, wherever you go, a Hotelie is a Hotelie for life."
---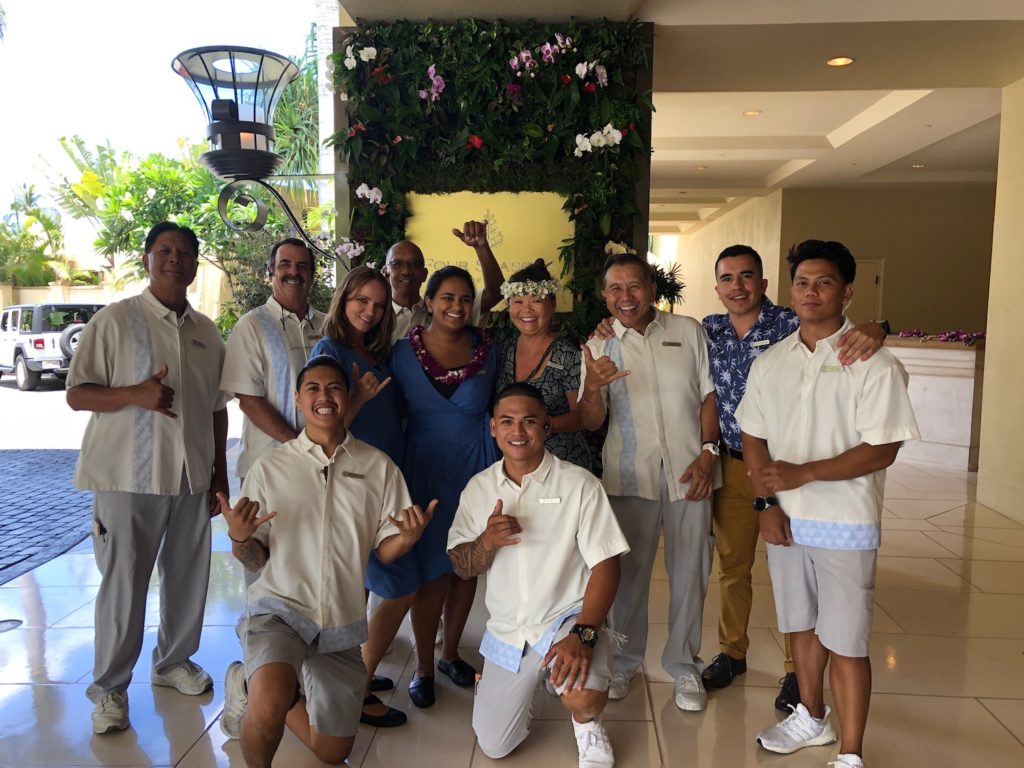 Isha Janjikhel '21
Guest services intern
Four Seasons Resort Maui at Wailea
Kihei, Hawaii
"Interning at the Four Seasons Maui was an absolutely amazing experience. In my role, I coordinated and supervised the entire check-in and checkout process and assisted guests throughout their stay. While I was there, Maui suffered a fire that burned 10,000 acres of the island; I worked a 15 hour shift to support the hotel. Watching my team come together showed me new levels of service and teamwork. Working in Hawaii was unlike anything I had ever experienced, and integrating myself into this new culture made this experience so fulfilling! Mixing the Four Seasons culture with the aloha spirit makes for a really special combination!"
---
Daniel Jin '22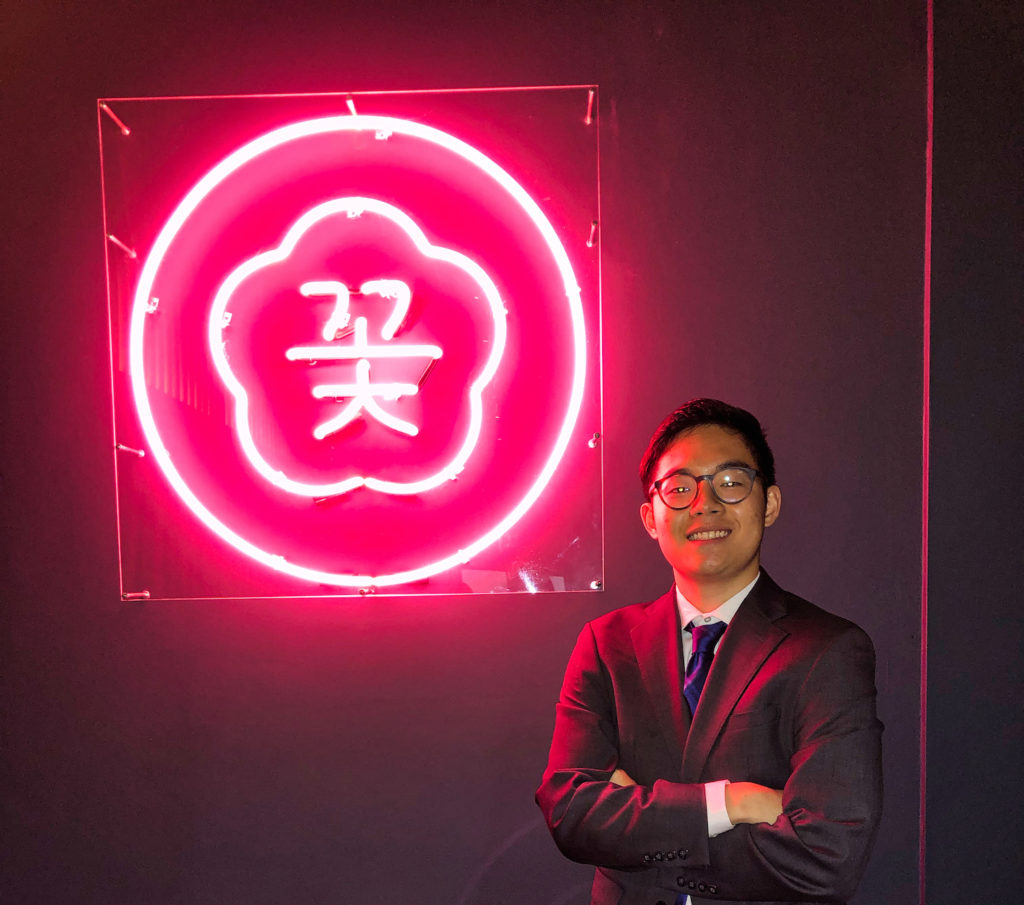 Cote Korean Steakhouse
New York, New York
"Training and learning from the various front-of-house directors helped widen my perspective on the world of fine dining. The high level of attention to detail given at this unique Michelin-starred restaurant to provide guests with a one-of-a-kind dining experience has opened my eyes to what service truly encompasses. From classes like Introduction to Foodservice Management and Business Writing For Hospitality Professionals, it was exciting to see how many SHA classroom concepts came up in the daily operations of the establishment."
---
Chloe Jones '20 and Adam Schade '21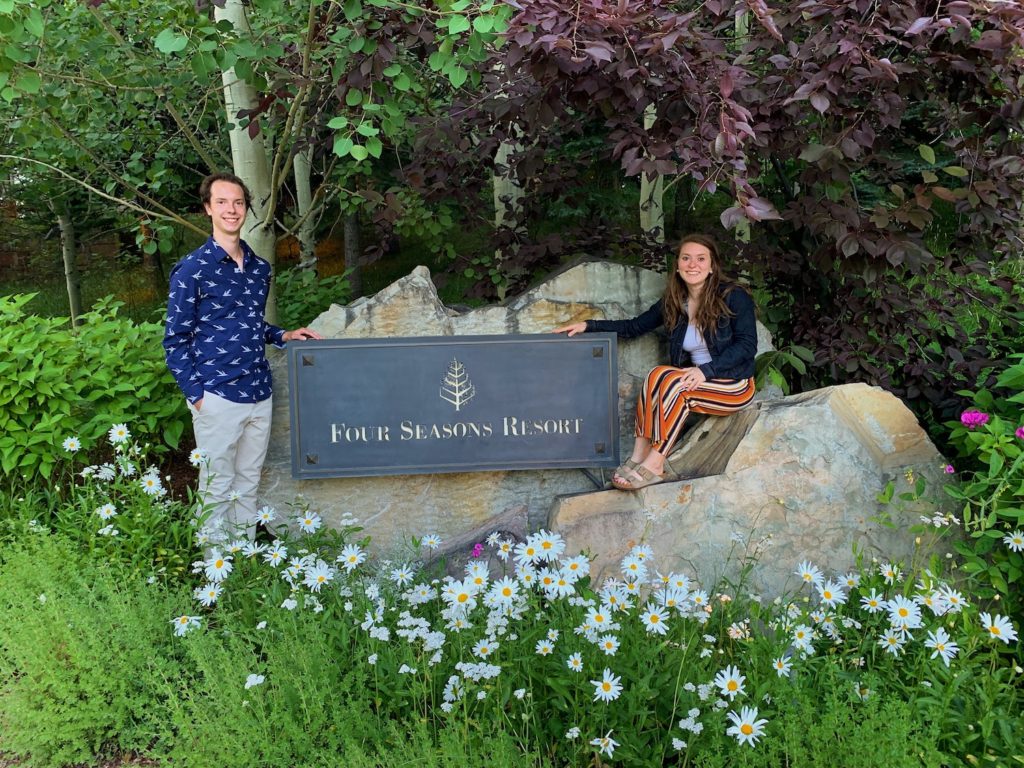 Housekeeping interns
Four Seasons Resort and Residences Jackson Hole
Teton Village, Wyoming
"Our favorite part of this job was all the amazing people we got to work with. Our director had a really great path to where she is today, and has a great future ahead of her because of it. One department can affect another, and all of them work together to create an incredible experience for the guest. That's no exception at this property, especially because of their high standards. The surrounding area is absolutely beautiful and was the perfect backdrop to this internship!"
---
Sean Koenig '22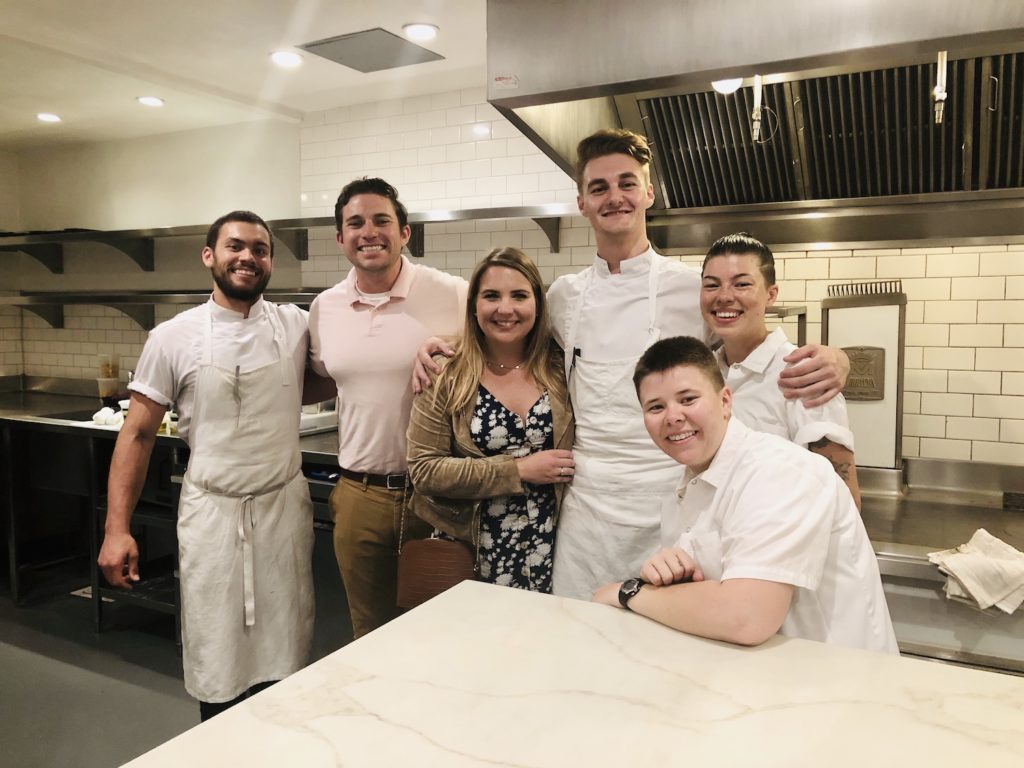 Atelier Crenn
San Francisco, California
"Working for a chef as inspiring as Dominique Crenn has helped shape my philosophy on cooking. The precision, detail, and culture of working in a Michelin 3-star restaurant with chefs like Dominique Crenn, Emmanuel Renaut, and Alex Atala was an experience that will be forever motivating. The SHA alumni network can help create connections that people would never imagine to continue furthering the industry with the hospitality world's brightest minds."
---
Shanna Martin '21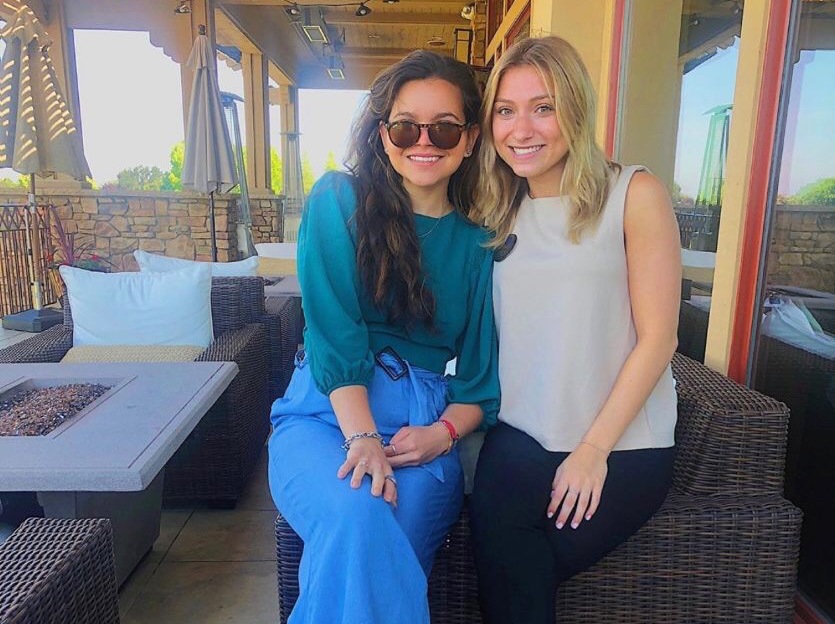 Operations intern
The Bay Club Company
San Francisco, California
Nicole Rovine '21
Corporate fitness management intern
The Bay Club Company
"We began our orientation by touring over a dozen unique Bay Clubs all over Northern California. This experience fueled our enthusiasm and eagerness to leave a tangible, long-lasting impact on the company. We feel so fortunate to have had the opportunity to impact this amazing hospitality company from nearly every angle of the business and to experience so many adventures!"
---
Erik Mininsohn CIA '18, SHA '21
Culinary/restaurant management intern
Calissa Hamptons
Water Mill, New York
"I found out about this internship opportunity from two SHA alumni. Throughout the summer, I honed my skills as a line cook and was able to handle over 400 covers on any given night. This internship will assist me during the school year through my work at Taverna Banfi and has brought me closer to my ultimate goal of working in a culinary management position."
---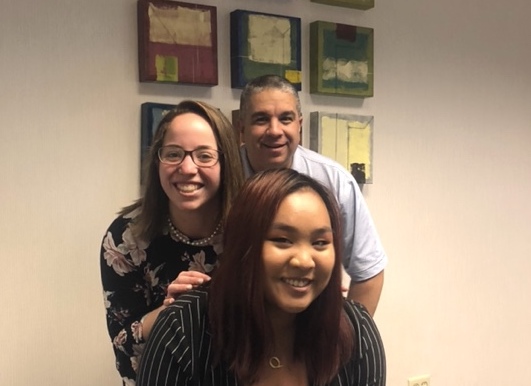 Quyen Nguyen '20
Revenue strategy intern
MGM Resorts International
Las Vegas, Nevada
"My favorite part about my job was the ability to combine my hotel operations background with my data analytics skills to provide efficient reporting for MGM Resorts. My first project was to create a model that used historical data to forecast front-desk upselling goals. I am excited to see how the tool will be used even now that the summer has ended. Additionally, I got to hang out with SHA alumni in my department almost every day! Taking part in the MGM Resorts hospitality internship program was a wonderful learning experience. I got to explore all different facets of the hospitality industry in a unique market, Las Vegas."
---
Carly Pomerantz '22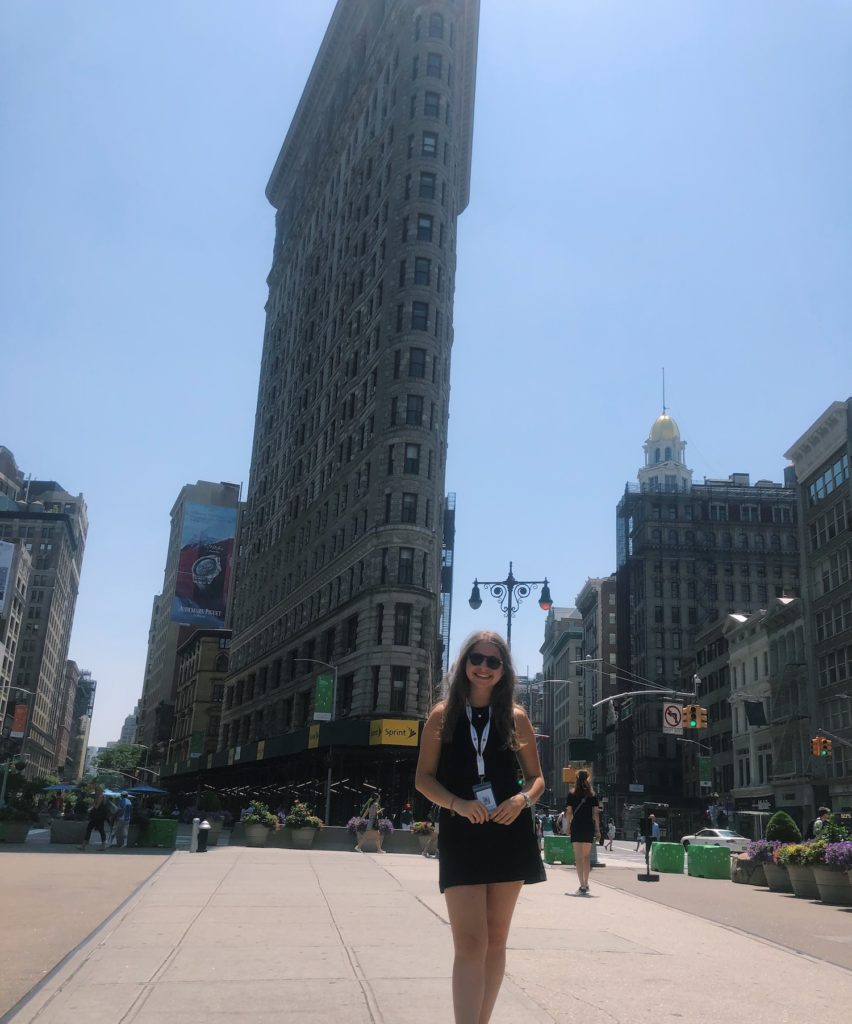 Financial planning and analysis intern
Eataly
New York, New York
"Every day at Eataly, I leveraged the analytical skills I honed in classes like Financial Accounting, Foodservice Management, and Advanced Business Modeling. I was able to understand the complex functionality of Eataly's F&B, retail, and teaching concepts to provide guests with an immersive experience. I am so proud to represent SHA and use these tangible skills to create synergies between my education, work, and personal values."
---
Michelle Tang '21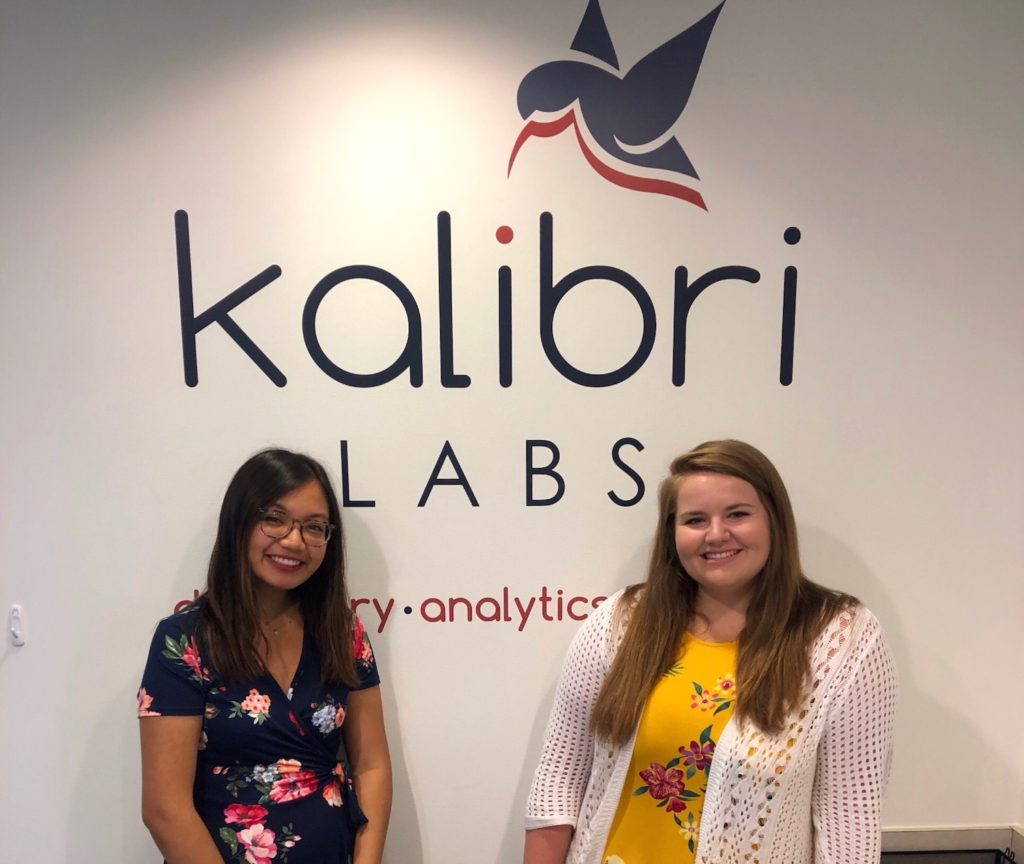 Sales and marketing intern
Kalibri Labs
Rockville, Maryland
Kristen Woodworth '20
Analytics and data strategy intern
Kalibri Labs
"The best part of our summer was being able to use our analytical and customer-service skills simultaneously to provide the best revenue strategy and hotel benchmarking insights for hotel leaders. Being surrounded by so many Cornell SHA alumni gave us an immediate sense of community and enriched the entire experience. In a time when data truly is the future, we feel so fortunate to have been able to work with such an innovative company!"
---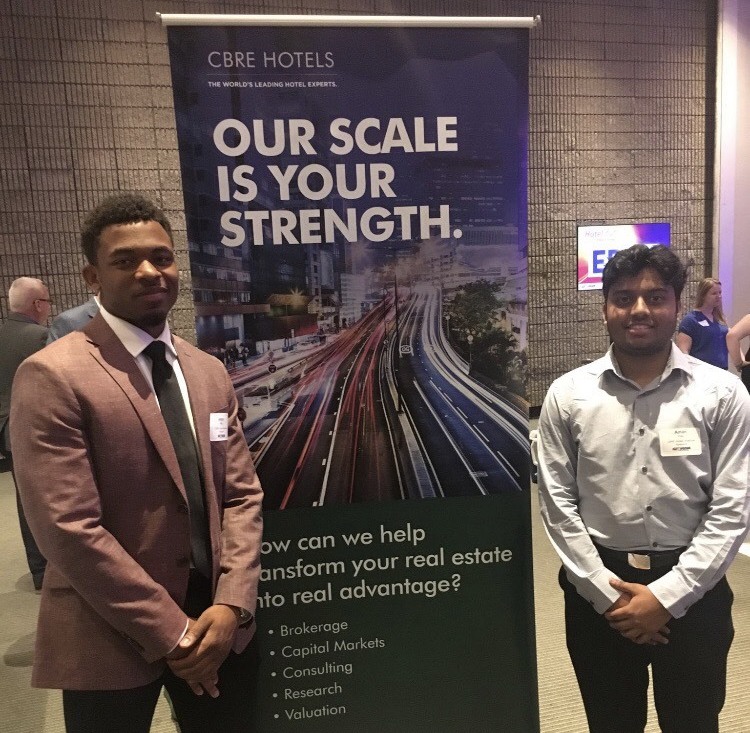 Jelani Taylor '20
Sales management intern
CBRE Hotels
Atlanta, Georgia
"I really learned a lot over the short period of time I interned at CBRE Hotels. It was great attending meetings for different commercial real estate groups and soaking up all that knowledge. SHA helped me prepare for this internship by introducing me to the company in class and by equipping me with skills that allowed me to prosper."
---
Ameira Walia '22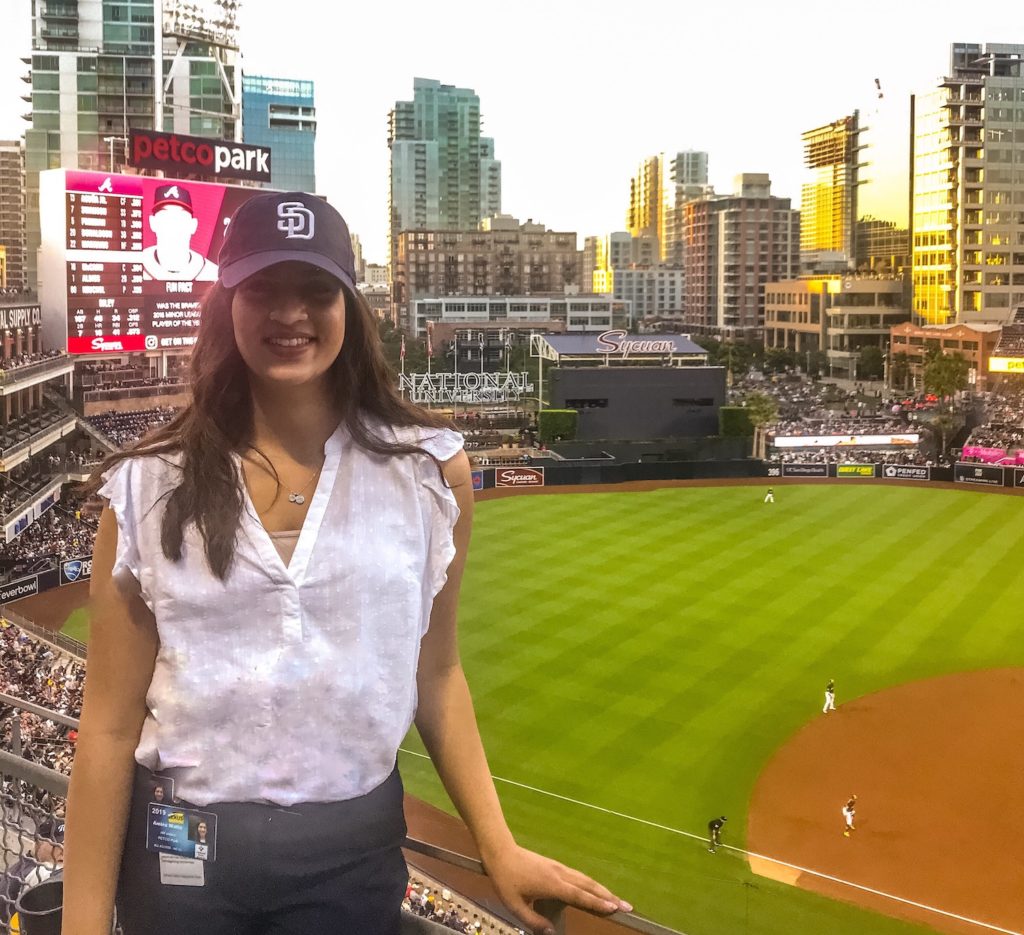 Human resources intern
Delaware North at Petco Park
San Diego, California
"As a lifelong resident of San Diego, I love going to Padres baseball games and always wondered what it would be like to work in sports services. Working in the ballpark was an amazing experience. This internship taught me so much about what hospitality means. I have realized that hospitality isn't only about the guest experience, but also the employee experience. On game and event days, my main duties revolved around interacting with employees to ensure that their satisfaction was high, because employees' actions can make or break the guest experience. SHA prepared me well for this internship by giving me the skills to understand the ins and outs of working for a hospitality-centered company."
---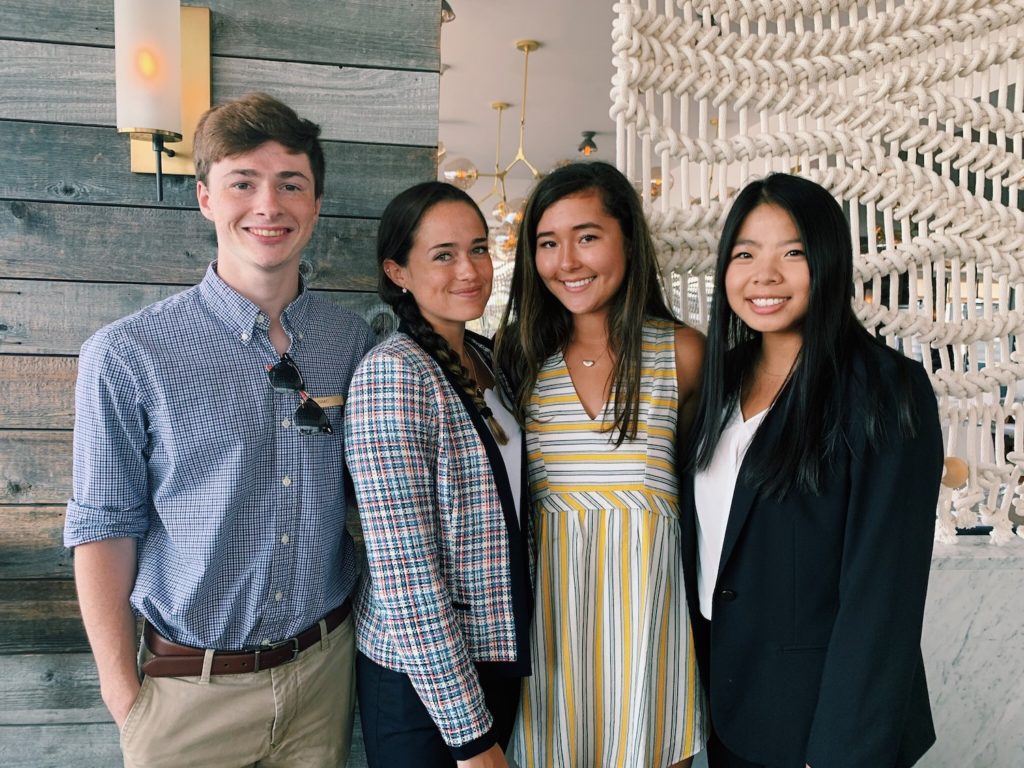 Emily Zhang '21
Accounting and finance intern
Gurney's Montauk Resort & Seawater Spa
Montauk, New York
"After a few summers working as a front desk agent at other companies, I had the opportunity to see how things work behind the scenes in the accounting and finance department at Gurney's Montauk. My SHA courses prepared me for everything from understanding the effects of credits on the balance and income statements to creating pivot tables for financial analysis. From this experience at Gurney's, I now have a better picture of the whole operation, and it's exciting to see how all of the departments work together to generate an unforgettable experience for the guest and to improve the bottom line."