Lessons learned: Recruitment tips from MPS in Management – Accounting alumni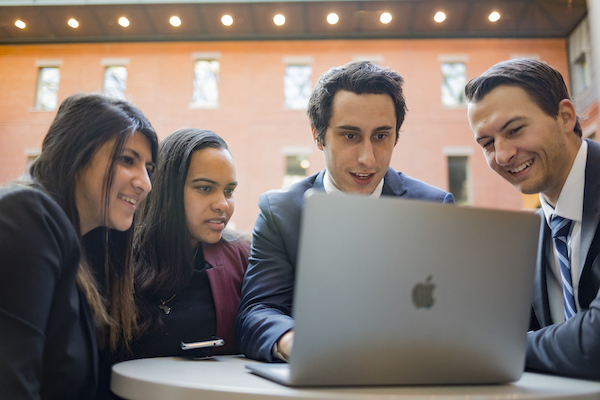 Recruitment season can be a stressful time for students. Those looking to enter the world of accounting are no exception. As soon as Johnson's MPS in Management – Accounting Specialization students arrive on campus, they find themselves in the process of interviewing, and some may have a job offer in hand before the start of fall break!
The recruitment process can be challenging if you don't know what to expect. A few recent MPS in Management – Accounting Specialization graduates pass on some top-tier advice for current students heading into the rush of recruitment.
What recruitment resources should current MPS students check out?
"Be sure to make time to meet with an advisor in Career Management. It's incredibly important! Our career services advisor really helped to make sure we were prepared by reviewing and providing feedback on our resumes and providing resources for interview preparation, particularly the virtual ones!"
— Maria Lopez '18 (SHA), MPS '19
Kelsie Price Roach, MPS '19

"Career Management provided the necessary coaching for me as we talked through my recruitment strategy. As a non-traditional student [employed full time at Cornell University], it was helpful for me to talk with a career counselor about how I would fit recruiting into my schedule and how I could discuss my diverse employment history and highlight relevant skills and capabilities during interviews."
— Kelsie Price Roach, MPS '19, accountant for sponsored financial services, Cornell University
What's the number one thing you wish you knew heading into recruitment season as a student?
Jon-Yin Chong '17 (Dyson), MPS '18

"Sage advice from our MPS in Management – Accounting Specialization program director, Jack Little, helped me make a stronger impression with recruiters. He suggested I could better highlight my strengths in leadership and teamwork by introducing other members of my class to recruiters and share the spotlight during networking sessions and recruitment events. I encourage MPS students to attend the program's recruiting information session or schedule some time to meet with Jack one-on-one."
— Jon-Yin Chong '17 (Dyson), MPS '18, tax technology and transformation consultant, EY
"Plan your time to the minute! There will be many, many recruiting events, and it is very important for you to go to them. Attending events demonstrates to employers that you are committed to becoming a part of their team. In addition, it helps you to network with people who work at the firm you are interviewing with."
— Maria Lopez
Grace Kaiser '18 (CALS), MPS '19

"One of the things I wish I knew about recruitment before starting the program was that you need to set aside time to prepare early in the process. Even before you get to campus, recruitment is already in the works. Knowing the schedule, having your resume and cover letter ready, and preparing an elevator pitch are some of the many things you need to start doing before the employers get to campus. As soon as you're through the door you should be seeking out opportunities to market yourself to the recruiters who are looking for Cornell students, particularly those from the SC Johnson College, to hire."
— Grace Kaiser '18 (CALS), MPS '19
What were some things you learned having gone through the recruitment process?
Maria Lopez '18 (SHA), MPS '19

"It goes fast! So be ready for it and don't get left behind. It can be hard juggling the start of grad school and recruitment, but just remember it will be worth it when you sign that job offer!"
— Maria Lopez
"I learned that recruiting is much like taking another class. It feels like recruitment gives you homework and you need to study 100 percent! It should take up most of your free time in those first few weeks, but it will be worth it when you land a job offer."
— Grace Kaiser
What recruitment advice would you pass on to current students?
"Be strategic with both your time and your options. When you open up Handshake [Cornell's student career search platform] there will be lots of opportunities you can apply to, but just because you can apply to a job doesn't mean that you should. I have seen students forgo putting in effort for jobs that were a good match for their skill set and education to chase incredibly competitive roles they had little chance of landing. Feel free to reach for the stars, but your primary goal should be to come out of recruitment season with at least one job offer."
— Jon-Yin Chong
"Be authentic to who you are. The professional services and public accounting industry is all about people. The technical knowledge will come from your classes and on-the-job training, but the core of the business is about your teams and the people who you'll spend so much of your time with. Bring your authentic self to the interview process, not only so recruiters can see if your personality will fit with their firm, but also to see if the firm culture meshes with what you need from an employer."
— Kelsie Price Roach
"Go to everything! Even if it may not be your first-choice firm, getting to know the recruiters and applying to different jobs increases your chances of getting an offer. Who knows, it may even be the right fit for you! Don't rule anything out."
— Grace Kaiser