The death of distance: The Sabanci Bridge connects two campuses as one
The Sabanci Bridge immersive telepresence technology connects the Breazzano Center in Ithaca and the Tata Innovation Center in New York City.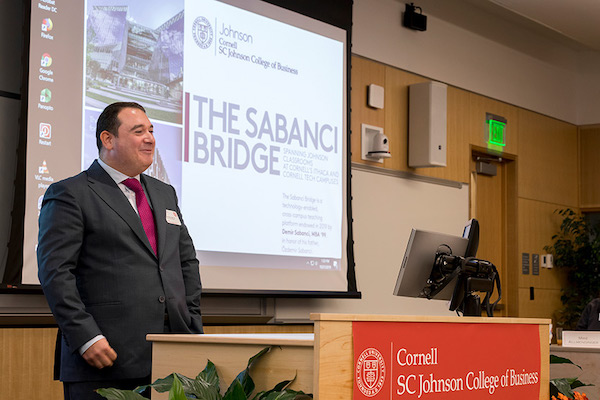 The Sabanci Bridge, the convergence of a leader-driven vision and a student-driven need, became reality through a gift fueled by gratitude, respect, success, and good memories.
In summing up his reaction to the power of the immersive telepresence technology that connects Samuel Curtis Johnson Graduate School of Management classrooms and students in Ithaca and New York City, Demir Sabanci, MBA '99, said: "This proves the death of distance."
Demir made the remark during a personal, guided tour of the technology he endowed, which is named the Sabanci Bridge in honor of his father, Özdemir Sabanci. Demir first learned about Cornell University from his father, a scientist and entrepreneur who spoke of Cornell in glowing terms. He smiled at a cherished memory that connects him, his father, and Cornell: "Back in the early '80s," he recalled, "we used to watch Carl Sagan's 'Cosmos' together." Demir, an entrepreneur himself and president and chairman of investment management firm Sedes Holding, said that he always wanted to give back to the school, and that honoring his father at the same time "is extra meaningful."
The Sabanci Bridge endows two classrooms in Ithaca and in New York City that are equipped with integrated, immersive telepresence systems to join the two campuses — connecting room LL23 in the Breazzano Family Center for Business Education in Ithaca and room 123 in the Tata Innovation Center on the Cornell Tech campus as Sabanci Bridge classrooms. Among the key features of the technology are multiple high-definition cameras and a high-definition videoconferencing codec, 90-inch flat panel displays, ceiling-mounted beamforming microphones, and more (see "The game-changing technology behind the Sabanci Bridge," below).
The effect is astounding, said Drew Pascarella, associate dean of MBA programs and Rempe Wilson Distinguished Lecturer at Johnson and the first faculty member to use the Sabanci Bridge technology in January 2019, for his Fintech Intensive Practicum. "It's as seamless as it gets. If you're an instructor in the 'home' classroom, your ability to interact with students in the 'away' classroom is as seamless as if they were sitting in the room. The video quality is outstanding, the audio quality is outstanding, and as an instructor, looking past the last row in the class to a video screen essentially looks like the next row in the class. The way you're interacting is quite natural because it's like you're looking at the fifth row of your class; they just happen to be 240 miles away. When a student asks a question, you can have eye contact with the student and you hear the full duplex audio, so they sound like they're a student in the room — the audio is that crisp. It's phenomenal."
Demir's gift also establishes an instructional support fund to facilitate cross-campus teaching using the Sabanci Bridge technology.
"This special gift from Demir Sabanci will spur innovations in Johnson's curriculum that transcend disciplines, distance, and programs to provide a highly visible showcase for our distinct two-campus model," said Dean Mark Nelson. "Combining a $5.25M commitment from Demir with a $1.75M match from Fisk Johnson and SC Johnson, this support will benefit generations of Cornellians as well as our current students, staff, and faculty."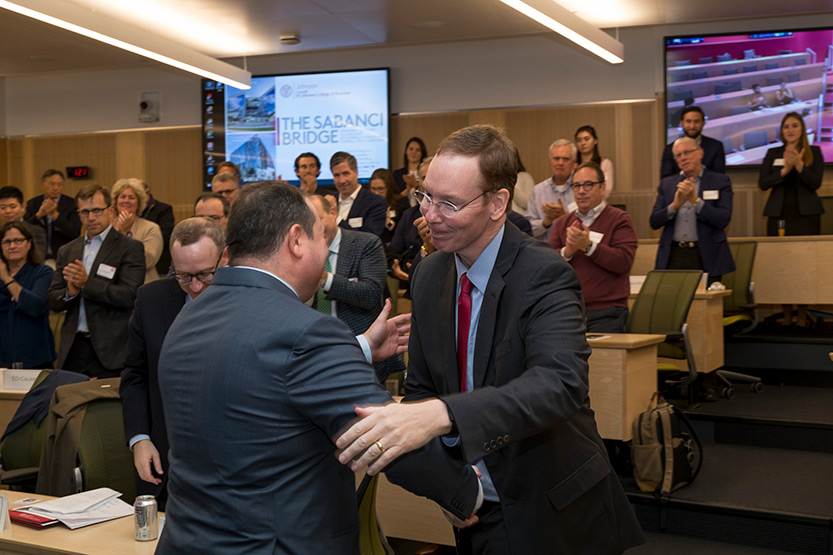 Demir was honored for his gift on October 21 at the Sabanci Bridge Dedication during a meeting of the Johnson Advisory Council, of which Demir is a member.
A vision realized
"While I was a student here 20 years ago," said Demir, "there was all this talk about New York City and how wonderful it would have been to be able to get the school there, to have some sort of a foothold in New York City. Now, with the availability of such technology, that gap can be bridged very easily."
"Deans Soumitra Dutta and Mark Nelson envisioned bringing the campuses together from a technology perspective," said Pascarella. "We have best-in-class instructors in New York City and in Ithaca and students on both campuses who want to be able to take the same class at the same time. We didn't want to diminish the experience of the students who weren't physically in the classroom. So how could we build a technology solution that empowered students in the away classroom to feel just as much a part of the experience as they would in the home classroom? That was the challenge that Dean Nelson gave to Todd Kreuger [executive director of IT operations for the Cornell SC Johnson College of Business] and his team. They figured it out and did a great job with it — it's an A+."
Connected classes give students more options
Pascarella called the Sabanci Bridge "the perfect solution" for residential MBA students in Ithaca who want to participate in the Johnson NYC Intensives (Fintech and Digital Marketing intensives) but who don't want to move to New York City for a semester or half a semester. "We have this amazing package of classes, and it's really cool for a small set of people who decide to move out of Ithaca and live in New York City for a while," Pascarella said. "That's very appealing to some, less appealing to others. So we needed a mechanism to be able to provide the best of that curriculum to the much larger group of students in Ithaca that were not looking to live in residence in New York City. The Sabanci Bridge gives us the opportunity to deliver that content simultaneously."
The Sabanci Bridge was also right on target for Shawn Mankad's Machine Learning class — for many students, a natural follow-up to Introduction to SQL, Mankad's dataset acquisition, management, and visualization class. Mankad, as assistant professor of operations, technology, and information management, teaches SQL to both One-Year MBAs and Cornell Tech MBAs during their summer session on the Ithaca campus: "We do a whole seven-week class in seven days, meeting for three hours a day, so you get to know each other pretty well," he said. His SQL students who moved on to the Cornell Tech campus at the end of the summer wanted to take Mankad's Machine Learning class the following spring. Using the Sabanci Bridge technology was, again, the perfect solution. Interaction between the two cohorts was natural; in fact, many students in the class already knew each other from taking SQL together during the summer session. The capstone of the Machine Learning class is a competition, said Mankad: "I post my own dataset to Kaggle and have the students compete to build the best model. And the cool thing was," he added, "one team was actually mixed, Cornell Tech [MBA] and Ithaca [One-Year and Two-Year MBA] students."
Lourdes Casanova, senior lecturer and Gail and Roberto Cañizares Director of the Emerging Markets Institute, began teaching across campuses in the fall of 2017, when she delivered her Leaders in Emerging Markets, speaker-based class using Zoom to connect Sage Hall B08 to a classroom on the Cornell Tech campus. This fall, she is teaching it using the Sabanci Bridge technology. One hundred twelve students have enrolled in her class, 18 Johnson Cornell Tech MBAs and 94 One-Year and Two-Year MBAs in Ithaca. "It's an opportunity for students in Ithaca and on the Cornell Tech campus to listen to speakers from all over the world," said Casanova. "Last year, five speakers addressed students from Ithaca, two from the Cornell Tech campus." In addition to the accessibility New York City offers when it comes to bringing in prominent leaders in emerging markets, many alumni speakers in that arena love coming back to Ithaca, Casanova said, plus there is so much expertise here in Ithaca, she says.  "Now, the technology allows us to offer these speakers to students in both places," Casanova says.
Engaging faculty and scaling up to increase cross-campus offerings
As the associate dean of MBA programs, Pascarella is actively reaching out to faculty who are teaching classes that would clearly be appealing to Johnson students in both Ithaca and New York City. "Our tech-focused faculty, in particular, are really excited about the opportunity to teach across campuses," said Pascarella. "They think the technology is cool and they love being able to mix in students from multiple programs because it provides a broader perspective and they can use the technology to empower a more rounded set of students and classroom experience."
For example, Pascarella recently received a course proposal for a new digital operations class from former [associate] dean Vishal Gaur, Emerson Professor of Manufacturing Management, who lives in Ithaca. "It looks like a fantastic class," Pascarella said. "The content is clearly relevant to both Johnson Cornell Tech MBA and MBA students in Ithaca, so I asked him: 'Would you be willing to simulcast your class via the Sabanci Bridge to the Cornell Tech campus?' And he immediately answered: 'Yes, I would love to.'"
Students' ability to take classes in Ithaca that are based in New York City and vice versa "certainly broadens the curriculum massively for all students," says Mankad. "That's pretty cool," he added, "because the two campuses have different sets of expertise and focuses."
 "We are in the early days of realizing the vision of the two-campus model," said Pascarella. "Now, we have this incredibly powerful, extremely unique delivery mechanism enabling us to operate within the mother ship of Cornell University and all the research and teaching it provides, and also teach in New York City, the center of the business universe."
The game-changing technology behind the Sabanci Bridge
Although Johnson has been able to do videoconferencing across campuses in the classroom for a long time, the high-definition video and sound quality that characterize the Sabanci Bridge are "really game changing," said Drew Pascarella. "Now, instead of feeling like an encumbrance, the Sabanci Bridge technology is an enabler of learning."
The overall objective of the Sabanci Bridge system is to "facilitate and enable two classrooms to function as one," said Todd Kreuger, executive director of IT operations for the Cornell SC Johnson College of Business, whose team built the system. The integrated, immersive telepresence technology in each of the Sabanci Bridge classrooms in the Breazzano Family Center for Business Education in Ithaca and the Tata Innovation Center on the Cornell Tech campus includes:
Four 90-inch flat panel displays, each coupled with a high-definition camera and a high-definition videoconferencing codec (an encoding tool that processes video and stores it in a stream of bytes). The cameras capture four quadrants in the room, one for each side and two for the center section, enabling all participants in both locations to clearly see one another. A fifth camera and codec captures the instructor, and a fifth 90-inch flat panel display works as the instructors' confidence monitor, displaying their PowerPoint or other visuals.
Ceiling-mounted beamforming microphones allow students to clearly hear everyone in both classrooms.
Custom lectern design based on Johnson faculty feedback. The ADA-compliant lecterns have stowable doc cams and slide-out extensions to maximize surface area. The new design redistributes ventilation to dissipate the hot air generated by the electronic equipment it houses, thereby eliminating the "chimney effect" of blowing hot air on the instructor.
Mediasite lecture capture allows class participants to review course material anytime.
Demir Sabanci: The inspiration behind the gift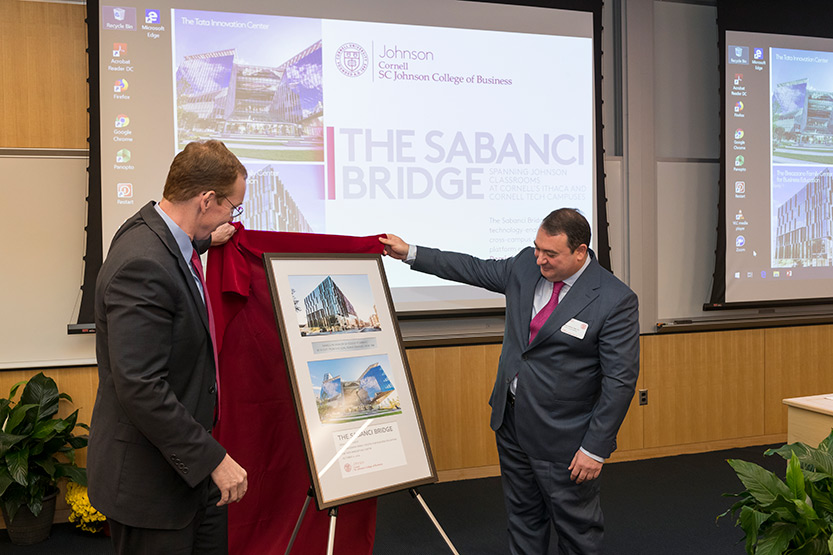 With his gift of the Sabanci Bridge, Demir Sabanci honored both Johnson and his father, Özdemir Sabanci, whom he described as an innovative scientist as well as a great entrepreneur and industrialist.
Özdemir Sabanci graduated with a BS in chemical engineering from the University of Manchester Institute of Science and Technology, and earned his master's in chemical engineering from ETH Zurich (Swiss Federal Institute of Technology), specializing in synthetic fibers, automotives, and plastics. Building on his own father's expertise and experience in the textiles and cotton industry, Özdemir introduced the use of polyester and synthetic yarns, and with support from his father and brothers, launched a startup that became a large synthetic yarn and polyester factory and one of Turkey's largest industrial plants. Later, Özdemir formed joint ventures with several Japanese automotive, construction machinery and equipment, and commercial vehicle and bus companies, including Toyota, Komatsu, and Mitsubishi.
In his first foray into business, Demir joined his father's joint venture with Toyota in Japan directly after graduating with his bachelor's degree in economics and international relations at Boston University in 1993. In 1996, his father died suddenly, and Demir returned to Turkey and the family business, Sabanci Holdings. A year later, Demir enrolled at Johnson.
"Johnson was a great refuge for me," Demir said. "I had inherited a tremendous amount of responsibility from the passing away of my father. And I thought that I could be better equipped to deal with complicated things in a much shorter time frame if I attended a business school like the Johnson School."
Overall, Demir likened his experience at Johnson to "having my brain like an open jar under this beautiful waterfall. I learned a lot, and that gave me self-confidence. In addition, I gained an awareness of how far the skills I was equipped with could carry me, and where else I would need to gain additional expertise."
Demir recalled Professor David BenDaniel as a major influence and specifically cited two maxims he first heard in his class: "Fortune prefers the prepared mind," and "You are the product of your decisions." He also remembers other professors very fondly, including Seymour Smidt, Jerome Hass, Alan McAdams, Robert Libby, and many others. "They all left a tremendous impression on me," Demir said. In addition, he said, "I was always impressed with the ideas and information from not just lecturers and professors, but also from my classmates.
"It was definitely two years well spent in a beautiful part of the country," Demir said. "I made great friends from all over the world. And I met my wife here, when she was an exchange student from Bocconi."
Now, Demir is president and chairman of Sedes Holding, an investment management firm he founded in 2002 that is based in Istanbul, Turkey, and specializes in venture capital and real estate investments. A serial entrepreneur, Demir is also a founding shareholder of several Sedes subsidiaries. Read more about him in this Profile in Leadership.
This summer, Demir and his family spent a week vacationing on Cayuga Lake and enjoying Ithaca and Cornell.