Andrew Quagliata teaches aspiring entrepreneurs the art of communication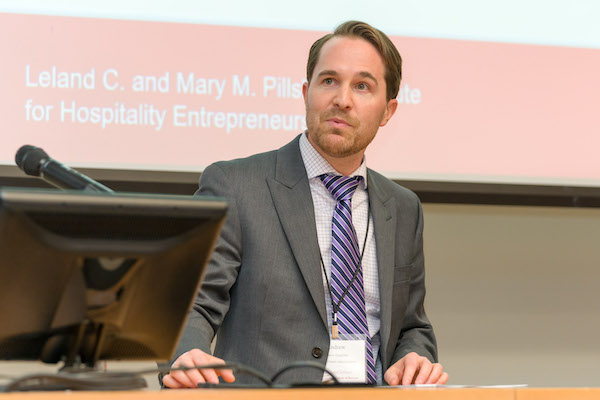 An essential quality for a successful entrepreneur is adaptability. The same holds true for professors. Seven years ago, Andrew Quagliata, lecturer in management communication and assurance of learning director at the School of Hotel Administration, came to Cornell to teach Business Writing and Persuasive Communication—a class where students learn the fundamentals of communication in a hospitality context, from business writing to presentation skills.
"I observed that, while we're giving students the fundamentals, there's a subgroup of students who are really interested in entrepreneurship, Quagliata says. "They find themselves having to communicate in a whole variety of unique contexts that we didn't have the time to address in our core curriculum."
From Quagliata's observation, a new course was born: Communication for Entrepreneurs.
Working closely with faculty from the Leland C. and Mary M. Pillsbury Institute for Hospitality Entrepreneurship, Quagliata had the unique opportunity to add a fresh perspective to the curriculum. Like any entrepreneur, he saw a need as well as a way to fill it. "In academia, we tend to stick in our own silos, but having a course that goes between two disciplines is nice," he says. "That also speaks to the entrepreneurship faculty being an inclusive group who are happy to have another person on their team."
Stretching a unique viewpoint and exploring the entrepreneurial mindset
Quagliata comes from an entrepreneurial family that owned two small bakeries when he was growing up. He understands the "entrepreneurial bug." With both an MBA and a PhD in organizational communications, he enjoys stretching his unique viewpoint from communication to exploring the entrepreneurial mindset.
Last year, the Pillsbury Institute sent Quagliata to a workshop where he learned from some of the best entrepreneurship educators in the country, taking those ideas and infusing them into his communication course. While the event was large, he was the only communication faculty present. "With the Pillsbury Institute investing in me, I was able to bring back this knowledge and then put it into my communication elective," he says. "It was really wonderful, and our students are getting the benefit."
Hotel School students occupy the majority of the seats in Quagliata's elective, but it's becoming more common to see the likes of PhD students from the College of Engineering, MBA students from the Samuel Curtis Johnson Graduate School of Management, or students from the Charles H. Dyson School of Applied Economics and Management. The Cornell SC Johnson College of Business' objective of cross-disciplinary study is becoming a reality.
Teaching communication with a scientific approach
Entrepreneurs face many unique communication situations when building a business, from the ideation phase, all the way to the first paying customer. Aspiring entrepreneurs must be able to articulate their ideas effectively and know what questions would help get to the heart of their efforts, Quagliata says. The goal is to persuade others to join a team that doesn't yet exist.
But beyond teaching students to drill their idea down in a succinct way, Quagliata uses a scientific approach. "Students need to explore the assumptions they have about this business at the beginning," he says. "I ask students to develop a list of hypotheses. Then I challenge them to get out of the classroom and find out which are true and which are not. This approach is different than saying, 'Let's build a product and service and try to sell it.'"
Quagliata encourages students to dive deeper into their idea by observing how people behave. The interview process includes the most important skillset—listening. He tells them to ask questions to determine if, in fact, your assumptions are true. "We are wired for confirmation bias," he says. "But what I'm trying to say to students is, 'It's okay to be wrong.' And they don't hear that enough at Cornell, or in life. We're so pre-programmed to seek the right answer."
Students learn how to sell themselves and their ideas
Before entrepreneurs can sell their product or service, they must learn to sell themselves, Quagliata continues. Students begin the semester delivering an elevator pitch. "We break down how awkward it feels to be talked at, at a networking event, and how hard it can be to come across as interesting," he says.
Quagliata takes the students through creating their personal story, breaking the tension of an initial conversation, and engaging someone in a meaningful way that opens up dialogue. "Give me context," he says. "Like, who are you, what happened in your life and what did you learn from it? For example, 'I was born in Mexico and grew up in the United States. My family moved seven times. It was difficult, but it helped me learn to embrace change. Now, I look for opportunities outside my comfort zone because I know they will help me grow.'"
Quagliata's strategy teaches students to confidently voice their business idea and personality through pitching. When the Pillsbury Institute expressed a desire to do a Hospitality Pitch Deck Competition, Quagliata says he saw an opportunity for his students to put their communication skills to the test. The competition, judged by successful business owners, was the perfect way to guide students from the ideation phase to communication of their idea and reception of feedback early on, better preparing them for the Business Plan Competition in the Spring.
Getting out of the classroom to talk to real people
In preparing his students, Quagliata shares the knowledge he gained from interviewing Hotel School entrepreneurs while developing his course. "What's interesting about a business owner or an entrepreneur is that most of them really aren't experts in entrepreneurship or in communication," he says. "They are experts in whatever their company is. So, what I do through my interviews is try to read between the lines and reverse engineer the things that our students should be taught in a Communication for Entrepreneurship class."
In creating his course, Quagliata took the same approach he would have taken to create a business. Those interviews with entrepreneurs served as customer discovery, revealing the communication challenges the executives faced. "We're going to get out of the classroom and talk with real people who might be struggling with a problem you think your product or service solves," Quagliata tells his students.
Quagliata's approach gives students skills that will serve them well, whether they become entrepreneurs or work within large corporations to create innovative products and services within a company. In fact, if he had to rename his Communication for Entrepreneurs course, Quagliata might call it Entrepreneurial Storytelling, he says. The goal of the students is not only to tell their own story, but also find the customer's story. "I want students to come back to class and be able to tell me what their customers' story is," Quagliata says. "They have one. You should have heard it. Now, tell it to me."
Students also need to gain an understanding of their industry. To demonstrate this knowledge, Quagliata requires that they give a TED Talk–style presentation about the space in which they are operating, but they aren't allowed to pitch their idea. Throughout the semester, students gain practice telling their origin, customer, and industry stories with the hopes that one day they can share their own venture growth tale of how they took their first step, got results, and created a successful business.
Learning new tools for communication in all areas of life
By learning effective communication and speaking to real people about problem solving instead of sitting in a classroom hypothesizing, the students' confidence soars beyond the assigned task and into real-world experiences, Quagliata maintains. Communication is key to networking, storytelling, and pitching. Quite simply, Quagliata's efforts expand how students learn to communicate in every area of life.
"It's a win, win, win for everybody," he says. "The students get this extra tool in their toolbox when they're taking other entrepreneurship classes, too. There's a lot of areas within communication that I can teach, but I like being a specialist in communication as it relates to entrepreneurship."