Park Perspectives: How Johnson helped me show my Pride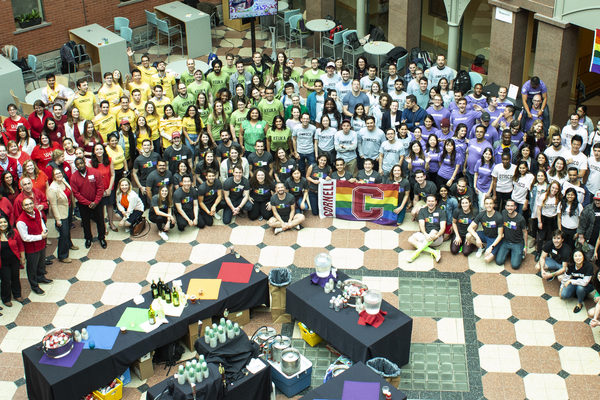 Park Perspectives are authored by Johnson's Park Leadership Fellows.
For some people, myself included, MBA programs are the opportunity to start anew—new city, new friends, and new challenges. I took this opportunity to tackle a new experience: I was not publicly out as a gay man during my undergraduate studies, but I knew that I wanted to authentically present myself as such to my fellow classmates for my MBA experience. In this Park Perspective, I want to briefly discuss my path to Johnson as a gay man and look at how Johnson and the Park Fellowship enriched my personal and professional journey.
Discovering Johnson at the Reaching Out MBA event
My path to Johnson began in October, 2017, back when I was still deciding which MBA programs I wanted to apply to. I had been inspired by the positive experience of being out at my former employer—both on my engagement teams and as a part of the lesbian, gay, bisexual, transgender, and queer (LGBTQ+) employee resource group—and I knew that I wanted an MBA program with an active and collaborative LGBTQ+ community.
After doing some online research, I used the Reaching Out MBA (ROMBA) Pre-MBA Admissions Summit and Expo as an opportunity to meet with an entire collection of MBA programs and their LGBTQ+ groups all at the same time and place. I hopped on a plane to Boston and met the students, alumni, and admissions teams of the 10 programs I had pre-selected as my top picks. Based on the conversations I had that weekend, I whittled my consideration down to five programs.
Not to ruin the surprise, but Cornell was one of those programs. I vividly remember meeting with Associate Director Jess Krom from Johnson's Office of Diversity and Inclusion, members of the admissions team, current students, as well as the then-president of Out For Business (O4B). As I learned, O4B is the organization for LGBTQ+ students, their partners (which we call Joint Ventures), and active allies at Johnson.
ROMBA affirmed that many of the top-ranked business schools are committed to creating an environment and community in which LGBTQ+ talent can thrive, but also that there were many companies specifically searching for diverse individuals to create their next generation of leaders. I left that conference energized and over the ensuing months submitted an application to Johnson, interviewed, received an offer of admission, and accepted the Park Fellowship. Then, about a year ago, I began preparing for my future as a Cornellian, Park Fellow, and member of O4B.
O4B: An integral part of my Johnson experience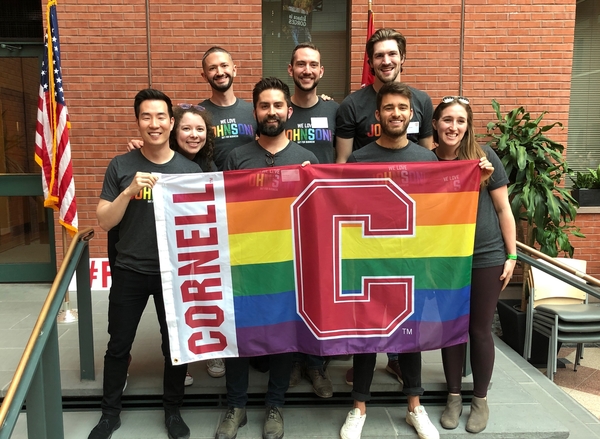 O4B has been a key component of my time at Cornell. The friends I have made through the club are some of my closest and the memories some of my favorites. From apple picking to internship recruiting preparation, the members became an integral part of my Johnson experience.
With my peers, in October 2018 I attended ROMBA once again; this time I had the opportunity to network and interview with some of the world's most desired companies. Once again, I was reassured that I could show my pride, both in a personal and a professional sense. When I returned to campus, I knew that I wanted to take an active leadership role in the organization that helped make me feel empowered to live my truth—so I applied for and was selected as the 2019 O4B president.
Like so many other components of the MBA programs, these last eight months as O4B president have challenged and rewarded me in ways that I never could have expected. Being the visible figurehead of the school's LGBTQ+ organization put me in the public spotlight in a way I had never experienced before and helped me understand the power and responsibility such a position entails. Being a resource that others consulted regarding LGBTQ+-related issues gave me a better understanding of the greater community I was a part of. And being a member of Johnson's diverse student population allowed me to explore the intersectionality of LGBTQ+ and other identities. In these ways—and in so many others—I was pushed to move beyond my comfort zone and evaluate what kind of leader I wanted to be and how my LGBTQ+ identity factored into that.
The Park Fellowship changed who I am as a leader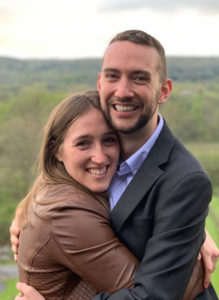 As this is a Park Perspective, I'd be remiss if I didn't discuss the impact that the Park Fellowship had on my journey with O4B. What I learned through the Park Fellows Program was gradual (there was never a Eureka! moment), but the sophisticated, powerful, and personal Park programming, intertwined with the Johnson experience, intrinsically changed who I am as a leader. I didn't realize while it was happening, but the Park Fellowship helped me internalize Johnson's leadership training along the dimensions of compassion, courage, competence, and character.
To bring this Perspective full circle, I want to share my favorite O4B event from the past year and briefly discuss how I put what I learned from the Park Fellowship into action planning and executing the event.
Over the course of the semester, I realized that O4B (and many aspects of LGBTQ+ culture) did not create sufficient space for queer women to be seen or heard. Working with the Women's Management Council and partnering with the Wine Club, we committed to sponsoring a first-of-its-kind queer women's storytelling event. I connected with several classmates who identify as LGBTQ+ women, and provided materials to help them craft and share the story that they wanted the Johnson community to hear. And in April 2019, my classmates told their stories.
From an O4B perspective, the event was a success: we were at capacity, the audience was engaged, and the appropriate amount of wine was drunk. But from a personal side, things were a little bit more nuanced; the event was a success both because of what I did and what I did not do.
Yes, I needed some compassion to understand that there was a need for the event and a bit of courage to ask my friends and classmates to be vulnerable in front of our peers. But at the same time, I also had to have the competence to realize what competence I lacked and what I needed help with; O4B didn't have the experience or capacity to put on such an ambitious event alone, so we were glad to identify partners that shared our objectives. Further, I needed the character to realize that this was an event that I and many of my peers within O4B should observe rather than participate in, even as a representative of the school's LGBTQ+ organization. This was a platform for queer women, so we ensured that that space was protected, respected, and representative of the diversity of Johnson's LGBTQ+ women.
As we move into the next academic year, I look forward to building on this momentum and using O4B as a sandbox to put my Park Fellows learnings and Johnson MBA experience into action—and to further understand how they are shaping me personally and as a leader.
About Out For Business

Out For Business (O4B) is the lesbian, gay, bisexual, transgender, and queer (LGBTQ+) business student club at Johnson. It exists to foster a positive environment and build a professional network for members. O4B facilitates networking between existing students and alumni, as well as with students at other business schools and with professionals in the LGBTQ community at large.
O4B strives to be an inclusive community for LGBTQ+ students at Johnson, and we understand that students bring their own unique backgrounds, cultures, and experiences to both our O4B and Johnson communities. For some of us, sharing our stories is deeply personal and can carry different consequences in our respective countries, cultures, and even our families.
My being out at Johnson, my leadership of O4B, and my writing this Perspective are, in many ways, a result of my privileges and decisions that may not be available or appropriate for alumni, my classmates, or prospective students. O4B strives to make all LGBTQ+ individuals feel valued and respected, however they identify or wherever they are in the process of coming out.