Cornell MBA ranked Best MBA for Management by The Princeton Review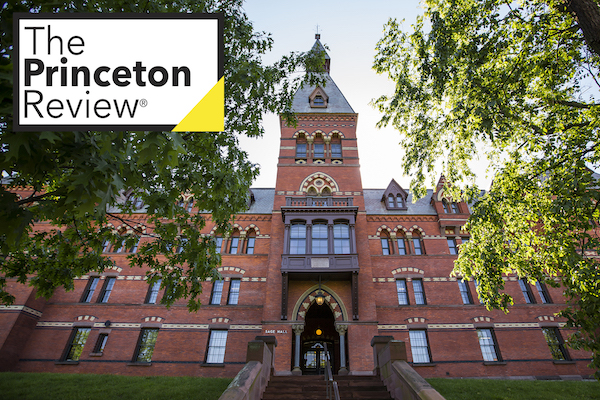 The Princeton Review has ranked the Samuel Curtis Johnson Graduate School of Management as the #1 Best MBA for Management as featured in their list of the Best Business Schools in 2020.
The rankings are based on surveys from more than 20,700 on-campus MBA students. In addition, Johnson is also in the top 5 for best professors, career prospects, green MBA, and best MBA for finance, as well as the second highest most family-friendly MBA.
According to one student, Johnson "dedicates resources to help students succeed in consulting, banking, tech, marketing, general management, and a host of other career paths." Students cite this "breadth and depth of programming" as one of Johnson's greatest assets. "Johnson taps into the strength of programs at other Cornell schools and colleges to offer unique programs," shares a student.
The school's dual-campus community—in Ithaca, NY and on the tech campus in New York City—also contributes to the intimate environment that makes the student body and faculty so tight-knit and collaborative.
One student shares of Ithaca, "Without being in a big city with a lot of distractions, the focus is on hanging out and spending time getting to know each other." Here, they say, students can "embark on a wine tour, take a water-skiing class on a lake, and still enjoy cosmopolitan charms and access to big city life." Plus, Ithaca "is fantastic for hiking and swimming in nearby gorges."
Another student says, "It's nice to escape away from a loud city and live somewhere quiet for two years." The location is great for families. The Johnson community "offers a place for students' partners and spouses and welcomes all."
Additional information about The Princeton Review's ranking methodology can be found on their website.
There is a lot to discover about the Cornell MBA. Immersion learning is a unique differentiator that sets this program apart and provides hands-on integrated course and field work in a specific industry or career interest. Immersions range from corporate finance, investment banking, and asset management to consulting and sustainable global enterprise. Find out what makes the Cornell MBA the best for career prospects by reviewing recent employment reports and see success, realized.