Park Perspectives: Seeing leadership through a different lens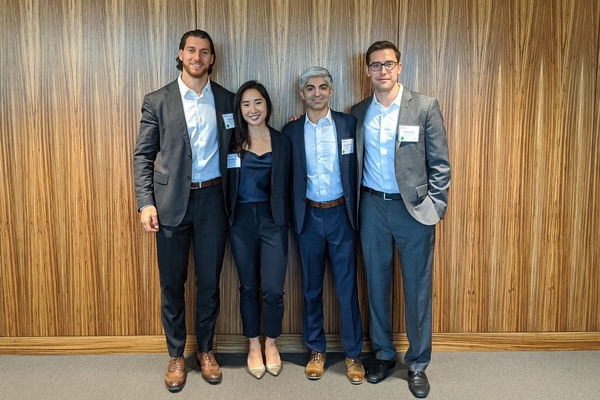 Park Perspectives are authored by Johnson's Park Leadership Fellows.
Before coming to the Samuel Curtis Johnson Graduate School of Management, I was confident I knew what was in store. Having focused intently on academics—and later, my career—business school was a natural progression. It would help me build an academic foundation in business and grow my network. I expected classes focused on increasing leadership and business acumen, networking events, and an inordinate amount of group projects.
While these things have, indeed, been a large part of my experience thus far, I also gained something I didn't know I needed: perspective. Business school in general—and Johnson in particular, with its popularity among career-switchers and intimate class size—provided a valuable opportunity to learn a wide variety of ways to think, communicate, and lead.
Promoting diversity of thought
As other first-generation Americans can attest, growing up without any background on navigating social or professional settings is a challenge. As an undergraduate, I showed up in jeans and a T-shirt for my first internship at a manufacturing plant, as my parents insisted I'd surely be working on the factory floor, despite hearing otherwise from the recruiter. Later that day, hyper aware of my faux pas, I had my first business lunch with the plant's management team, awkwardly attired in scuffed sneakers as the rest of the team sat in business casual.
Years later, on my first day in consulting, I vowed to do everything I could to make the business world more accessible to those on the outside—people like me, who didn't have a generation to guide them in navigating the professional world. I became active in diversity networks and pushed the importance of championing diversity and inclusion to help level the playing field for those who didn't come from the same means. However, what I didn't realize was that spending years in consulting had limited my professional worldview; I didn't understand that diversity of thought also encompassed diverging personal and professional backgrounds.
Expanding my horizons
Not only did my experience in the consulting industry shape my understanding of the professional world, but it influenced my social circles, with the bulk of my post-undergraduate social network stemming from teammates and colleagues. As far as networks went, mine didn't extend far beyond the world of tech and consulting.
One of my earliest memories of Johnson is sitting in a circle meeting my Park Fellow cohort and being impressed with the range of experiences and interests. I was struck by the passion, intelligence, and motivation of the people around me and how they had achieved success in everything from the dairy industry to dance theater.
Later on, meeting my classmates, I was constantly surprised by the range of their backgrounds—from professional athletes to scientists, and everything in between. Within weeks, I was exposed to more backgrounds than I had connected with in years on the job. I also had the opportunity to work closely with my "core team," a small group of colleagues with whom I collaborated on the "core" group assignments and capstone project in my first semester. From them, I gained ways of thinking and communicating that I hadn't been exposed to in years of consulting and numerous formal leadership trainings. I learned that leading was not just getting the group to unanimous agreement but also having the confidence to thoughtfully dissent.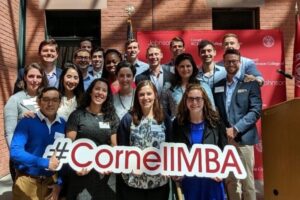 Learning to ask "so what?"
At Johnson, we are pushed to ask "so what?" with every new bit of information, to think about how that new piece of information changes the game. Johnson exposed me to walks of life I had not seen before—professions, upbringings, and passions much different from my own and to which I may have never been exposed had I not come to business school.
So…"so what?" The crux of Johnson's curriculum and environment is to push us to grow as leaders. Each of my Johnson colleagues is a product of the leadership style that was successful in their industry and firm, leadership styles which will play a part in helping me to develop my own. This fresh worldview has reinvigorated my motivation to seek out different paths to the finish line and different ways to define success.