Industry immersion trip connects SHA faculty with global hospitality leaders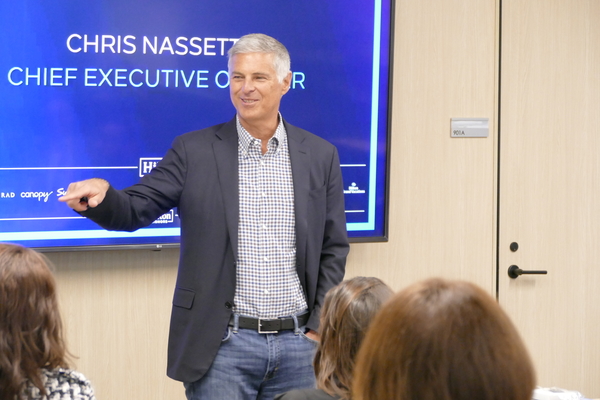 Hospitality industry immersion trips are becoming a winter-break tradition for the faculty of the School of Hotel Administration. This January, 26 faculty members returned to Washington, D.C. for another deep dive into the deals, decisions, and design thinking that are steering and shaping the hospitality industry today.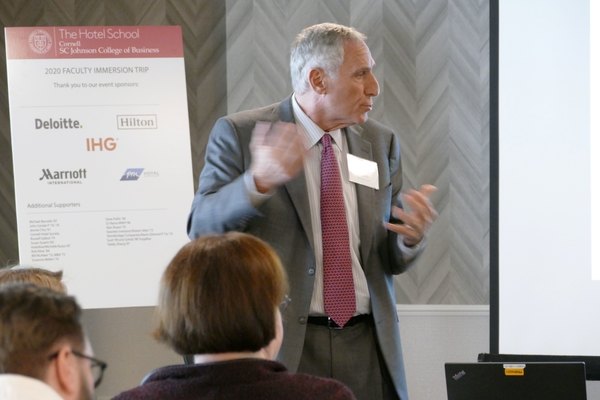 Since January 2017, four industry immersion trips—to Washington, D.C., New York, and London—have given the SHA faculty insider access to the leaders of the global hospitality industry. What they learn they bring back to the classroom and to their research.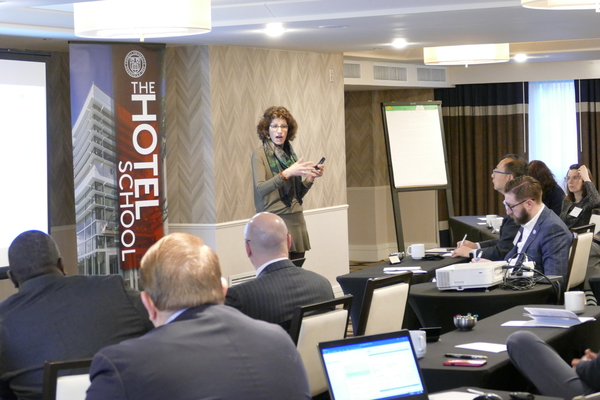 Innovators and inside stories
Cindy Estis Green '79, co-founder and CEO of the revenue strategy firm Kalibri Labs, led off Monday's program at the Kimpton Hotel Palomar with an incisive industry overview. Participants could then choose from three breakout sessions led by:
The morning session closed with a case study of Blackstone's acquisition, and later sale, of Hilton Hotels. Key players John Ceriale and Barry Lewin '85, of Prospect Hotel Advisors, and Bill Stein, from the Blackstone Group, laid it out in fascinating detail.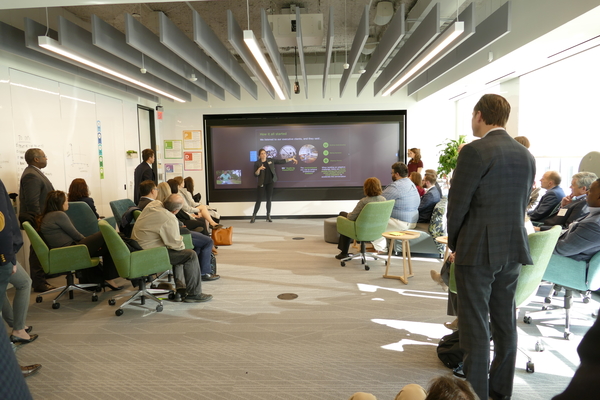 Next, the group took a trip to the Deloitte Greenhouse, an innovation-lab concept with locations around the world. Guy Langford, a partner and former U.S. leader of Deloitte's transportation, hospitality, and services industry practice, hosted their visit.
The day ended at the Canopy by Hilton, where the Washington, D.C.–Baltimore chapter of the Cornell Hotel Society welcomed the faculty to their annual holiday party.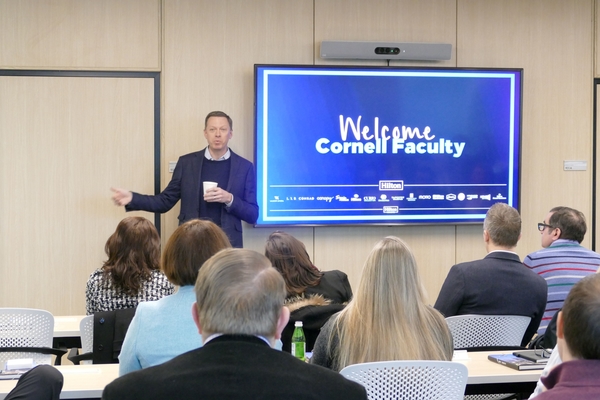 At Hilton HQ
Tuesday's program began at Hilton headquarters in McLean, Va. After a welcome from CFO Kevin Jacobs '94, the group visited the Hilton Innovation Gallery, an immersive space for incubating and showcasing new ideas in technology and room design. After the tour, the faculty heard from chief customer officer Jon Witter and CEO Chris Nassetta.
Participants then had the choice of four breakout sessions:
Data and analytics, with Jess Pettit '05, VP of analytics, and Hannah Shin '14, senior manager of revenue forecasting and analytics
Strategic brand-building, with Kellyn Smith Kenny, CMO, and Amy Martin Ziegenfuss, VP of global marketing for focused brands
Labor and employment law, with Paul Ades, senior VP of labor relations and Americas operations for Hilton Management Services
Real estate mergers and acquisitions, with Petr Kulic, VP of global feasibility and investment analysis, and Mike Hollman, VP of mergers and acquisitions and capital markets.
After a recap from Kevin and lunch with the Hilton team, it was time to head for Marriott headquarters in Bethesda, Md.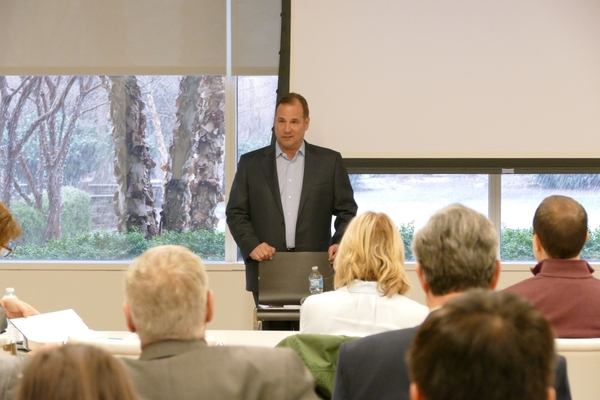 At Marriott International
Tony Capuano '87, group president of global development, design, and operations services, welcomed the group to Marriott. Next up, Leeny Oberg, executive VP and global CFO, led an excellent finance strategy session. Two breakout sessions followed:
Marketing and concept design, with Tina Edmundson, global officer of brand and marketing, and John Hogan, VP of global design and project management
Food and beverage, with Matthew Von Ertfelda '94, senior VP of global operations, Brad Nelson, VP, corporate executive chef, and senior beverage manager, and Kyle Hall, food and beverage manager on the global operations team. The F&B session was held in Marriott's new drink lab, where the faculty sampled cocktails and appetizers as they listened to the presenters.
As the afternoon ended, Tony treated the group to a wonderful reception and dinner in Marriott's show kitchen.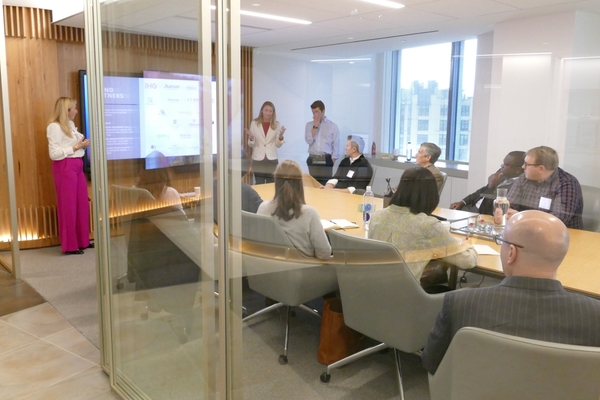 At PM Hotel Group
Wednesday began with breakfast at PM Hotel Group, a leading hotel management company headquartered in Chevy Chase, Md.
The morning consisted of four breakout sessions:
Real estate, with co-founder and president Dave Pollin '90, co-CIO and principal Darren Anzelone, senior VP Brandon Flury, and associate David Duber '14
Branding and marketing, with president Joseph Bojanowski, senior financial analyst Sage Patel, MMH '18, and communications VP Jennifer Diamond Haber '91 (A&S)
Operations, with F&B innovation group VP Katherine Kies '11, director of facilities and sustainability initiatives Christie Blomquist '07, and operations manager Greg Hickey '09
Human resources, with executive VP Woody Montgomery, senior director Tatiana Diener; and corporate director Tara Waites.
Some faculty takeaways
This was an incredibly useful trip. So many great and timely examples are going directly into my teaching. In addition, I got two speakers for my class with an incredible fit with what I am going to teach! I am really grateful to every single speaker. They were extremely well prepared and engaging and provided so much useful industry context for us. I thank each and every one of them for their hospitality, from the bottom of my heart.

—Elena Belavina, associate professor of operations management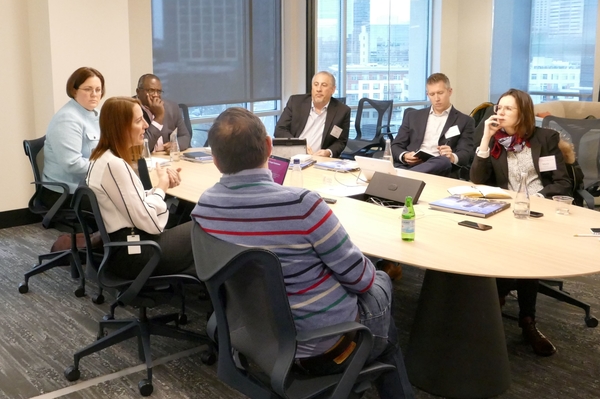 The trip had so many wonderful components to it, from catching up with former students and getting to hear about the exciting things they are now doing to interacting with executive-level decision-makers and seeing what they're focused on, worried about, looking towards, etc. The engagement it enabled is truly very helpful. I walked away with several new contacts and reestablished and/or further cemented a few previous ones. All of this will be very helpful for future course planning, content generation, and all of the other tasks and activities associated with preparing our students for the industry. The trip also afforded me the opportunity to engage in new ways with colleagues. All said, I'm confident that I will continue to reap benefits from this trip for a long time.

—Christopher Gaulke, lecturer in food and beverage management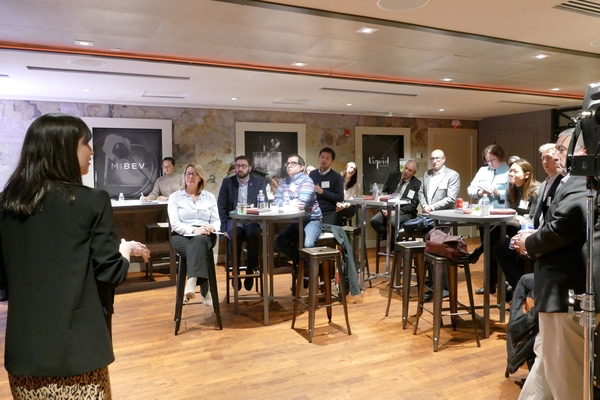 The industry immersion trip was remarkable for me as a new member of the faculty. To have the opportunity to engage with my colleagues, alumni, and industry leaders was incredibly helpful for crafting some of the course material I will present in class this semester. I was able to make connections with some of the speakers and alumni on the trip and will have them share their work and experiences with my students this semester as guest speakers.

I also was able to explore ways that I could partner with some of the speakers in helping identify real issues with recruiting and retention and talk about how we could work together to improve their processes and create a better system for attracting and retaining staff.

The trip was a great way to reconnect with the Hotel School after the winter break—it was a great start to the semester!

—Lillly Jan, lecturer in food and beverage management
We are very fortunate to have opportunities like the industry immersion trip where industry leaders are willing to meet with us and discuss their insights. Especially on this trip, we had CEOs and CFOs of the largest companies in hospitality sharing their vision for their companies and the trends of the industry. These meetings were even more valuable, as we were able to share some of our own research findings with the industry experts, which led to fruitful discussions for all parties. I hope to share the knowledge I gained from the trip in my classrooms and also in my future research projects.

—Heeyon Kim, assistant professor of strategy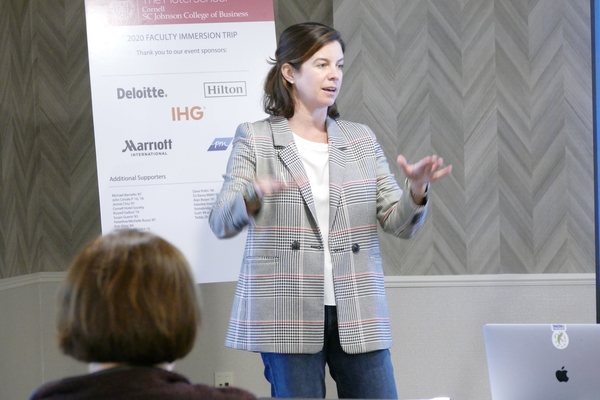 "Immersive" was the perfect way to describe this experience, because for three days I was given the rare opportunity to engage in dialogue with leaders in the hospitality industry and in reflective conversations with other SHA faculty. The time away from the routines of being on campus allowed me to focus fully on absorbing an immense amount of information—from macro trends facing the hospitality industry at large to the micro strategic decisions being made on a daily basis at individual properties. I was blown away by the generosity and openness of our hosts, both in their willingness to open their doors to our many questions and also to be thought partners regarding the challenges the next generations of Hotelies will tackle within the hospitality industry. These conversations contribute to my ability to be a conduit between the students in the Hotel School and the industry, in preparing them to be effective and knowledgeable members of whichever organization they join after graduation. The impact of this immersion trip was immediate, and I look forward to continuing to incorporate what I learned into the core Strategic Management course this spring!

—Madeline King Kneeland, assistant professor of strategy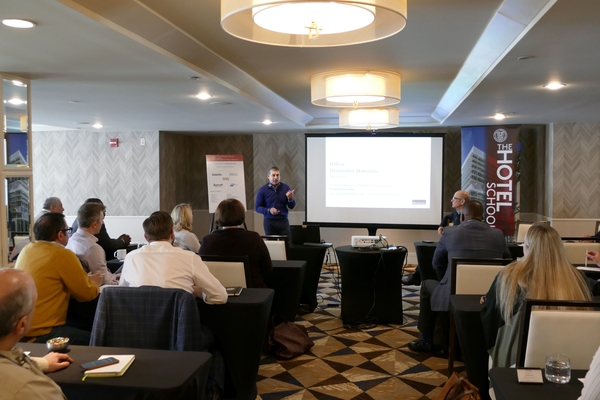 This year's industry immersion trip was incredibly powerful. Meeting with so many alumni (many of whom I taught) provided a wonderful chance for me to reconnect with students in many hospitality sectors. The breakout sessions were very useful and robust—the best sessions I've attended on the three trips I've been on.

—Ravinder Kingra, lecturer in food and beverage management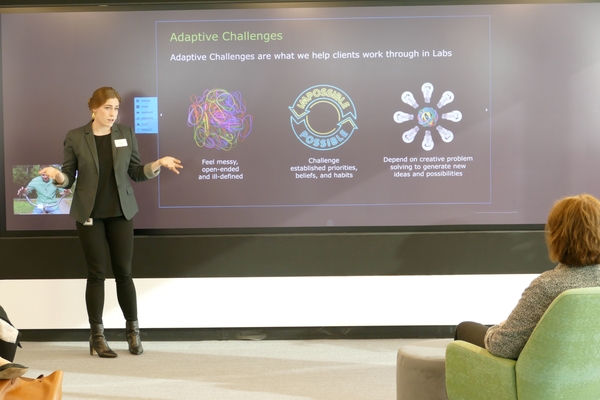 I really enjoyed the trip. Meeting these industry leaders in hospitality allows me to gain firsthand information on what is actually going on in the industry and bring relevant and current information to the classroom.

—Douglass Miller, lecturer in food and beverage management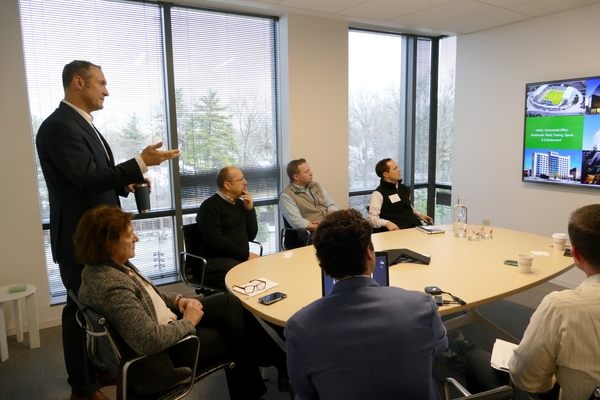 As a new faculty member of the Hotel School, the faculty immersion trek has been an amazing opportunity to be more engaged with the industry and to be more connected to our strong alumni network. It was also an extremely valuable way for me to gain insights into the changing trends in the industry and to learn about the great initiatives that industry leaders have taken. I am truly inspired by the impressive work that our alumni have done and I will bring their knowledge and wisdom back to my classes.

—Yuan Shi, assistant professor of strategy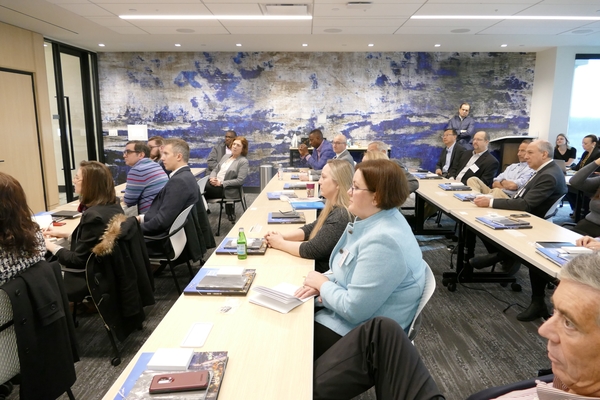 Serendipity plays an important role in sparking research projects. Nothing beats the industry immersion trip for the number of potentially serendipitous moments. A single slide in Raj Chandnani's presentation has already led to a very exciting connection with a unique property to study staffing. The immersion trip was also valuable in building relationships with other industry partners who already provide data for teaching and who might collaborate on a research project. The discussions of industry trends and problems that alumni are solving after they leave Cornell will surely help me create new teaching cases, as well.

—Vincent Slaugh, assistant professor of services operations management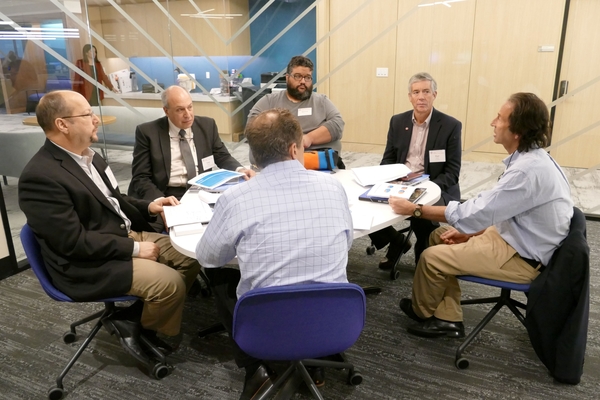 I thoroughly enjoyed the industry immersion trip. I learned a great deal. Although it was my first immersion trip experience and I have nothing to compare it to, my expectations were exceeded. Much gratitude for the enormous generosity of our hosts. The planning, coordination, logistics, presentations, and hospitality provided to the faculty was beyond reasonable. Thank you!

—Paul Strebel, lecturer in accounting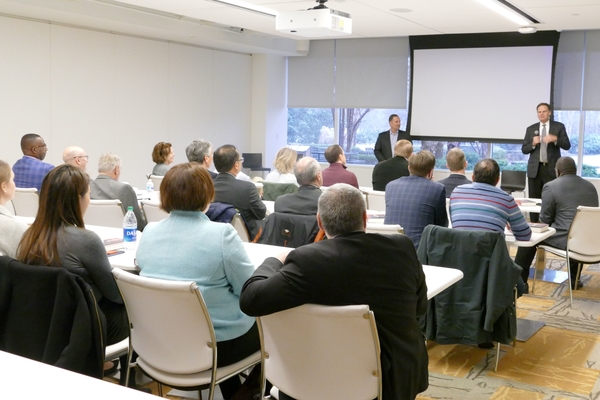 When the trip was first announced, I was immediately excited about the opportunity to engage with hospitality professionals, as I believe it's crucial for us to know what's happening day-in and day-out in the industry. That being said, I never could have imagined how insightful the experience would be. I thoroughly enjoyed all of the sessions I attended, as well as the networking opportunities. In fact, one of our alums has already reached out to me asking to engage with my class when his team visits the campus in March. I'm very excited to build this relationship and find out what I can do to help better prepare my students for internships and jobs with his company.

—Kasey Tarantino, lecturer in information systems and analytics