Fils-Aime '83 highlights industry disruption during Leadership Week's esports forum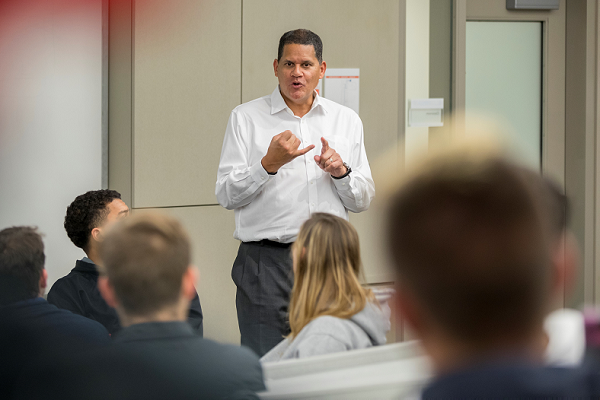 "The video game business is larger than the combination of music, movies, and video streaming, and it continues to grow at a compound annual growth rate greater than double-digits," said Reggie Fils-Aimé '83, retired president and former chief operating officer of Nintendo of America Inc. and the Dyson School's current Leader in Residence, during a Feb. 13 forum in Warren Hall.
As part of Dyson's Leadership Week, Fils-Aimé led the discussion "Esports Passion Forum: Evolution of a Multi-Billion Dollar Business" to an intimate and interactive group of students whose majors ranged from business to engineering to computer science.
According to Fils-Aimé, the global video game industry is estimated to be $150 billion, eclipsing the value of fellow entertainment industries—music is around $20 billion and movies about $42 billion. An increasingly influential and growing spoke from this digital hub is esports, defined as organized, multiplayer video game competitions. The esports landscape is currently valued at $1 billion, five times larger than it was in 2014, and is projected to continue similar aggressive growth.
"Part of my interest in having this forum here today is to really highlight that, on one hand, this is a large and growing space, while on the other hand, it's a business," Fils-Aimé said. "You have to think about this through the same business lens that you are thinking about all of the other businesses you are studying here on campus: How do you pursue it strategically? How do you think about investment opportunities? How does this business grow over time?"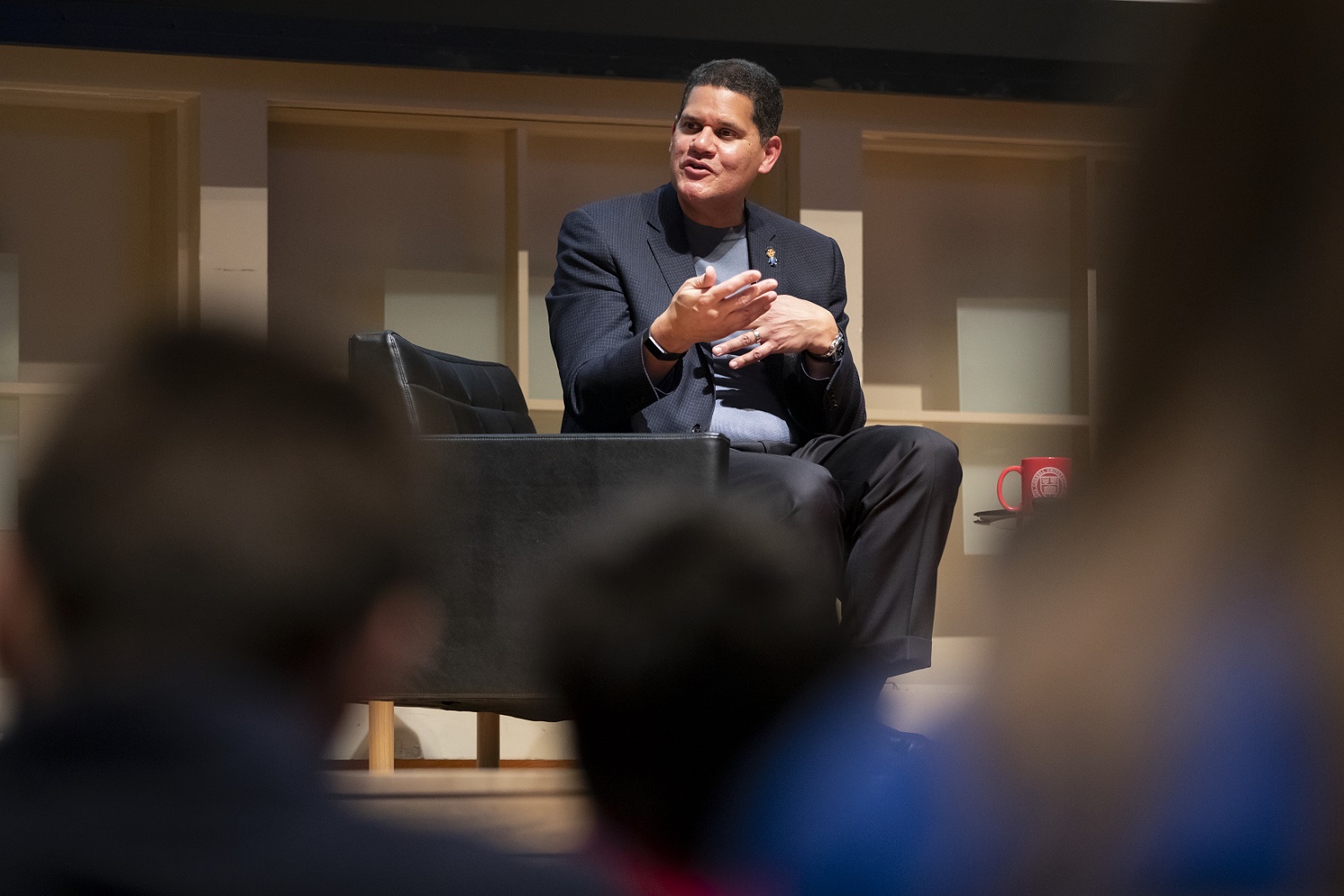 Leadership Week, held each spring, is hosted by the Dyson Leadership Fellows program. The engaging, energetic week includes speakers, workshops, and receptions—all centered around leadership, conscious capitalism, and service. As the Leader in Residence, Fils-Aimé held one-on-one mentoring sessions with students, led small-group discussions including the Esports Passion Forum, and presented a corporate case study, Nintendo: Disruptor Being Disrupted, to the AEM 4010 Organizational Analytics class. He also served as a judge for Dyson's Map the Challenge, a competition in which student teams selected a social or environmental issue to explore, analyze, and research.
Where video gaming meets business
During the Esports Passion Forum, Fils-Aimé highlighted that this disruptive industry is evolving and beginning to adopt traditional business models and elements of the traditional sports and entertainment spheres. Team owners are recruiting and developing players. Collective bargaining agreements for player-athletes are being discussed. Unique venues are being developed for live spectator viewership.
Further, advertisers, marketers, and sponsors are jumping on board because these events are gaining more viewers. According to Fils-Aimé, esports has a cumulative annual viewership of more than 350 million. On the Twitch video live streaming service alone, fans are watching more than one billion hours of esports per year.
"The elite esports players are making more than 600 keystrokes per minute," said Fils-Aimé, arguing that esport player-athletes are required to have natural and earned talent. "These are true athletes, generating revenue in terms of their capabilities that is just staggering."
The aggregate prize money awarded in 2019 to players of Dota 2, a multiplayer online battle arena video game, was more than $175 million, he pointed to as an example.
For Fils-Aimé, the esports industry has nowhere to go but up and will see growth in the American market as this global phenomenon continues to build momentum.
"I believe a driver of change will be more U.S. players getting exposed to some of the elite esports players from elsewhere around the globe," he said. "I think that's going to drive a lot of interest and I do see it happening in the not-too-distant future."