Student perspective: Managing assets in a time of uncertainty and volatility
Cayuga Fund student portfolio managers quickly adapted to work virtually when COVID-19 and resulting economic disruption hit the markets.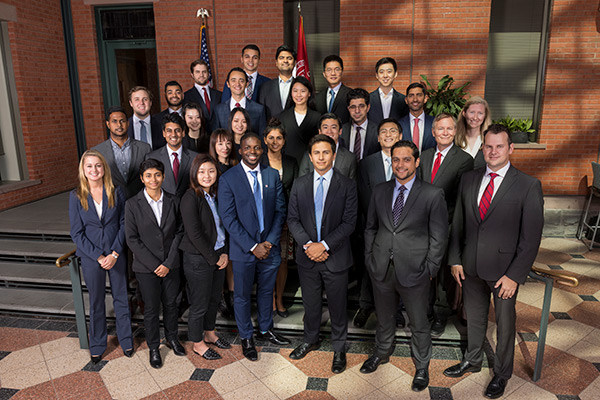 The COVID-19 crisis has created monumental levels of disruption in daily life, communities, industry, and capital markets. When the Samuel Curtis Johnson Graduate School of Management and the rest of Cornell University responded in mid-March by pausing academic courses for three weeks, our priority as student leaders on the Cayuga Fund quickly became business continuity. This included rapidly developing a virtual management plan for fund operations and communicating the operational changes to our partners who represent the Cornell University endowment.
Our experience during this period of volatility underscores several key elements that Johnson student portfolio managers recognize as part of our participation in the fund, namely: 1) managing assets for the endowment is a constant, real-time, and full-time commitment, no matter the obstacles; 2) Johnson MBA students treat their involvement—though meant to serve as an experiential learning platform prior to full-time, post-MBA employment—as professionally as would any full-time asset manager; and 3) volatility requires swift action and execution of strategic changes in fund management in order to respond effectively to the crisis at hand.
During our continuity planning, we were fortunate to rely on operational infrastructure we had implemented earlier in the academic year. This infrastructure included detailed process documentation, organizational structure modifications, and risk management practices. The Cayuga Fund is comprised of several functional groups: Portfolio Construction, Investor Relations, Performance, Quantitative, Trading, and the newly formed Risk Management team. Each of these groups is highly specialized and manages a different component of the money management process.
We collaborated virtually upon the class suspension announcement to decide how we would continue to manage the fund from start to finish, including remote stock evaluation, the design of a new trading process, and the plan for communication moving forward. We also adapted our business succession plans accordingly as we continue to transition fund leadership to the next set of portfolio managers in the Class of 2021. For example, we ensured that our quantitative rankings and holdings were distributed on a daily basis via email, that students maintained remote access to key tools such as Capital IQ and FactSet, and that the ability to monitor stock positions and make necessary changes would remain highly accessible.
Finally, we rolled out new weekly market reviews to discuss major macro-changes and any key shifts in strategy particularly given the market volatility. This strategy benefited tremendously from Cornell thought leadership from experts like Professors Maureen O'Hara, Sanjeev Bhojraj, Andrew Karolyi, Eswar Prasad, and many others.
The continuity planning culminated in a formal presentation for our Cornell endowment partners to communicate our new operational and strategic changes. I had the opportunity to walk the endowment through our collective thought process and invite their questions and feedback. The call illustrated the dual mandate implicit in fund management:
Carefully manage risk and return profiles through rigorous asset evaluation and selection to meet client objectives.
Clearly communicate the process, thinking, and results to the end client.
Strong relationship building and effective communication will inevitably be a large part of our full-time positions in investment management and Cayuga Fund leaders in the Class of 2020 stepped up to meet this challenge.
Although all of us continue to operate and adapt amid uncertainty, our planning and preparation have placed the fund on solid footing moving forward. We are prepared to successfully complete our management positions and transition operations over to our talented first-year classmates. We hope and anticipate that our response to the COVID-19 crisis, as well as earlier improvements to fund operations, will continue to assist scores of Johnson Cayuga Fund portfolio managers in the years to come.
---
About the Cayuga Fund
The Cayuga Fund is a student-managed fund with assets under management of $1 million in Cornell University endowment money housed in Johnson's Parker Center for Investment Research. MBA students interested in becoming portfolio managers for the Cayuga Fund are selected in a competitive process based on academic preparation and achievement, strong analytical skills, and demonstrated interest in pursuing investment management careers. Portfolio managers participate in the associated course, Applied Portfolio Management, and are split into teams by sector covering a range of industries and by functional groups ranging from trading to investor relations.