Two MBA programs at the Cornell SC Johnson College of Business receive STEM designation
Portfolio of STEM-certified business programs increases to five full-time degrees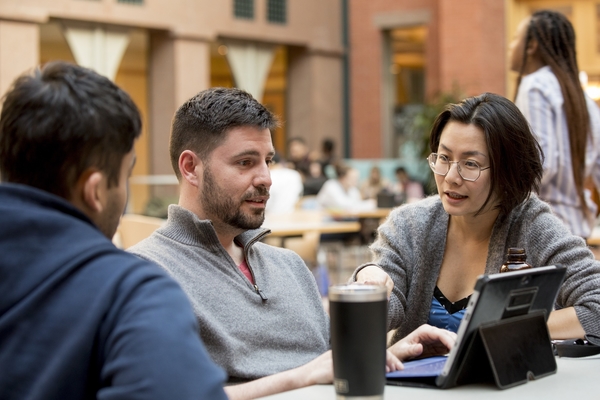 The Johnson Graduate School of Management in the Cornell SC Johnson College of Business announced today that it will add two Ithaca-based Management Science MBA programs with classification as STEM-designated programs by the federal government. The Class of 2021 in both programs will be the first to graduate under this new certification.
The STEM designation, which already applies to three other Johnson programs, recognizes the emphasis that the residential MBA program places on training students in management science, data analytics, technology, and other similar disciplines integral to contemporary business leadership.
"Johnson's curriculum has always included a strong analytical foundation, as well as many opportunities to build STEM-related knowledge and skills," said Mark W. Nelson, the Anne and Elmer Lindseth Dean at Johnson. "A STEM designation appropriately recognizes that strength of our MBA program."
Johnson's portfolio of STEM-designated programs now includes:
Two-Year Management Science MBA: emphasizes exploration of a broad variety of business and interdisciplinary interests while developing leadership and management expertise, business immersions, and other hands-on experiences.
One-Year Management Science MBA: an accelerated MBA program that builds on a student's advanced academic standing and professional experience with new business and leadership skills.
Johnson Cornell Tech MBA: based in New York City, an advanced business education engineered to prepare students for success in the digital economy. It brings business, computer science, and engineering students together in a studio environment where they collaborate on new tech solutions that are viable in the marketplace.
MPS in Management: provides students who have a non-business undergraduate degree with the rigorous business management education of a top MBA program.
MPS in Management – Accounting Specialization: is a one-year master's degree program for students who want to advance their management careers by mastering the field of accounting.
International students on an F-1 visa who pursue one of these programs are eligible for what is known as STEM OPT (Optional Practical Training) extension, enabling them to work in their field for a total of up to 36 months in the U.S.
The 24 extra months that they can spend on OPT makes them more hirable, affords them extended professional training, and gives them additional chances in the United States' annual lottery for its limited number of H-1B skilled worker visas. According to industry and economic experts, OPT extension is crucial to the United States' economic growth as the number of positions for skilled tech professionals continues to outpace the number of workers available.
"Johnson is very involved in the Cornell Tech campus, has deep ties to engineering, computer science, the life sciences and other STEM-related disciplines, and offers extensive analytical opportunities within our own curriculum," said Nelson. "This STEM designation as an important recognition of those strengths."