Interning at PepsiCo: More than a can of soda (pop)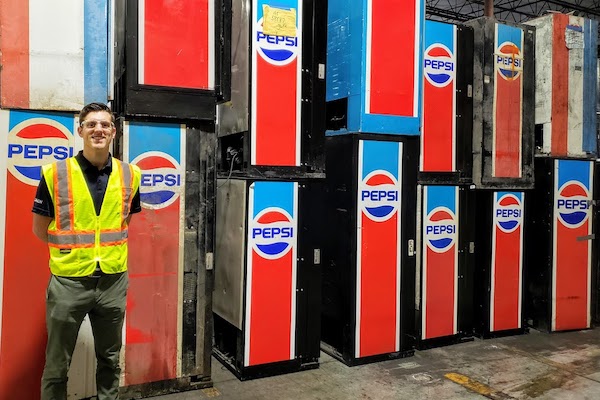 Selecting PepsiCo as my internship employer last summer was perhaps a bit unexpected for me. A few reasons come to mind:
I grew up not drinking soda. I didn't have a taste for it—I think it had to do with not knowing where the cola flavor comes from. Was that a hint of citrus? Licorice? I just could not place it. Now, after working in procurement, I know exactly what is in Pepsi—from can to contents.
It's "pop," not soda. Yes, where I come from in Buffalo, NY, soda is called "pop."  No, not the Beyoncé kind… and my friends never let me live that down.
I was the Health & Wellness Chair at Cornell. I got weird looks when I began telling my classmates I was going to work for PepsiCo. Is a hummus eating, tea drinking, sustainably thinking, constantly running, health nerd working for the world's largest soda company a logical fit?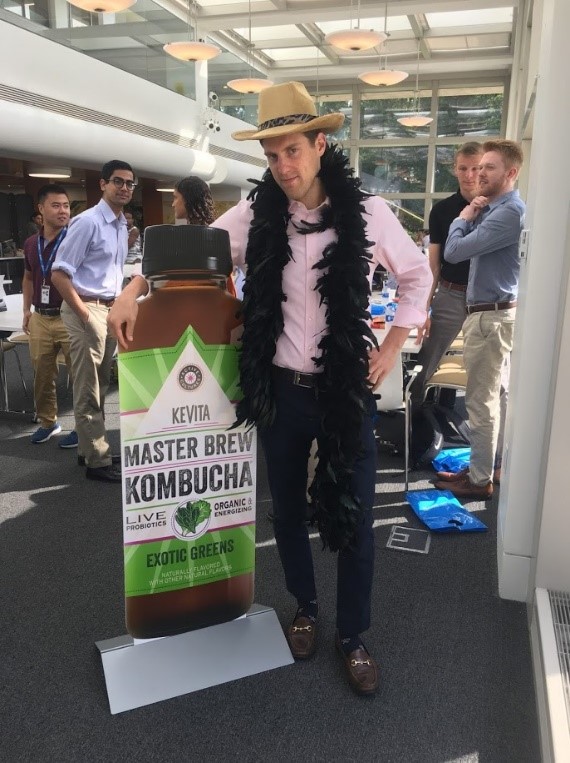 Well, PepsiCo is much more than a can of pop, or soda, for that matter. It is the home to some of my favorite snacks/drinks (Naked Juice, Kevita Kombucha, Sabra Hummus, Stacy's Pita Chips, and 20+ other billion-dollar brands). It is the home to an outstanding career development model and a supportive, yet challenging, management team. More than anything, it is home to a culture that encouraged me to take risks and take photos (like the one you see of me posing as the "Master Brew").
An internship of scale: Small changes with big impact
I selected PepsiCo for my internship because I thought it would give me an opportunity to learn the most about what interests me—namely leadership, sustainability, global supply chains, and nutrition—at the greatest scale possible. I was fortunate to see and learn about all these topics. I also learned that at the scale Pepsi operates, small changes make gigantic impact. My team operated across the entire value chain with a global spread of suppliers.
Throughout the summer, I experienced a product's:
Origins — I saw the innovation process at the SoHo Design Center and ingredient experimentation at R&D facility.
Sourcing — I began to understand how PepsiCo procures its raw materials through meetings with overseas suppliers and ingredient scouting for new ventures.
Manufacturing — I visited plants to see the beverage lines, filling stations, and packaging.
Distribution — I went on trips to equipment centers to see trucks bring in Pepsi coolers and products.
Consumer — I toured the merchandising room, which modeled how the products look on shelves; of course, I also consumed a few products off the shelves.
End of life — I got to have open conversations with senior leaders discussing the state of recycling and cutting down packaging waste, which brings me to…
Connecting to sustainability and SGE @ Cornell
PepsiCo's vision is "Winning with Purpose." In fact, the internship team had the opportunity to hear this vision directly from the new CEO as he articulated Pepsi's goals to shrink its environmental impact. One thing that we continually heard about was Pepsi's role in the plastics crisis. Pepsi is actually leading the way to find out how it can work with suppliers, institutions, and its stakeholders to transition away from single-use plastic.
To understand Pepsi's role in these complicated sustainability issues, I constantly reflected on my semester in Johnson's Sustainable Global Enterprise immersion program. First, I dusted off our systems mapping exercises, which are used to help plot out the complex system in which a business exists among regulators, the public, and communities. Second, I revisited what I had learned from our immersive design thinking workshops, which not only helped me structure these big picture problems, but also complete my project.
Diving into resource efficiency and procurement
The goal of my summer project was to recommend the most efficient resource spend for the coolers Pepsi owns across its footprint. Throughout the summer, I had the opportunity to own the cooler category. I met with suppliers, dove into each component of the supply chain and presented an ambitious plan to uncover over two million dollars in productivity. It required savvy negotiation skills, collaboration across supply chain and sales teams, and the ability to strategize for future sourcing decisions.
I realize that this summer internships will have a very different look and feel, but there were times when I was working with people in other locations and time zones. It takes a bit more effort and planning but that is not unusual when working for a global company.
Outside of my project, procurement excited me for a few reasons: global scope, dynamic nature, and the diversity of perspectives. Pepsi sources its ingredients across the globe, requiring my teammates and I to jump on the phone (or plane) to work with its supply base—success in building these relationships demanded strong cross-cultural leadership. Ingredients and materials are exposed to tariff and exchange rate fluctuations—this made for a dynamic summer working with large suppliers in a volatile international trading environment.
Lastly, my teammates sourced everything from the fruit and vegetables used for juices to the plastic/aluminum for packaging. I had the opportunity to learn from agricultural professionals in the fields, material scientists, supply chain experts, and marketing executives. All things considered, the summer was way more than just a can of soda!