A call to action to combat racism from Dean Kevin F. Hallock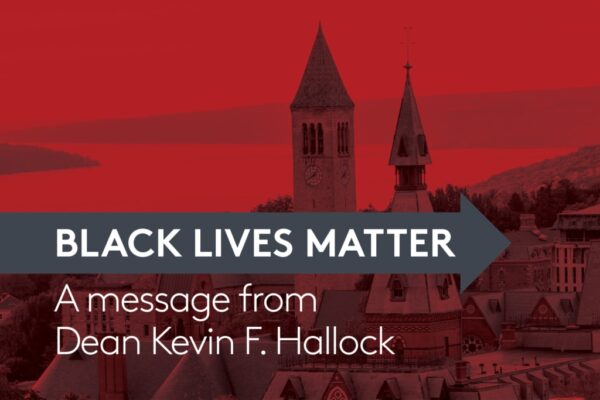 Kevin F. Hallock, dean of the Cornell SC Johnson College of Business, sent the following message to SC Johnson College students, staff, and faculty on July 7, 2020.
Dear students, staff, and faculty:
I want to thank those of you who attended one or more of our open forums with the college leadership team in the wake of the murder of George Floyd. The conversations we had reinforced very clearly that many areas within each school and across the college as a whole must change if we are to succeed in combating racism. I am deeply disquieted hearing about some of the experiences that students, staff, and faculty of color have had while at Cornell. And, it is especially upsetting to me that, in some cases, acts of overt racism have come from members of our own college community. This is simply not acceptable, and will not be tolerated here.
Black lives matter. We cannot accept racial injustice. We must be actively antiracist. We must do better.
I am proud of and grateful for our dedicated professionals in our schools' offices of diversity and inclusion, who have been working tirelessly to promote antiracism throughout our community. But it is the responsibility of every member of our community to be antiracist and to help foster a sense of belonging for everyone.
To that end, today I want to share some of the action steps that the entire college leadership team has committed to with respect to deepening our community's understanding of what drives racism and what must change so that we can dismantle it. These are the beginning elements of a more comprehensive set of actions that we are developing. You will be invited to provide feedback at many points along the way as we develop these ideas further, and we welcome your feedback on the preliminary actions I am sharing now.
Our Commitments to Combating Racism and Promoting Diversity, Inclusion, Equity, and Belonging
Measurement and Accountability
Develop metrics and time lines for each of the action steps we develop, and provide regular updates to our community.
Reconstitute and strengthen our existing college-wide council on diversity as a new advisory group led by the college's associate dean for diversity, inclusion, and belonging, Michelle Duguid. This group will be comprised of a diverse group of students, staff, faculty, and alumni from each school and across the college and will also include the college dean as a member. The group will assess our college's current efforts to address racism and promote diversity, inclusion, equity, and belonging; address progress on specific action steps; discuss new steps being developed; and review and recommend modifications to our approach. This group will convene by the end of next month.
Representation
Redouble our efforts to recruit, hire, and retain more staff and faculty of color.
Redouble efforts to increase the racial diversity in each of our two undergraduate programs, 14 master's programs and three PhD programs.
Increase racial diversity among our guest speakers and panelists, in classes and school and college events, and encourage student clubs to do the same.
Curriculum and Classroom
Provide support for faculty in creating more course offerings that (1) focus on the roles of race and racism in business and (2) include course content featuring positive examples of businesses led by or geared toward benefiting under-represented minorities.
Support faculty in learning more ways to promote diversity, inclusion, equity, and belonging in their class environments and advising interactions.
Culture, Community, and Support
Integrate conversations about antiracism, diversity, inclusion, equity, allyship, and our college's commitment to these principles into new student orientations.
Provide unconscious bias training for all of our students, staff, and faculty.
Offer various and ongoing types of antiracism learning and training opportunities for students, staff, and faculty, focused on fostering awareness and developing strategies to address racism and promote diversity, inclusion, equity, and belonging.
Provide access to Ibram X. Kendi's book, How to be an Antiracist and create community conversations about it.
Research and External Impact
Create and fund a cross-college interdisciplinary theme that will provide grants to support research, teaching, and outreach related to combating racism and its effects in business.
These commitments to action are just a start. Our college leadership team is dedicated to taking these and more actions which will lead to meaningful and sustainable change. Very soon, those of you who are in one of the three schools will hear from your dean about specific changes and areas of focus that they have identified, as well.
We are all part of an extraordinary college that is one of the world's great places to study, work, and learn about business. With that great privilege comes a responsibility to provide an inclusive and equitable experience for all of our students and colleagues, and to strive to develop people-centered leaders who have positive impacts on business and society. This ambition absolutely requires that we do everything we can to eliminate racism.
We must all work hard on this, together, to make our college and our society a better place for everyone. I hope you will join me in committing to action.
Kevin
Kevin F. Hallock
Dean, Cornell SC Johnson College of Business