Dean Walsh outlines SHA's preliminary antiracism action items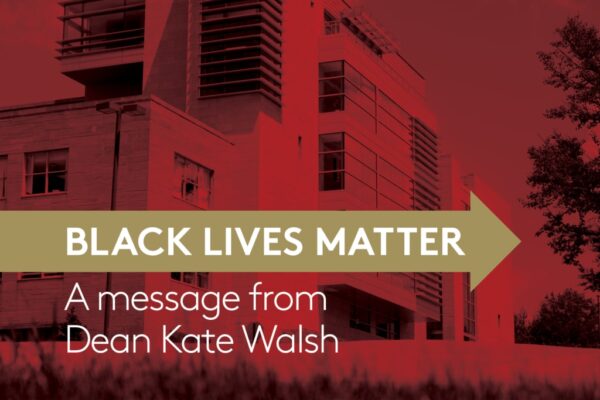 Kate Walsh, Dean of the School of Hotel Administration, sent the following message to SHA students, staff, and faculty on July 8, 2020.
Dear SHA Community,
I want to follow on Dean Hallock's message to the college to reiterate our school's commitment to creating a welcoming, inclusive, and equitable community, one in which each of us feels we belong, are heard and valued, and can learn, contribute, and thrive.
SHA has a legacy of leading the way in advancing the hospitality industry. We recognize that the industry has much work to do to make significant and lasting progress in eliminating racial and other forms of bias, and inequality of opportunity. Yet, before we can think to advise our industry on this most important work, we must take a critical look at ourselves and our own house, if you will.
Black lives matter. We must do more to systematically identify our own blind spots and take more comprehensive actions to rectify the structures and practices that perpetuate racism and inequity in our school. In addition to actively embracing all of the action steps outlined in Dean Hallock's message, below are a few of the early initiatives we are taking that are specific to our school. We have already begun working on them, while we continue to develop a fuller plan.
As some of you are aware, our faculty are in the process of completing a curriculum review. One of the curriculum committee's recommendations will be a requirement for all students to complete a three-credit course on a topic related to diversity, inclusion, and belonging. We want antiracism to be a part of the fabric of our education, and we are committed to helping faculty build this content into their classroom assignments and discussions, no matter the course topic.
We have created a diversity and inclusion seminar for our graduate students that will be delivered through the office of Alex Susskind, SHA associate dean for academic affairs. The seminar will focus on methods to ensure that equitable practices and structures are institutionalized in organizations. We look forward to starting this dialogue this fall.
All faculty and staff will be required to complete training on unconscious bias. In addition, we will be offering various formal opportunities to learn strategies to address racism, celebrate diversity, and promote inclusion and belonging.
We will ensure that our student club leaders and teaching assistants also receive specialized diversity and inclusion training. We want our student leaders to have the tools to be welcoming and supportive mentors and advisors to all of our students.
I am committed to bringing more industry leaders of color to interact with our school community, whether through our Dean's Distinguished Lecture Series, our Executives in Residence program, or other industry-focused programming. I am asking our faculty to do the same, and we will support them in these efforts.
Our career services team will be providing additional focused support. We will have more specifics to share in the coming weeks.
We will soon be providing a mechanism for students of color, or any student for that matter, to share their thoughts and concerns anonymously. While our doors are always open, we will be reaching out to better understand how our members are experiencing our community, as we seek feedback and collect data to continuously measure our progress.
Whether or not you have personally been aware of their effects, systemic racism, bias, and inequity are everyone's problems, whether we view them from a societal, organizational, or individual perspective. All of us, especially those of us with majority identities, need to listen more closely to the experience of others, jump in from the sidelines, advocate loudly, and be champions of change. It is both our obligation and our opportunity—as premier educators and future leaders—to make the world a better place, starting right here and right now. I want every member of our community to understand how important this is to our future.
I am strongly committed to creating a more inclusive environment that is antiracist, celebrates the richness of diversity, and provides equitable opportunity. I am counting on each of you to join in this effort and help us show our colleagues, our university, and our industry what true hospitality means in the most profound and—I hope and intend—lasting ways possible.
Kate Walsh
Dean and E.M. Statler Professor
Professor of Management
School of Hotel Administration
Cornell SC Johnson College of Business