MBA Students Care fundraiser fights for racial justice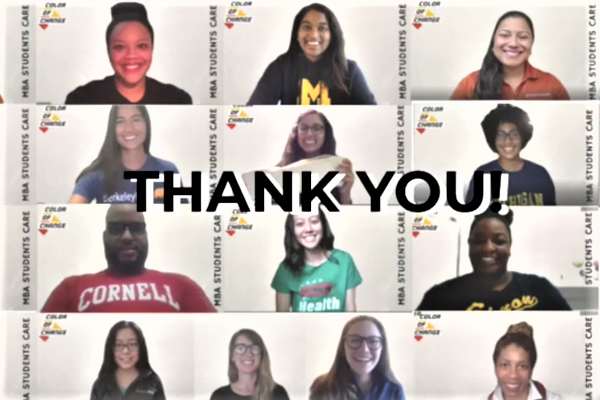 A group of dedicated MBA students from a community of graduate business programs, including the Samuel Curtis Johnson Graduate School of Management, recently banded together in an effort to raise funds to help fight against racial injustice. The MBA Students Care fundraiser was launched on June 3 in support of the nonprofit Color of Change, the nation's largest online racial justice organization.
Showing their support in response to the tragic deaths of Ahmaud Arbery, Breonna Taylor, and George Floyd, and global protests against racial injustice, the group's initial goal was to raise $20,000 by the end of June to help Color of Change in their mission to move decision-makers in corporations and government to create a more human and less hostile world for Black people in America. Within the first 24 hours, the MBA Students Care fundraiser already had brought in close to $30,000. Student leaders decided to shoot for the moon and increase their goal to $100,000.
Fighting injustice
Centered around the question of how, as future business leaders, MBA students can do their part in dismantling systemic injustice against Black people, the MBA Students Care campaign was launched in partnership across seven business schools that are members of the Consortium for Graduate Study in Management, a network of leading graduate business schools and business organizations. Once word spread about the campaign, out-of-network schools joined to support and promote the initiative. Imani Finn, MBA '21, Baron Munoz, MBA '21, Joel Falcon, MBA '22, and Rachel Rothbarth, MBA '22 represented Johnson within the campaign.
According to Finn, MBA Students Care viewed Color of Change as the best option to support, since it casts a wide net around social and racial injustice issues. "We wanted to do something that touched the movement that is currently happening, but [also] something that has a bigger impact," Finn said. "Raising money for bail is great and super necessary, but it's not as far-reaching as what we wanted to do; that was the consensus behind the decision."
"What can have a longer impact and also what can educate people inspired us around Color of Change," Munoz added. "They have a lot of campaigns, tackle a large amount of issues—and not just focused on this moment, but the future."
Finn and Munoz said they see change happening within the business world that benefits customers, employees, and companies' bottom lines. For example, many studies show that diversity leads to better-performing teams, more innovative work, and greater profits. In response to the racial injustice protests around the country, corporations have published statements about their commitments to fighting inequality. But much work needs to be done to continue this momentum, they said.
"It's so important for businesses to keep it top of mind," Munoz said. "It's great we're talking about this now, but when things slow down we need to work towards businesses putting those plans into fruition."
"At the end of the day, I care about how many minorities you employ," Finn said. "But what I care about more is, how many minorities are making the decisions? Who's in the boardroom? That's where you need the diversity. You need it everywhere, but especially there, and I think that's where I feel companies are stopping short right now."
Shifting leadership
According to Munoz, there is a big shift coming with the next generation of business leaders who share a desire to educate themselves about racial injustice. "People are talking about it and are actively looking at resources that will help them understand systemic racism, the biases that exist, and the opportunities [some people] might have over others" he said. "This time, it feels different and people are becoming more proactive in exploring those things."
Ultimately, the MBA Students Care campaign didn't hit its stretched $100,000 goal, but it raised more than $67,000 during the month. Both Finn and Munoz said they are incredibly happy with this final number, one that far surpasses the campaign's initial goal.
Moving forward, the group plans to reorganize and start planning for the future, while continuing fundraising campaigns as an annual tradition every June. In the classroom and beyond, they will continue the discussion and press for change.
"When the hashtags die down and the black squares go away and when people aren't hearing these names every day, I want them to still remember," Finn said. "That's the point of this. I don't want people to forget what happened."